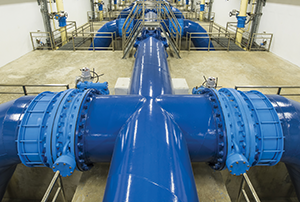 The Irish water industry is facing an enormous challenge over the coming decades to ensure our water infrastructure is sufficient to meet the challenges of economic growth and environmental regulation with limited funding.
The implementation of rigorous asset management standards is essential to ensure that these challenges can be met. At its core, this means doing the basics well. In my experience of working in asset management in Ireland, this means starting with developing a thorough understanding of the asset base, its condition and performance. Only then can the limited investment be directed to where it will be most effective.
Water is essentially food delivered to your home. This is something we must value far more than we currently do and ensure it is served by infrastructure managed to the highest standards.
The challenge of water infrastructure
The water industry in Ireland is characterised by infrastructure of significant scale and value consisting of a wide range of complex assets spread over large geographical areas. These assets often range in age from new to Victorian and include pipelines, buildings, tanks, electronics, pumps, valves, moving parts and telecommunications.
Irish Water has responsibility for in excess of 100,000 km of pipelines and 2,000 major treatment plants serving over 1.8 million customers. Water infrastructure is arguably more complex than many other industries and certainly most other utilities. It presents a significant challenge to design, acquire, maintain, refurbish and dispose of these assets as required to meet changing demands and customer service.
What is asset management?
ISO 55000 the international standard for asset management, published in January 2014, defines asset management as 'coordinated activity of an organisation to realise value from assets'. It is the concept of value that is so important to asset management as a discipline and allows it to be applied to a wide variety of businesses and industries. This approach encourages the identification of value for your own business or industry. You then have a framework for establishing the specific management activities to maximise that value in line with your strategic plan.
Alignment with the company business plan and strategic objectives is another core principle of asset management and the asset management strategy should be clearly understood and applied by every department and employee of the organisation. It is widely understood that if this 'line of sight' is achieved, it will enable the optimisation of cost, risks, performance, resources and benefits over the asset life cycle.
Delivering asset management
Delivering effective asset management requires the implementation of an asset management system which typically covers asset strategy and planning; including demand analysis, asset lifecycle delivery, organisation and people, asset information and risks.
The digital economy has been a game changer in the ability to manage complex systems and implement asset management. Recent developments in technology including modelling and robotics offer exciting new opportunities to continually reassess value.
To conclude, the application of asset management disciplines to national water infrastructure is the best way to ensure that we optimise resource and management efficiency. This can best be achieved by a single national water utility.
Alan Curran is a Chartered Engineer, member of the Institute of Asset Management and Director of Network Management with RPS Group. Alan has over 20 years' experience in the water industry and asset management in Ireland.
E: alan.curran@rpsgroup.com