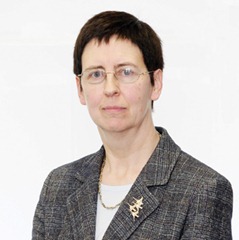 Secretary General of the Department of Environment, Community and Local Government Geraldine Tallon discusses the importance of sustainable development to economic recovery with Owen McQuade.
This economic downturn, while severe, is different than its predecessors because "it comes at a time when there is a very sustained momentum at international level towards eco-efficiency, or a green economy, as part of economic recovery" Geraldine Tallon begins.
Green growth is fundamental to economic recovery plans and it can be a real engine for sustainable development.
European and international bodies are "making the connection very strongly around the mutually reinforcing importance of economic recovery being eco-efficient and the green economy having the capacity to create jobs and to generate a more enduring growth," she tells eolas.
The Europe 2020 Strategy, the EU's Low Carbon Roadmap to 2050, the OECD's 'Towards Green Growth' report and the United Nations Environment Programme's 'Towards a Green Economy' report are prime examples of this thinking.
Integrating eco-efficient thinking and a green growth strategy into economic recovery is central to government decision-making, Tallon contends. "It clearly makes sense for us in terms of our water, waste management and climate policies."
In order to support recovery, there is a need to take an integrated approach to policy areas such as water and energy resources "in a way that is supportive of recovery rather than in conflict with recovery."
The Government recognises the importance of sustainable development, despite the term "being a bit heavy in terms of understanding."
"There's a partnership-based approach with environment interests and an intent to integrate environmental thinking into sectoral policies," Tallon states. For example, there are environment pillars on social partnership and on the National Economic and Social Council (NESC), which is will subsume Comhar's sustainability role in 2012.
However, the Government recognises the need to be "far smarter in the way we communicate what sustainable development really means at a practical level."
Tallon points out that the public are keen to protect Ireland's "clean, green" image.
"There is a very high attachment to the quality of the Irish environment. If people have a sense that they can protect our resources, you tend to find they are very supportive publicly," she notes. For example, charging for plastic bags was strongly supported because it would reduce litter.
Ultimately, "over the years, the term sustainable development has worked against itself. It can be hard to communicate effectively what it means." Instead, Tallon has found that by talking in terms of "an efficient economy that is light on the use of natural resources people respond because they have a great affinity with the natural resources in their own area."
In addition, food producers, rural development enterprises and many micro-enterprises, in particular, depend on environmental quality for their livelihoods, so there is an increased awareness of the importance of sustainable development.
"We are all consumed with concern for economic recovery. That recovery has to be competitive, efficient and lean in cost terms," Tallon states. We can support this objective with our efforts to make the recovery sustainable in environmental terms. Lowering energy usage and cost, reducing waste quantities, re-use and recycling of waste products, lower water consumption; all of these are crucial from both the environmental and economic perspectives.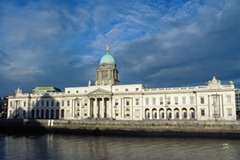 Priorities
Restructuring how Ireland delivers it water services (through the creation of Irish Water) is high on the department's agenda.
"Ultimately, a new water charge is a core policy in terms of the sustainable use of that natural resource," the Secretary General comments.
The publication of a refreshed National Sustainable Development Framework in advance of the Rio+20 UN Conference on Sustainable Development in June 2012, is another pressing issue.
That conference will be "a significant milestone in international terms." Tallon claims that "Ireland wants to have the capacity to give a good account of itself in preparation for Rio+20." To that end, the Government, supported by Comhar, have been working on a new sustainable development framework for Ireland, to be published for consultation before the end of the year, "that takes account of the current circumstances in which we find ourselves and helps us to internalise international thinking in terms of a green economy and what that means for Irish recovery and development circumstances."
Ireland is set to assume its next Presidency the council of the European Union for the six months from January 2013. Preparations for that are underway within the department. "It will be the first presidency at the end of the Kyoto period in climate terms, so the future of climate policy is a very important aspect," Tallon insists.
The Government is determined to remedy the country's mixed reputation in adhering to EU environmental legislation in advance of taking on the Presidency.
"We are putting a huge effort and focus on mending our hand in the area of environmental compliance," she states, pointing, for example, to Environment Minister Phil Hogan's decision to implement a septic tank registration system to address what has been a "difficult and intractable" issue for some time.
While, in the past, it was sometimes felt that the environment was "a drag on the economy", there has been a culture change within government to realising that investment in the environment is "investment in the future."
For example, Tallon points out:"We never thought we'd be talking about the potential for water scarcity [but] the reality is our water resources are not very abundant in the east of the country and the greater Dublin area where the population is heavily concentrated."
Therefore "we do have to look at future options in a balanced manner, both economically and environmentally."
Energy is another case in point, she continues. "Clearly we can't continue to invest in fossil fuel-based energy developments and we have a strong emphasis on energy renewables and energy efficiency; these are important areas of job growth as well."
Going forward, emissions from transport is a key problem that needs to be tackled.
"There's no doubt about it, transport and agriculture have a huge impact in terms of emissions [and] future capacity to contain emissions growth in the transport sector will have a critical impact on capacity to meet climate targets," Tallon notes.
New vehicle technology and further switching from private to public transport are needed. Tallon speculates on a future where all vehicles are electric, saying: "If you believe in the capacity of sustainable development, you have to believe in the potential of technology to assist us in finding efficient solutions. A key prerequisite to realising this is high quality research, to support both policy making and the harnessing of 'green economy' opportunities."
Since the department changed from 'environment, heritage and local government' to 'environment, community and local government', it has "assumed a community role which is being looked at closely in terms of the scope for better alignment between community functions and local government functions."
Its dynamic has changed too. Tallon explains: "In the past, when you thought of local development you tended to think through the local government system. This is another form of community development; community-based rather than establishment-based."
When looking at sustainable communities, the department has traditionally focused on social housing and the role of the local government sector.
"Now, you can think of housing, but also what goes with that to create a sustainable community, and there are interesting new dimensions within the department's brief," she explains.
An emphasis on bottom-up development, active participation at community level and the capacity of communities to sustain themselves in rural development and local development is at the core of the department's community focus.
"It's a key part of sustainable development that communities are enabled to sustain themselves in particular contexts and invest where they see fit," says Tallon.
By looking at the department's role through a social lens as well as an environmental lens, it is evident that "the capacity of communities to regenerate, to self-assist at a micro-level, to promote their own development, future and economic recovery is very strong."
Geraldine Tallon
Geraldine Tallon has held her current post since June 2007. She was Assistant Secretary, Local Government Division, from July 2004 to June 2007 and previously served as Assistant Secretary and Principal Officer in the Environment Division. Geraldine has been a member of the department since 1980.