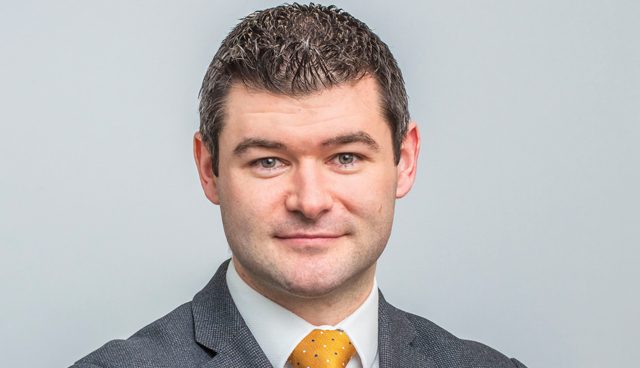 The publication of the Climate Action Plan injected fresh impetus into Ireland's wind energy industry. In the context of a targeted 70 per cent of electricity generated from renewable sources by 2030, Ciarán Galway discusses the industry's priorities with Irish Wind Energy Association (IWEA) CEO David Connolly.
"It's a phenomenal storyline really," David Connolly remarks as he tracks the trajectory of the Irish wind energy industry. Speaking amid a concerted global effort to tackle climate change, the IWEA CEO suggests that while Ireland's laggardly climate action statistics are often disparaged, wind energy is the exception.
With a 33 per cent share of wind energy in its electricity demand, Ireland is second only to Denmark at 47 per cent. The 29 per cent demand share of onshore wind in Denmark is supplemented by a large share of offshore wind (18 per cent). In terms of onshore wind alone, therefore, Ireland is the European leader.
"In the space of around 15 years, we have gone from practically no wind energy industry in Ireland to the number one in Europe for onshore wind. The Danes invented wind turbine technology, so to now be ahead of them in terms of how much onshore wind energy we produce is hugely symbolic. It's a proud achievement for the wind sector here. Of course, we have an awful lot of catching up to do in terms of offshore wind and we're really determined to start utilising that resource over the next decade," he asserts.
Last year, there were 24 wind farms built in Ireland providing an extra 463 MW of additional capacity, the second highest figure on record. Now, in the first two months of 2020, 49 per cent of electricity in Ireland was generated from wind energy.
"We've entered a scenario where, each month so far this year, almost half of the electricity powering Irish homes is local, indigenous and clean. While the picture in the Republic is very visibly positive, from an all-island perspective, the outlook is even better. Currently, Northern Ireland doesn't have standalone statistics and is grouped in with the UK, but approximately 44 per cent of electricity there is coming from wind right now," he explains.
Vision
Connolly credits the 2008 All Island Grid Study as having set an ambitious direction for wind energy which the industry could buy into and which it subsequently delivered. Now, with the advent of the Climate Action Plan in the Republic and the Energy Strategy consultation in the North, positivity is building again ahead of the forthcoming decade. Attaining alignment between Northern Ireland and the Republic is one of IWEA's top priorities.
"In the space of around 15 years, we have gone from practically no wind energy industry in Ireland to the number one in Europe for onshore wind."
"Looking at what we achieved in the last decade by having that singular vision and focus on what we were trying to achieve, the next 10 years looks really promising. Hopefully the Energy Strategy, which is currently out for consultation in the North, will reach at least a similar conclusion as the Climate Action Plan in the Republic, once again creating an aligned all-island vision. That would revive what we did for 2020 and lay the groundwork for 2030," he remarks.
Responsibility
The Climate Action Plan has injected a burst of optimism into the wind energy industry, sending a strong signal that its upward trajectory must continue. The Action Plan aims to cut 16 million tonnes of CO2 emissions each year, by 2030. Between 7 and 8 million tonnes of this will come from renewable electricity, predominantly generated by onshore wind and offshore wind.
"This illustrates the level of responsibility held by the wind sector to deliver Ireland's Climate Action Plan," the IWEA CEO says, adding: "It is a significant component of the State's strategy to tackle climate change. Consider the effort required to retrofit homes, cultivate forests, install heat pumps and more. The total volume of CO2 saved by those combined actions is between 8 and 9 million tonnes. Yet wind energy, with some solar power, will save between 7 and 8 million tonnes of CO2. That provides some sense of the scale of the ambition that must be delivered on in the coming decade."
Simultaneously, in addition to carbon emission targets, the Action Plan outlines a targeted increase in onshore wind generation from 4,200 MW to 8,200 MW. Likewise, it signals the development of an offshore wind sector in Ireland with a target of 3,500 MW of offshore wind by 2030. The industry has welcomed this ambition from policymakers.
Opportunities
Seeking to embrace the opportunity unlocked by the Climate Action Plan, there has been a surge of projects endeavouring to get off the ground. "IWEA's membership has onshore projects totalling 8,000 MW in development. That's a huge uplift, though we acknowledge that not all these projects will succeed. It's necessary to have 8,000 MW in development in order to mitigate the projected attrition.
"In the offshore sphere, meanwhile, we have 12,000 MW worth of projects in development. Again, a portion of these will succeed. However, opportunities are not confined to the projects themselves, but across the entire supply chain. Now that we have offshore as a second component of the wind industry, the potential in terms of job creation will be even more significant than in the previous decade," Connolly emphasises.
Challenges
Over the last decade, the single biggest challenge for onshore wind energy has been the time required to complete a project – averaging between eight and 10 years. 80 per cent of this process is subsumed by regulatory, licencing and planning systems, while the construction phase represents a relatively small portion of a project's lifecycle – averaging between 12 and 18 months.
"If I was to sum up our major challenge into one word, it would be: time," the IWEA CEO insists, stressing: "We're already in 2020 and we cannot tolerate a situation where it takes 10 years to develop a typical project, if we do, 2030 is already behind schedule."
The 2030 challenge, therefore, is to ensure the delivery of infrastructure at sufficient scale and in a timely manner. An immediate priority on IWEA's agenda, whether in onshore wind or offshore wind, is planning.
"A difficulty for both onshore and offshore wind is the time it takes to get decisions through the planning system. In the context of a 10-year timeframe, it is not feasible to wait a year to get an answer, whether it be yes or no. We want to see mandatory decision timelines implemented by An Bord Pleanála," he observes.
Onshore
More specifically, the major obstacle for onshore wind energy right now is the draft revised Wind Energy Development Guidelines which were recently out for public consultation. Acknowledging that the industry is pleased that new guidelines may soon be in place, Connolly warns that, aside from a swift conclusion, it wants certainty that the new guidelines will facilitate the development of the next generation of onshore wind farms.
"IWEA's concern is that some of the proposals contained within the draft have major elements that need to be resolved and delay will really eat into the schedule for trying to deliver projects. Our single biggest concern is the noise proposals. Experts in the field do not believe that these proposals are technically robust and it's very challenging for a sector to prove compliance with something that isn't technically possible to prove.
"We are suggesting that the Republic adopts the noise criteria which are applied in Northern Ireland so that there is a single approach across the whole island. That would mean we can get this resolved quickly so that the sector can move forward," he says.
Offshore
For offshore wind energy, the major challenge is the absence of a planning system and the delayed Marine Planning and Development Management (MPDM) bill. "Just prior to General Election 2020, the Government approved the draft MPDM Bill for Oireachtas scrutiny. Once enacted, the bill will create a new regulatory area and a new single State consent regime for the entire maritime area, enabling offshore wind projects to apply for planning permission.
"Naturally, now that we've had an election, no party received an outright majority, government formation is yet to be concluded and Covid-19 is absorbing the attention of the political system, the real worry for offshore wind is the length of time until the bill is enacted. Until the offshore sector has a planning permission system in place, it is stuck in limbo. In the context of the 2030 targets, a decade is a blink of an eye for an offshore wind farm project. We need to get the process underway as soon as possible," Connolly states.
Adaptation
Over the last decade, the wind energy industry has had to approach projects in a sequential fashion. Such an approach is time consuming. Instead, Connolly suggests that project milestones be pursued in parallel rather than waiting for one step to be completed before beginning another.
"Leaving aside the inherent challenges of the planning process, one of the industry's major asks of the Government and regulatory bodies is that EirGrid and ESB Networks, alongside SONI and NIE, work to develop the grid in parallel to what we're trying to achieve.
"I don't think anyone expects grids to be developed without wind farms in place, but what we would like to see is the timely initiation of planning for those projects. With the grid designed and planning permission sought in advance of the wind farm construction phase, then grid construction could occur concurrently. That's a principle we're trying to encourage now over the next decade, because if we don't get things moving in parallel, we certainly won't meet our targets," he contends.
Timeframe
The IWEA CEO is not convinced that policymakers fully appreciate the timeframe within which the industry operates. On paper, 2030 appears distant but relative to the lifecycle of a wind project, this is not the case. Consequently, IWEA is allocating time and resource to inform policymakers, regulators and its key stakeholders. In the coming months, it is launching a major piece of work which will map out, in enormous detail, how the 2030 targets can be achieved in time and at the lowest cost to the consumer.
"While, as an industry, we have an obligation to educate the system, we also have a responsibility to come forward with solutions. It's very easy to say that policymakers and regulators don't appreciate what needs to be done, but we must then put proposals on the table.
"Right now, I don't think decisionmakers fully grasp the scale of the timeframe challenge we're facing though some are certainly coming round to it over the last 12 months.
IWEA's 'Delivering 70 by 30' will set out the stages of developing a wind farm project at a granular level and show how time and money can be saved. No one knows the sector as well as we do, and no one knows the timelines as well as us."
Policy framework
Indeed, while welcoming the Climate Action Plan, he emphasises that it was very much designed by the policymakers while industry merely received it. "We would like to see a much stronger industry voice in its subsequent iterations. Hopefully that will be facilitated through industry being brought to the table for policy discussions. We can provide significant insight into project delivery, refining the Climate Action Plan to focus on actions that will have the greatest impact. As things stand, from a wind perspective, there are some critical actions missing."
Achievable
15 years ago, the suggestion that Ireland should establish itself as the European leader in onshore wind would have been met with scepticism. There were several factors which made this unlikely. However, it is now proven that through a unified sense of purpose, this level of ambition can be delivered.
"Policymakers, regulators, grid operators and the industry worked together to achieve this. We have proven that we can start from scratch and succeed, so sustaining that momentum in the coming decade is certainly achievable.
"Now that we have offshore as a second component of the wind industry, the potential for job creation will be even more significant than in the previous decade."
"However, it is only possible if the system works holistically. Without policy decisions and grid development in parallel, meeting the 2030 targets will be very challenging. Based on the ambition that is outlined in the Climate Action Plan and the subsequent response from industry, we certainly have the commitment and the resources.
"If we can piece together the different bits of the puzzle in a timely fashion, I can certainly see 70 per cent of our electricity generated by renewables, the vast majority by on- and offshore wind, by 2030. That is a very exciting prospect," Connolly says.
Beyond 2030
2030 is only one ambition on a much wider trajectory. For instance, the subsequent creation of a fully decarbonised power system would facilitate the heat and transport sectors – which will increasingly rely on renewable electricity – to achieve their own respective targets.
"IWEA is keen to ensure that whatever is put in place for 2030, there is consideration of what happens beyond this point. In my own view, we will have to achieve 100 per cent renewable electricity by 2040 at the very latest if we are to have any chance of meeting the broader climate change agenda. The electricity sector is a first mover in climate change mitigation," Connolly observes.
Optimism
Overall, the IWEA CEO emphasises the significance of the Climate Action Plan and identifies a discernible shift within the wind energy ecosystem. "It is an excellent initiative and its positivity has filtered into the industry where there has been a spike in activity over the previous 12 months.
"I want to emphasise that IWEA regards this as a challenging yet hugely promising time. It is difficult to adequately articulate the sense of optimism which now permeates through the industry. The distinct ambition outlined in the Climate Action Plan has instilled an enormous sense of confidence in investors. While our workload has increased exponentially, it's a great challenge to address as we strive to tackle climate change together," he concludes.
David Connolly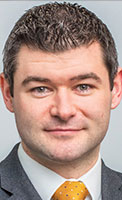 David Connolly is CEO of the Irish Wind Energy Association (IWEA) which is Ireland's largest renewable energy association. It is the representative body for the Irish wind industry, working to promote wind energy as an essential, economical and environmentally friendly part of the country's low-carbon energy future. Its more than 150 members work together to plan, build, operate and support the development of the country's chief renewable energy resource.
Previously, David was an Associate Professor in Energy Planning at Aalborg University in Copenhagen where his research focused on the design and assessment of 100 per cent renewable energy systems for electricity, heat, and transport. He graduated as a Mechanical Engineer in 2007 and completed a PhD in energy modelling in 2011, both at the University of Limerick.