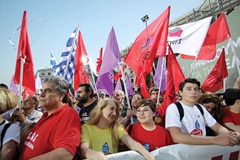 Alex Tsipras' election on an anti-austerity agenda is the latest phase in an arduous journey which began with Greece's international bail-out in 2010. Tsipras is Greece's fifth prime minister in as many years. Since his election in January, he has had to walk a tightrope between his pre-election promises and the demands of his country's creditors.
Syriza's pledges included a debt reduction, an increase in the minimum wage and an end to co-operation with the troika of the European Central bank, the European Commission and the IMF.
However, within days of assuming his role, Tsipras was forced to issue a statement reaffirming his government's commitment to paying back its debts. After a month in office, and with the bail-out agreement set to expire on 28 February, Tsipras and his Finance Minister Yanis Varousfakis shelved much of their manifesto for a four-month bail-out extension. The Greeks sought to secure the approval of their EU partners through reform commitments which included an increased impetus on combating tax evasion, a consolidation of pension funds and an efficiency programme. With approval secured, they received an extension, an agreement to work in close agreement with creditors, a conditional promise of future transfer of central bank bond purchase profits to Athens and an a reduction in the required 2015 budget surplus.
The Government now faces a new looming deadline, though Varousfakis maintains: "I'm pretty confident that we won't have a cash-flow problem, because we all struggled very hard through long hours of discussions with our partners with institutions to come to this stage."
This has caused internal friction within the Syriza movement. MEP Manolis Glezos stated: "The Greek people voted for what Syriza promised: that we abolish the regime of austerity … From my part, I apologise to the Greek people for having assisted in this illusion."
Discussing Syriza's latest shifts, Finance Minister Michael Noonan told Bloomberg Television: "They have moved a long way already, so we'll see how far they will move. But I have no doubt about their ability, or their academic competence." He added: "There's a middle road and it's along the lines of what we did in Ireland … You negotiate to make your debt more sustainable, even without getting debt write-offs."