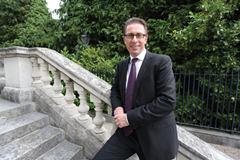 Mainstream Renewable Power's Chief Executive for offshore, Andy Kinsella, shares an upbeat vision of the sector's future with Owen McQuade.
As Chief Executive of the world's largest independent developer of offshore windfarms, Andy Kinsella sees a bright future for offshore wind. Three and a half years after starting up, the company has its offshore centre of excellence in London and satellite offices in Glasgow and Berlin.
Mainstream had a jump-start in offshore renewables from day one, when Airtricity's offshore team joined the company. Airtricity had designed, constructed and financed the first offshore windfarm in the British Isles, on Arklow Bank (25MW), just off Kinsella's home town. Following on from that, it developed the Buttenbeg project off Germany (300MW) and the Greater Gabbard Round 2 project off the UK (500MW), which was the largest planned offshore windfarm when its construction started in 2008.
Within the first six months, it was bidding for the Scottish round of projects. Mainstream won Neart na Gaoithe (450MW), Gaelic for spirit of the wind, in the Firth of Forth. It has 100 per cent ownership of the site and the success was a "good validation" of its business in its early stages.
Mainstream then bid into the three largest zones of Round 3 and won the third largest, Hornsea, which is being developed in a joint venture, named SMart Wind, with Siemens Project Ventures (the project finance arm of Siemens Financial Services).
The other eight zones were awarded to utility-led consortiums but SMart Wind is a supply chain solution. Kinsella chairs the board of Mainstream, and one of his key staff, Chris Hill, is its General Manager, running the project day to day.
The supply chain consortium involves Siemens Wind, the leading supplier of offshore turbines in the world, and Siemens Transmission and Distribution Ltd. The latter is based in Manchester and is Siemens' world centre of competency for windfarm interconnection.
"Further out to sea, distances dictate that for economic reasons, you move from AC to DC voltage technology," he explains. Siemens is also one of only three suppliers of AC-DC converters for connecting to shore (alongside Alstom and ABB).
Siemens is also a co-owner with Dong Energy of A2SEA. A2SEA is an offshore wind farm installation and services company based in Fredericia, Denmark. The company is specialised on transport, installation, and servicing of offshore wind farms. In addition to Denmark, the company has subsidiaries in the United Kingdom and Germany. Another SMart Wind associate, Hochtief, is the second biggest engineering construction company at a global level and one of the few with offshore experience. Hochtief has formed a joint venture with Beluga, the world's largest heavy lift shipping company, to develop four state-of-the-art vessels for offshore new generation installation in the North Sea. Each vessel will require £180-190 million of investment.
Mainstream fully owns the Horizont project (1,200MW) off Germany, which brings its North Sea portfolio up to 5,700MW.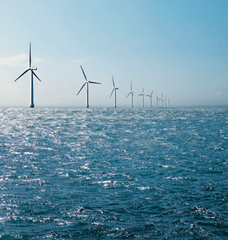 Key drivers
While the EU's 2020 commitments set legally binding targets for member states, the UK and Germany face two large difficulties when developing their renewable sectors.
For a start, onshore wind capacity ranges from a high point in western Ireland and Scotland to lower levels in Germany. In addition, the load centres in both countries are far removed from renewable sources.
"To meet climate change commitments is one thing but to meet them onshore is just not a possibility in these two large countries," he states. "The solution for this then is to move offshore."
Kinsella adds: "You essentially have wind blowing over a flat, undisturbed, frictionless surface. You get the most energy from it. You don't have the restrictions in transmitting the electricity in that you can bring cable through the sea to the load centres onshore."
Twice in the recent past Europe has had to face the threat of gas supply from Russia being interrupted. If this supply was to be interrupted, the continent would have a large energy deficit. The UK's security of supply will also be affected by the closure of 15GW of coal plant under the Large Combustion Plant Directive.
Germany has "walked away quite dramatically, post-Fukushima, from its commitment to nuclear power." In the UK, it will take at least 10 years to bring a new nuclear plant from its concept stage to commercial operation, and it may no longer be an acceptable source of electricity by that point.
Offshore wind offers a "quick fix at scale" which will also generate jobs in service industries, operational maintenance, construction, R&D and academia. Deprived regions will also experience economic renewal.
"With new technologies for offshore wind," he notes, "it produces significant high-tech manufacturing opportunities and the UK, in particular, would look to regenerate the north of England and coastal towns on the basis of inward investment for manufacturers and the broad supply chain for offshore wind.
"Germany, at this stage, has more people employed in renewables than the automotive industry. I think that speaks for itself."
Process
The minimum timeframe from the awarding of a site to full consent is three years in the UK. Mainstream will deliver consented projects in this time frame. Parallel to that, it seeks to complete the detailed engineering design of the wind park and to secure the supply chain and bring projects to financial close.
Construction can start within six to 12 months of consent and can last about two years for a large 500MW windfarm.
That combined five to six year process is "much, more shorter obviously than a nuclear plant." In addition, he's sceptical about whether carbon capture and storage will go ahead at scale. The technology is not yet even at the demonstration stage.
Asked whether the supply chain is developing properly, he points firstly to the demand for offshore wind. Western European governments are committed to 35-40GW by 2020. £120 billion in investment would be needed to achieve 40GW and, when grid development is added, that figure reaches £130-140 billion.
"I don't see a shortage in turbines to meet this demand," he notes. "You've a significant amount of players in the market at the moment." Besides Siemens, examples include REpower, Vestas, GE and new entrants from South Korea and China.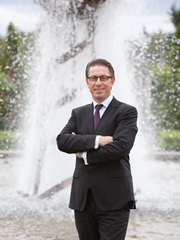 The real problem is with cable. "In general, there's not enough manufacturers who make high voltage submarine cable and it's not just for the offshore wind industry," he comments. "People are just using high voltage subsea cable for interconnection anyway. We don't have an exclusive right to that supply."
Cable manufacturing facilities tend not to be located where ports serving offshore wind installation are located. If they were at these ports (e.g. in eastern Britain), the cable could be directly loaded on to waiting ships. The less jointing a cable has, the quicker it can be installed and failure becomes less likely.
As explained, only three manufacturers build high voltage DC converters that are needed further out from the shore.
Kinsella remarks: "The first pinch-point will be cables and converters. Turbines won't be a problem. We feel at this moment in time, between vessels that are there being converted, jack-up barges and new commitments to vessels, more than likely there will be enough vessels for turbine installation to meet the profiles and build out."
That said, there may be a shortage of vessels for laying the foundations, which due to their weight and bulk are an installation challenge in themselves.
Variability
The crunch point for all wind technology, whether onshore or offshore, is its dependence on the weather.
Intermittency is not unique to wind. Kinsella points out how the Fukushima incident has affected a global industry and one of the world's largest economies. He instead prefers to talk about variability and takes a long view of wind's development.
"At the scale we're going into in offshore and the distribution of offshore around our waters, we're looking into the future. This is an industry where we've got to look 10, 20, 50 years ahead," he states.
Europe's offshore wind network will, eventually, be distributed over the North Sea, Irish Sea, the North Atlantic (off western Scotland and Ireland) and the Bay of Biscay: "The wind will be blowing somewhere most of the time and that will be part of the mitigation."
Friends of the Super Grid is making the case for that network in Brussels, led by Chief Executive Ana Aguado. The organisation is funded by its 21 members, including Siemens, Alstom, Dong Energy and transmission system operators in the UK, Spain and France. It also aims to make the case for agreed technical standards so that components will fit together and share common voltages.
"Essentially, it's an offshore fully meshed transmission network, mainly in DC, that would connect all the windfarms offshore in a truly meshed proper grid, not point- to-point connections as we see at the moment," he explains. Point-to-point only transmits for 40-45 per cent of the time. Smart grids will also play a significant part in the future mitigation of such variability.
"It would allow great flexibility in selling power where it's needed, where demand is most, and when you can arbitrage and trade like that, it will push the cost down."
Ambitious plans for the supergrid see it reaching north and south throughout European waters. The system could be backed up by hydro-electricity, from Norway and Iceland, and photovoltaic power captured by the Desertec project in southern Europe and north Africa.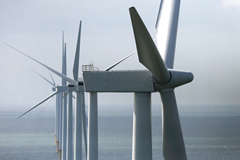 "They will all come together by 2050 to remove variability in terms of wind as an issue, but in the meantime we still have our conventional technologies: gas turbines, steam turbines, nuclear, coal," Kinsella says. "We're in a transition. That will be needed there to balance the variability of wind in the short and medium term."
Outlook and cost
The outlook for offshore wind, in his view, is "pretty good".
Germany has an offshore wind target of 25 GW by 2030, which would be delivered if the planned North Sea and Baltic Sea projects meet their potential. New legislation in Germany will increase the industry's revenue stream and reinforces the law that interconnection "has to meet you in the water", thus taking the connection risk off the developer.
The UK's medium target is 18GW.
"My own suspicion is that as we come out of this recession, energy prices are only going to increase further," he comments. "We'll see growth. We'll have the challenges in the UK of closing down nuclear plant, waiting for new nuclear plant to come on and closing down the coal plant under the Large Combustion Plant Directive." Offshore wind and gas are the only ways to fill that gap.
At present, the levelised cost of energy over the lifetime of a windfarm is around £145 per MWh, which is "currently not competitive with other generation technologies".
Nine offshore developers, which account for 70 per cent of the footprint of developments in UK waters, are working the reduce costs through the Carbon Trust's Offshore Wind Accelerator Programme.
This involves around £15 million of investment across four workstreams: foundations; deep array losses; operational maintenance (i.e. remote operation and accessibility); and grid connection.
Reports from the UK Energy Research Council and Mott MacDonald suggest that the cost can be reduced by 30-40 per cent by 2020 "if we all commit to this as an industry." This is further supported by resreach by the Carbon Trust and the Arup and Ernst and Young report for the RO (Renewable Obligation) review for DECC.
The UK Government is setting up a group to bring down the levelised cost to less than £100 per MWh by 2020.
"I looked at a profile recently where we build 6GW of offshore wind in UK waters by 2018. If I assume the average size of a wind turbine was 5MW, that gives me 1,200 machines and it gives me over 40 million operating hours," he continues.
"By the time you've put out 1,200 machines, the costs will come down because the learning rates will go through the roof."
In contrast, the same investment in gas turbines would result in 12 to 14 turbines and about 75,000 operating hours.
Pivot point
Kinsella's attitude to the sector's future development is confident and he sees policy moving in its favour.
"From an Irish point of view, we're at a pivot point now," he states. "The IEA in Paris see offshore wind playing a huge, huge part in essentially a carbon-free electricity generation by 2050.
"Then come back into Europe. We had the MoU signed by nine EU governments plus Norway before Christmas for the North Sea grid initiaitive. That involves Ireland but I think, more significantly, it's signed by the UK and Germany. Where they go, everybody else will follow."
Two British-Irish Council workstreams, on grid interconnection and raising the profile of marine renewables, started work in June 2009. They are led by the UK and Scottish.
The conditions are right to develop the sector across the British Isles, and the UK market is a "stepping stone" into the larger European market.
European Energy Commissioner Günther Oettinger wants to see a single electricity market with harmonised incentives, including harmonised incentives for offshore wind.
The technology exists and can be incentivised through renewable obligation certificates or the UK's CfD scheme. Immediate government action on the British-Irish Council commitment is vital. The door is now open to a large market with a defined revenue stream. If that support comes together, the private sector "will deliver the investment and scale" to build offshore windfarms.
Profile: Andy Kinsella
A native of Arklow, County Wicklow, Andy Kinsella graduated in engineering from University College Dublin. He worked for ESB Power Generation for two years before moving to General Electric, which took him to its HQ in Schenectady, upstate New York.
After his training came a 'world tour' on large scale gas turbine projects in North Africa, the Middle East, North America, South East Asia and Japan. Kinsella then joined ESB International, where he was on the senior management team for three years, and then left to join the board of Siemens, heading up their energy and transportation businesses in Ireland.
He then returned to ESB international as a Director, before moving to the senior management team of ESB Power Generation and subsequently setting up Mainstream.
He runs a couple of half marathons every year, and is an avid hiker (conquests include Mont Blanc and Kilimanjaro). He enjoys hacking on his Irish draught horse Campbell and is a level two kayaker. "Anything outdoors is a real passion." He also enjoys painting, cooking and reading.
Andy met his wife Angela skiing in France.