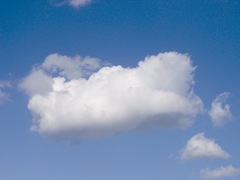 Cloud computing has been developing rapidly over the last five years. Emma Blee speaks to Paul Doyle about what the future holds for the technology.
While innovation in the cloud continues to develop, some issues need to be resolved before it can be fully utilised.
Paul Doyle, a computer science lecturer at the Dublin Institute of Technology, says that "the interesting thing about the technologies behind the cloud is that they are not really that new".
He remarks that the "cloud paradigm" has come about through an evolution of existing technologies, which are now being used to deliver computing as a utility. Commercial grade virtualisation, the dramatic increase in bandwidth at cost effective prices, large scale data centres provisioning and Software as a Service (SaaS) have all helped to bring about cloud computing.
Doyle comments that the development of cloud has been beneficial for both consumers and businesses: "The cloud provider has the ability to host a service on behalf of a company ensuring that the company only pays for the service they require for their current customer base, while offering the capability to grow or shrink as required, just like a utility."
He adds: "Gone are the days of over-provisioning data centres and having to pay for unused capacity. The cost of support and maintenance is reduced and high value services such as data replication, back-up and redundancy can now be achieved at much more affordable prices and in a more reliable way."
However, Doyle is sceptical about the number of companies claiming to have implemented private clouds: "I believe they should ask themselves are they really building a data centre or is this truly a cloud model? A private cloud needs to be resourced and provisioned to meet the demands of a company, so a model of virtualisation potentially delivering a SaaS solution may just be an internal restructuring of their own IT sources."
Largely, cloud technology has been driven globally by large IT corporations. While many new companies are offering individual services, he argues that the best examples are still driven from organisations such as Microsoft, Google and Amazon.
Cloud computing is still a relatively new concept which has only come to fruition in the last five years and Doyle says that it is still being defined. However, in the next five years he expects to see big changes. He predicts that Infrastructure as a Service, Platform as a Service and Software as a Service will all be tested in the market place to see which models provide an effective economical solution that offer real benefits to customers.
The academic says that in years to come bandwidth will have to be reduced further to allow for an "always-on model" with sufficiently increased download and/or upload limits to meet the requirements of the business world.
According to Doyle, cloud computing could mean our current understanding of the computer desktop may actually come under threat. At present many desktop systems have licensed software installed such as a word processor or imaging software like Photoshop. In the future he says there could be a situation where these are not installed locally. Instead the application services would be on the internet and we could pay for them based on how much we use, therefore the desktop could become a mere access device.
One of the most important areas of innovation for Doyle is the simplification of logging into multiple cloud service providers securely. He comments: "If we look to a future where we want a 'pick-and-mix' service from multiple cloud service providers then having a way to validate who you are outside of the cloud vendor's own infrastructure would be very important."
Tags: ICT