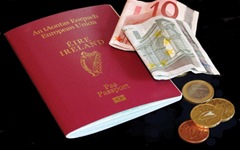 As emigration increases, Peter Cheney looks at the prospects for the Irish abroad, including whether they will return.
Emigration is the story of hard times, of which Ireland has known many in the past. The folk memory of famine, transhipment, and making home in faraway cities seemed consigned to the past during the Tiger years. Now it's an increasing choice, or obligation, for jobless young people North and South of the border.
An exodus of GAA players has been one of the most tangible trends, with new members boosting club rolls in London, Australia and New York.
Official statistics suggest that 27,700 Irish nationals left the Republic in the year up to April 2010, up from 18,400 previously. With the trend expected to increase, the topic was a running theme in the general election campaign.
Accurate numbers for Northern Ireland are not available as these are merged into a UK-wide total. However, NISRA surveys indicate that 22,000 people left Northern Ireland last year, up from 20,000. Around 55 per cent went to Great Britain, 20 per cent to the Republic and 25 per cent overseas.
Many exiles turn up at the London Irish Centre, based in Camden. Its director, Peter Hammond, chose to move to London in 1975 but finds that many newer arrivals are more reluctant to leave home.
Migration continued at the height of the Celtic Tiger, he points out: "There are always people who are restless and bored with the home town, wherever the home town is".
Firstly, some young people came to develop their career or just try out life elsewhere. Others came from troubled backgrounds, perhaps from a broken family or having a drink or drug problem.
A third category has since emerged: those who have lost work in Ireland and are forced to go and look for it. Typically, these migrants are under 35 and can come from any part of the island.
The more confident ones go to the centre's cultural events and concerts. Those with fewer skills seek help with writing a CV, looking for a job or finding somewhere to live. Migrants who run out of money can be put back on a bus or train to Ireland; there's no point in sending someone to a hostel if they have no long-term plan.
"Most of them, I think, are pretty clued in. They're well-prepared. They've been here before," he remarks. Many Irish families were used to three foreign holidays a year so going to London is no longer a "big adventure".
Culture
Taking a wider view, Hammond finds that "every second Irish song is about loss and moving away". The Irish have been "a nation of migrants" right through their history, and have had a presence in London since at least the 17th century.
Individualism is a unique feature of Irish migration to Britain, he maintains. Asians and Afro-Caribbeans tend to move as families. The typical Irish traveller is "trying to make a new life amongst new people".
Not all migrants, though, are ready for the experience. Hammond points to many elderly people who left Ireland in their teens but still talk of Ireland as home. There is a nostalgic longing to back to a family or home which is no longer there.
"Some people have that endless feeling of loss and displacement that carries right through, for their lives," he comments. "There is a sort of an emptiness that they feel, that it wasn't fair, that they had to leave."
Those feelings are now found in younger arrivals who came over a few years ago, planned to "return in glory and now they can't". That said, it's now easier to fly back for a party than it was 30 years ago and Skype keeps travellers in touch with home.
Old anti-Irish prejudices in Britain have "largely disappeared". There was "a little bit of keeping your head down, maybe rubbing the rough edges off the accent" in the Troubles but most Brits understood that most of the Irish were not terrorists. The peace process undoubtedly helped, as did the ease at which migrants married English people, or succeeded in sport and the media.
Returning?
The current consensus is that migration is not in itself bad for Ireland with the hope that wanderers may do well and return in better times.
Hammond, though, sees most migrants settling down. All migrants initially say they will go back in a year or two "and it's just so typical of the emigrant experience, that idea that it's a temporary arrangement."
After a year, the new Londoner might still be home sick but is putting down roots. Three years on, their career is well under way and they have a "great passion" for seeing Arsenal play on a Saturday.
The catch is that life may get "materially better" at home, as it did with the Celtic Tiger, but this is "hard to see in the foreseeable future".
His advice to migrants is that it's better if they think they're not going home "then your commitment and your happiness here will be greater."
Gold down under: a migrant's tale
Twenty-six year old Frank Rooney from County Westmeath has gone further afield, mining for gold in Western Australia.
His journey started three years ago, on a holiday working visa with his brother Eddie. They met up with some friends from Clones and worked on the wheat-belt for two years. Frank then met his girlfriend Beverley, a backpacker whose next stop was Kalgoorlie, six hours' drive from Perth (pictured above).
"Beverley soon found work as a hotel manager and I found work on one of the many gold mines in Kalgoorlie," he says. Conveniently, he had worked in mines back in Ireland. Their original plan was to save up for travelling but Beverley was offered sponsorship through work; they can therefore stay for four more years and gain residency.
Only jobs on Australia's skilled occupation lists can be sponsored: "It took us seven months to get all the paperwork together and we are still filling in some forms. It's not easy getting sponsorship and it's not getting any easier; we were very lucky."
Kalgoorlie itself has its roots in Irish luck. Paddy Hannan from County Clare found gold in a gully back in 1893.
Tags: Leaving Ireland's shores