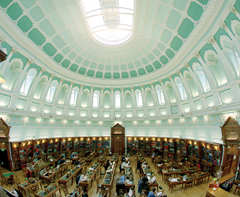 Using social media has helped de-bunk the stereotype of the National Library of Ireland as a stuffy place full of book-worms, its social media co-ordinator Carol Maddock tells Meadhbh Monahan.
Instead of creating a website and hoping people would look at it, the National Library of Ireland took to various social media platforms and was rewarded by winning the 2012 eGovernment social media award.
Overall, it was recognised for its "use of innovative social media platforms and networks to promote or communicate government services."
Carol Maddock says: "When people hear I work in the National Library of Ireland they say: 'Oh, you get to sit around and read books all day.'" That's not the case as she is responsible for overseeing the library's presence on twitter, facebook, flickr, flickr commons and its blog which reflects "the full range of people who use our service."
Established by the 1877 Dublin Science and Art Museum Act, which stipulated that the bulk of the Royal Dublin Society's collections should be vested in the then Department of Science and Art for the benefit of the public, the National Library of Ireland became an autonomous cultural institution in May 2005 under the National Cultural Institutions Act 1997. It looks after the largest collection of Irish visual, printed and manuscript material in the world, relating to art, culture, history and literature. It is free for the public but does not lend books and readers must visit its various reading rooms.
"We started on twitter in spring 2009 because we wanted to actively engage with people, organisations and other libraries throughout the world. We didn't want to passively wait for people to come to us, but wanted to be out and proud," Maddock explains. She quickly overcame initial newcomer apprehension, by "testing the water and developing a voice."
She has found that utilising social media has allowed the library to reach people it "wouldn't have had a hope of reaching before." On 21 May, 3,856 people were following the National Library of Ireland twitter account, 4,182 were following its facebook page, its flickr account had 312 contacts and there were 2,947 contacts on the flickr commons account of which it is a member.
While the library hadn't intended to increase footfall, Maddock has noticed comments from people abroad saying: "When we are next in Dublin, we are definitely going to the library." It would not be practical to have "100 people traipsing through the collections," Maddock adds, but that access is now available to people, "whether in Swords or Mexico", though the images and the descriptions provided by the bloggers.
In 2010, the library first started using flickr, posting printed items from its ephemera collections (i.e. posters and pamphlets creating snapshots of different periods in Ireland's social, political, economic and cultural history.)
Its flickr commons stream has been "a spectacular success," she reports. Linked with 56 institutions across the world, including the British Library and the Smithsonian Institute, it features collections such as 'A Year in the Life', 'Life and Times' and 'Munsterset'.
"The ethos of the commons is that we post publicly held photos from across the world and we only add photos where the copyright has expired or we own the copyright," Maddock explains.
"It's a quid-pro-quo because, while we are putting our images out there, our followers are helping us find out about that photo." People who were "languishing as 'man on street'" have been identified, often by their relatives.
"People have told me they look at [flickr commons] while having their coffee or when they are on the Tube," she says, highlighting that it is not just Irish people who access the images.
The blog is "excellent" and shows "the invisible work going on every day," she states. Recent features include information on 'The Republic' and 'The United Irishman' newspapers by Donal P McCracken, a senior professor of history at the University of KwaZulu-Natal.
Looking to the future, Maddock intends to keep an eye on emerging technologies but is "wary of spreading [herself] too thin." The library could potentially work with schools, she believes, and she also has her sights set on next year's awards.
Tags: Social media