<![CDATA[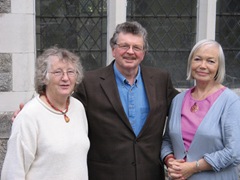 For 21 years the Rathmines Writers' Workshop has been meeting every few weeks to give poets and prose writers a chance to share their work. Some of its longest serving members tell Stephen Dineen, a fellow member, about its journey.
One doesn't usually find much nostalgia at a 21st, but listening to James Conway, Mary Guckian and Christine Broe trade memories of the twenty-one years their community of writers has had together there is plenty of nostalgia for the experiences they've had and the people they've met. Whilst much has been said of demise in communities during the Celtic Tiger years this community has gone from strength to strength.
"It came about by accident," explains Conway, one the founders of the group. He had been attending a workshop in Dublin city in the late 80s and became friendly with a few of the other members. Then he met one of them at the Listowel Writers' Festival. "We were talking about workshops and different aspects of writing and I said to her: 'It's been on my mind now for a number of months to ask if you would be interested in coming to a
new workshop?' She was very enthusiastic, also the fact that it was in the Rathmines area." He then recruited a few other members and some young people who'd attended a novelists' workshop in the local library. They held the first meetings in the Rathmines library.
In the early years there were difficulties finding a suitable location. The library had to close at eight o'clock. They moved to the parish community centre where the problem of insurance soon arose. They couldn't afford it. A local pub was found but the requirement to purchase a certain amount of alcohol pressurised the writers who gathered to read and discuss each other's work. Another pub was found "but there were some problems because we'd come on such a night and one political party might be meeting, or the next night another party," recalls Conway, who wrote prose initially, about 40 years ago, but now poetry. "And an odd night we had to meet in a quiet corner."
Eventually Broe, another long standing member of the workshop, suggested renting a parish room in the Christ Church, Rathgar. They have met there since 2000.
"We have three meetings a month, two for poetry, one for prose," explains Mary Guckian, treasurer of the group, who got involved in the early years after talking to a founding member in the Pepper Cannister church one evening. "People take along work with them and whoever gets there early gets an opportunity to read their piece, and there's a discussion about what they read and we talk about the writing, about if it can be improved or where they might get it published. We usually get good discussion. There are some people there who are very good critics. I think they help people a good bit." Often members adjourn to a local bar after the meeting for a drink and to catch up.
The group also has public readings in venues like the Ilac Centre library and joint readings with other groups. It provides an opportunity for members to read to family, friends and the public. They also have workshops where participants get a day's tuition from an experienced writer. "We organise these workshops when we get the funding," explains Guckian. "We've had them every second year or so, and we put notices out in the community and the library and we find a place."
During the early years, despite the uncertainty about venues, the group began to publish anthologies. "In the beginning we had no funding, we started with £5 on the first night, and to get that [first] book up and running Mary took leave from her job and she walked from one length of Rathmines to the other, going to every business and shop canvassing for ads [to fund the cost of publication]," explains Conway. They now have five anthologies of poetry and two of prose. "Around eight of us have brought out our own books but we contribute our own money to that," adds Guckian, who has three books of poetry published.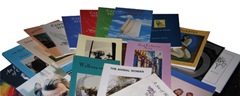 The group is a collection of "various people" with differing "levels and degrees of commitment, aspirations and approaches, and they are the group, they make the group," recalls Conway, a public servant by day. Guckian remembers people who attended while on holidays in Ireland "then would remember us and would want to come back and see are we still there." She adds: "We have people who came for a while and then disappear for a while and then would come back again." Approximately several hundred people have come through the doors of the workshop. Very talented members such as Maureen Charlton and Warren O'Connell, who both wrote for the stage, passed away in recent years. Talking to the members you sense a continuing sadness at their passing.
"We always manage to have seven or eight, and from that we've had up to 20 the odd time," says Guckian. The prose group usually has six to eight membrs.
Despite the wealth of literary talent in Ireland and people's connectedness through the internet, there are few writers' groups in Dublin. "There are a couple of venues in town where people go and read but that's more performance than workshop. You wouldn't really get any help with developing your work there," says Broe, who has one book of poetry published. "There are satellites of groups on the outskirts, but for the city centre I don't think there's any."
What has ensured the longevity of the group, according to Broe, who works as an art therapist, is that it is "dependable and constant, and you know that it's going to happen, and you know it's going to be on, whereas other writers' groups that I've gone to have come and gone." She has been to workshops throughout the country, some with "cross-fire" as she describes it, "people arguing across [each other] about points, and the people arguing back."
For Conway, who has been chairing the meetings for 21 years, "you have to keep encouraging writers and keep the standard of critique as high as you can, and try to control the group so that everybody gets an opportunity to read or have their work critiqued."
"You must have the interest in it," he adds. "You have to have the ongoing interest and the support of your fellows. If they're equally as interested they will continue [in the group] and support you and you will support them." He believes there is also a need for "a core group of three or four people to administer it, because like any exercise or project it has to be managed for it to succeed, in a democratic way."
Broe says: "One of the things I find about the group, from the encouragement from the writing, is the friendships that build up." She believes this camaraderie is what holds the group together.
For these three members, and the others who regularly help out with its activities, there is no resting on the laurels of achievement after 21 years. New links are being made with groups to organise readings. Information on competitions and festivals is constantly given to members, while Conway believes: "There's a need for new people to come in and there will probably be new approaches and new ways of running the group, and that's important too."
] ]>