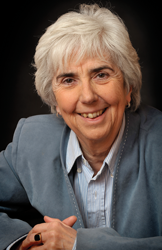 Independent TD Maureen O'Sullivan has a wide range of priorities for this Dáil term. She speaks to Meadhbh Monahan about the need for Ireland to be treated fairly by the European Union and her belief that the Irish people will "get through this."
Committed to helping her Dublin Central constituents, former English and history teacher Maureen O'Sullivan was re-elected to the Dáil in last February's general election.
Her priorities for 2012 are "to represent Dublin Central as well as I can; to continue to support those particular causes which mean a lot to me [particularly] mental health, animal welfare, development aid; and not to accept unjust cuts in education, health and community, which will further inequality in our society."
When asked what motivates her, without a pause, O'Sullivan replies: "Tony Gregory." Her predecessor, who died in 2009 was popular in the inner-city area and was famous for the 1982 'Gregory deal' whereby he backed Fianna Fáil leader Charles Haughey in return for a cash injection into north inner-city Dublin.
Thirty years on from that deal the big change is in housing, O'Sullivan states. That deal promised the nationalisation of a 27-acre site in Dublin Port and Clondalkin Paper Mills, four million punts to be allocated to employ 500 extra people in the inner city, and the construction of 440 social houses. The Haughey Government fell in 1982 and the new Fine Gael-Labour coalition did not implement the 'Gregory deal'.
"If people read the 'Gregory deal' they see how visionary and far reaching it was. OK, it had to do with Dublin Central, but there were other broader issues such as a tax on derelict sites, profits from development and inspection of facilities for people with mental health issues, disabilities, childcare homes," O'Sullivan tells eolas.
The big difference in Dublin Central is that "it gave an impetus to the housing issue because at the stage 30 years ago people were still living in the tenements that Sean O'Casey wrote about in 'The Plough and the Stars' and 'Juno and the Paycock'."
O'Sullivan continues: "In fairness to Dublin City Council, they did build a lot of houses. If you walk around Dublin Central you will see that." However, dampness and houses being too small to accommodate families are the main problems today. "There's some housing that is in need of repair and renovation. I accept that sometimes people don't look after their properties as well as they should but some have fallen into disrepair and there is a lot of dampness," O'Sullivan claims. "There was too much two-bedroom accommodation built and there's not enough three and four bedroom accommodation for families."
A growing heroin problem in the 1980s also motivated Gregory. However, much has been done to eradicate that, O'Sullivan explains. "The drugs issue was kind of starting just directly after the deal," she recalls. "During those few months, Tony had brought something to Charlie Haughey's attention and [he] took it up." O'Sullivan is referring to Gregory telling Haughey the name of a family believed to be the chief importers and distributors of heroin in the city, and Haughey ringing the then Garda Commissioner and asking him to put resources into surveillance on the family.
"There's a feeling that if Charlie Haughey had stayed in power, more would have been done on drugs. Tony was a lone voice on that issue for a long time," she reflects. "It's still a problem but [now] we have the North Inner City Drugs Taskforce, we have [the] Community Policing Forum which are excellent on the ground, we have far more services now, treatment and rehab. There's more on the supply control area, there's a better family support network so you can see those things improving."
O'Sullivan adds: "[Gregory] was very rooted in the community. He was from Ballybough, I'm from the North Wall so we would know a lot of the same people. [I will] continue in the way he would have wanted and would have done if he hadn't passed away so soon."
Mental health
"It was great to introduce a private member's motion with the Technical Group on mental health," she says. That November 2011 motion called for: the ring-fencing of €35 million annually from the mental health budget to develop community mental health teams and services as outlined in both 'A Vision for Change' and the Programme for Government; a commitment that mental health staff be maintained at the level of Budget 2011; and adequate capital funding in 2012 to continue the closure of psychiatric hospitals and the transfer of people receiving support to community-based programmes and accommodation.
O'Sullivan is "very committed" to the development aid budget, which is currently under review.
The Foreign Affairs Committee, on which O'Sullivan sits, is taking part in that review and is looking at the progress made by Irish Aid and the changing national and international context.
Connected to her work on the committee, she has spoken out about human rights, particularly for Ireland seeking election to the United Nations Human Rights Council for the 2013-2015 term. "We deserve that seat," she has said. During a debate calling for the reform of Pakistan's blasphemy law O'Sullivan said: "Ireland has a voice that is listened to. I believe it has a role in this regard, even though it concerns a country that is far distant from Ireland."
Other international interests include campaigning for the freeing of the Cuban five (intelligence agents imprisoned in the USA) and the Ireland Palestine group which aims to end Israel's occupation of Palestinian land. O'Sullivan has also hosted meetings on nuclear disarmament and non-proliferation of nuclear weapons.
Animal welfare is "something that was very close to the heart of Tony Gregory [therefore] we are looking at trying to resurrect Tony's attempts at anti-coursing." Along with independent TD Clare Daly, O'Sullivan intended to introduce an anti-hare coursing Bill in 2012 to protect animals from cruelty in sports. However, she states: "There's animal welfare legislation coming out and we are waiting to see what's in that and see what way we will progress it from there."
The Government's decision to hold a referendum on the EU Fiscal Compact Treaty is "a just and moral decision" There is a need for "a rational debate," O'Sullivan claims.
"I accept where the Government is coming from, that the money had to be [found] in order to pay our social welfare, our salaries, but we are certainly paying a very high price for it. People are more angry about the promissory notes than anything else."
When asked if she supports the treaty, O'Sullivan replies: "It's very difficult to support something like that but I'm still waiting to see what the alternative is to getting that money but there are very, very harsh conditions to that treaty. I think there's a real need for Ireland to be treated fairly."
Her website's policy section calls for banking and financial services to be cleaned up. How can this be done? "When you look at our banks and the amount of money they have been capitalising from the Government, I do think they could be more pro-active in protecting people's homes and in releasing money to retain jobs," she replies. "A lot of people go on about creating jobs, but I think, equally important is job retention."
Optimist
"The odds are stacked against independents," O'Sullivan contends. "If you look at the amount of money that Sinn Féin and Fianna Fáil get in opposition, which they use to employ staff, we don't have that. It's a €40,000 allowance per independent and it's almost treble that for the others."
Despite the Technical Group having the same number of TDs as Fianna Fáil (19) and more than Sinn Fein (14), "we come last in the pecking order."
This "absolutely" needs to be reformed, O'Sullivan believes. "It was so difficult in the last Dáil. Only for Finian McGrath jumping up and saying the independents have to have a right to speak, we wouldn't have had any time."
The Technical Group now have "our speaking time, priority questions, leaders' questions, but in terms of research, publicity, media and all that … we have one whom we are paying ourselves."
Overall, the group is "getting on very well." O'Sullivan believes they are proving that "people with diverse opinions can work in an atmosphere of mutual respect and, just because we don't disagree, the sky doesn't fall." She adds: "I think there is a lesson for the party political system in that."
When asked where Ireland will go from here, O'Sullivan says: "I'm the eternal optimist. I'm very proud of being Irish even though there are so many horrible things that happened and that greed and self-interest drove those." She adds: "The attitude of Irish people generally, the people I meet, the people I know, is: 'We'll get through this'. I was born in the fifties. I came through very difficult times and we didn't fall into the ocean, we came through them." She agrees with President Higgins that "the Celtic Tiger has done so much damage in terms of people's expectations." The former teacher reflects that she had "immense job satisfaction", compared to the "uncertainty" that comes with politics. "My biggest fear is that our destiny is not in our own hands," she concludes.
Profile: Maureen O'Sullivan

Maureen taught English and history at St Mary's Secondary School, Baldoyle, for 30 years and admits that she "would never have went near" the business or economics sections of the newspaper but now she has to. She was director of elections for Tony Gregory's local political organisation in the 1970s and was co-opted onto Dublin City Council for the North inner city area from September 2008 to June 2009 after the retirement of Mick Rafferty. After Gregory's death in 2009, she won the resulting by-election and was re-elected to the 31st Dáil in the 2011 election.
In her spare time, she enjoys walking and reading thrillers, particularly by Denis Lehane and Walter Mosley.