Digital
What attracts companies to Ireland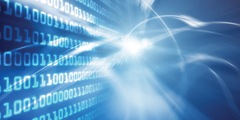 Despite the recession the ICT sector is continuing to invest in Ireland. eolas takes a look at what attracts ICT companies to Ireland.
Ireland was placed 11th out of 82 countries as one of the most attractive business locations in the world in the Economist Intelligence Unit's (EIU) Business Environment Ranking for 2008-2012.
Experts say that Ireland is attractive because it has one of the lowest corporate tax rates in the world at 12.5 per cent. A thriving research, development and investment sector, with strong government support for productive collaboration between industry and academia is present in Ireland. Other benefits are, a strong legal framework for development, exploitation and protection of intellectual property rights; a strategic location with easy access to the European, Middle-East and Africa (EMEA) region; excellent IT skills and infrastructure; and an advanced telecommunications infrastructure, with state-of-the-art optical networks and international connectivity. Ireland also contains strategic clusters of leading global companies in life-sciences, ICT, engineering, services, digital media, and consumer brands.
The EIU rankings were formulated in 2007, before the impact of the economic downturn on Ireland was as apparent as now but IT companies continue to invest in Ireland.
Big names in the IT sector have located to Ireland in recent years. Global social networking website Facebook set up in Dublin in 2008 and has 70 employees. When they officially opened their EMEA headquarters in October 2009 at Hanover Quay, they announced that they will more than double the size of their operations in 2010. Search-engine giant Google who are situated in Dublin's docklands area, are also planning to expand into an adjoining building and increase its 1,500 Irish workforce.
"Dublin is a place where more major languages are spoken than in any other major city in the world. That's huge for internet companies because you can colocate people to one location and serve all the markets from there. That's an incredible advantage and is one of the major reasons why Dublin will continue to be a major cluster for internet companies," said John Herlihy head of Google's Irish operations.
He referred to Google's workforce as "a virtual UN" because more than 65 languages are spoken by employees from 60 different countries.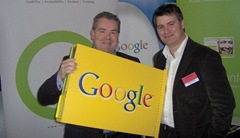 Colm Long, Director of online operations for Facebook said: "The skilled talent pool available to us in Ireland has helped us match the growing needs of our users and advisers across the EMEA region."
Similarly Sheryl Sandberg, Facebook Ireland told the Industrial Development Agency Ireland (IDA) why she was attracted to Ireland.
"Ireland is, in my view, the only place in Europe you can hire people that speak 10 to 15 languages. [There are] college educated technologically savvy people from all over Europe living in one place."She said that because Facebook is a small company with only 750 people, "the international capacity of Dublin as a city, Ireland as a country, and the government assistance with the IDA [means] we can do everything we want to do from one place."
Microsoft, the software developer, has been in Ireland for 25 years and are now an established R&D centre. In September 2009 they opened their first European 'mega data center' in Dublin at a cost of $500 million (€340 million) . The centre will meet continued growth for Microsoft's online, live and cloud services such as Bing and MSN.
Microsoft's International President, Jean-Philippe Courtois said that by locating the facility in Dublin, they were demonstrating their commitment to Ireland.
"This will become the place where the internet lives. We are seeing a massive growth in internet services and the heart of this will be reliable infrastructure. More and more businesses are moving online and the key tools will rely on data centres that host cloud computing," he stated.
Paul Rellis, Managing Director of Microsoft Ireland praised the fact that Dublin has become more "diverse" and is very connected to Europe. "Ireland is increasingly important from a business point of view," he said.
Stephen Collins, Director MSC in IT at Trinity College Dublin claimed that Ireland is one of the easiest places to set up a business in technology.
"It's easier than the States, it's easier to get funding and it's easier to get government support for research so it's the natural place for me to be."
Speaking to the IDA Collins said Ireland is currently "in a changing but really important faze where we have to move away from this reliance on multinational tax break culture and move towards self-sustaining 'bread from home' technology companies."
He agrees that Ireland is "attractive" because it is a place where different nations come to be educated and to set up a business.
Collins said that being Irish has worked for him in business, especially in America and Japan because it "gives you a certain edge of mystique". Collins explained: "They have a perceived image of Ireland [with] green grass, cows and pints of Guinness and here you are offering them a high technological product and they are surprised."
An example of government support for productive collaboration between industry and academia is the Tyndall National Institute, University College Cork.
Tyndall is one of Europe's leading research centres, specialising in ICT hardware research, commercialisation of technology and the education of next generation researchers. It has approximately 370 researchers, engineers, students and support staff focused on quality research and the commercialisation of technology through industry collaboration.
Tyndall addresses technological challenges, to provide solutions in the key areas of communications, energy, health and the environment, spanning research from atoms to systems in photonics, microsystems and micro-nanoelectronics.
Tánaiste Mary Coughlan visited the institute in October marking the Government's support of €48.7 million to Tyndall. She announced that Tyndall will now be home to the Enterprise Ireland funded Competence Centre for Applied Nanotechnology. This is an industry-led research initiative involving some of the world's leading companies such as Intel, Seagate, Medtronic and Analog Devices and Irish companies Aerogen, Audit Diagnostics, Creganna and Proxy Biomedical, supported by IDA Ireland.
The Tánaiste commented: "This combination of a world-class facility with one of the most advanced, industry-led research initiatives in this country will lead to the development of new, green, life-sciences and ICT technologies and high-value products giving Irish companies in these and related sectors a competitive advantage. This new facility demonstrates the Government's commitment to investment in research and underlines Tyndall's position as a key enabler in the development of the smart economy."