Issues
Water policy changes course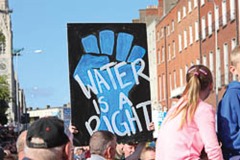 Following significant public protests, the Government confirmed that water charges will be capped at €160 for single adult households and €260 for all other households until the end of 2018. All eligible households will receive a water conservation grant of €100 per year.
Late payment fees – starting at €30 for single adult households and €60 for other households – will be applied where householders refuse to pay and Irish Water may seek a court order to require payment.
The first bills will be issued from next April.
Fianna Fáil leader Micheál Martin stated that the establishment of Irish Water was a core problem and suggested that the Government adopt the same model as for the National Roads Authority. Martin commented: "This type of utility format would provide greater regional co-ordination and investment and avoid the commercial mentality which has given us the bloated bonus culture and focus on billing which we have seen in Irish Water."
The Right2Water campaign, supported by Sinn Féin and others on the left, has maintained that water services should continue to be funded via general taxation. Non-domestic charges account for 15 per cent of the system's overall cost. The remaining cost amounts to around €1 billion per annum. Ireland is the only OECD member state in which domestic charges do not apply. The Northern Ireland Executive has refused to implement domestic charges.