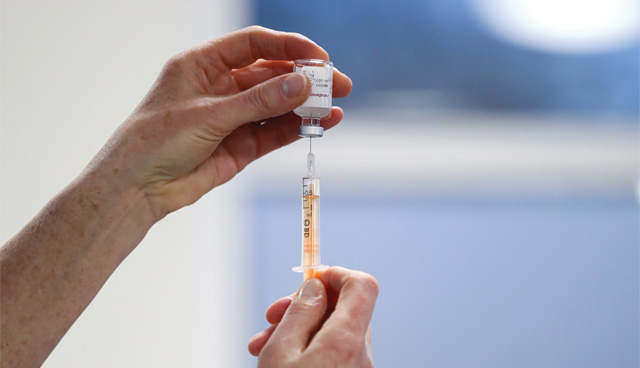 Amidst heavy criticism of the Government's vaccine rollout policy, a change to an age-based system was announced by Minister for Health Stephen Donnelly TD in March.
The day after the announcement of the shift in strategy, figures showed that over 800,000 vaccine doses had been administered by that point. Of the 806,541 vaccines that had been administered in the Republic, 580,857 were first doses, while 225,684 people had received second doses. In comparison, Northern Ireland had administered 887,598 vaccine doses, with 749,112 being first doses and 138,486 people having received two.
Speaking upon the update to the Government's Covid-19 Vaccination Allocation Strategy, Donnelly said: "The vast majority of those who have received vaccines are our most at risk loved ones who have suffered the highest burden of serious illness and death, as well as the social isolation the necessary public health measures have created. We have seen nursing home residents and staff, frontline healthcare workers and those aged over 80 received their Covid-19 vaccines and infection rates in these groups has fallen dramatically and as a result, we have seen clear evidence of vaccination bonus in this cohort, and recently saw visits to nursing homes restart."
The Government expects that three million doses will be administered over the months of April, May and June, with four in five adults to receive at least one by the end of June. All adults aged over 70 are expected to have received their first dose by mid-April, while the vaccination of those aged between 16-69 at high risk has begun.
The Government says that the age-based approach will "make the rollout more efficient at higher volumes of vaccinations, and better meets the objective of protecting those at highest risk first". Donnelly added that the decision "means for the first time that we can give better information to the very reasonable question, 'when will I be vaccinated?'".
The change was precipitated by a consistent failure to meet targets in the first months of the Government's vaccine rollout programme. Many of the issues associated with the rollout have arisen as a result of supply issues, with Ireland receiving its share of what the EU has procured as a bloc. Queried in the Dáil by the independent TD Peter Fitzpatrick as to how the North had vaccinated more people than the Republic by late March, Tánaiste Leo Varadkar TD responded that this was due to the different contracts AstraZeneca had with the UK and the EU. "We don't know why the UK got preference from AstraZeneca," Varadkar said. "We will catch up and we are catching up."
Challenges with AstraZeneca have been among the key factors affecting supply to EU member states; such challenges have meant that, by early April, the EU had vaccinated just 18 per cent of its population, while the UK had vaccinated 55 per cent. The European Medicines Agency (EMA) had approved the use of the Oxford-AstraZeneca vaccine for all age groups in January, but some EU member states initially refused to recommend its use on people aged over 65, with France and Germany eventually revising this stance to approve it for use on those aged between 65 and 74.
Later in March, the AstraZeneca rollout was then paused in 13 countries, including Ireland, after a small number of people had been reported to have developed blood clots after receiving the vaccine. The EMA then said that there was no evidence that the vaccines had caused the clots, leading to its resumption in most countries, but then on 7 April stated that there was a "possible link". Age limitations have been set on the vaccine in various jurisdictions, despite the EMA stating that neither age nor gender are determining factors in possible clotting. The UK has stated that those under 30 should receive an alternative vaccine, while France, Germany and the Netherlands have said it should be limited to those over 55 or 60.
"We have the benefit of learning from our own experience over the past three months, and what has been shown to be most effective internationally. It means for the first time that we can give better information to the very reasonable question 'when will I be vaccinated?'."

Minister for Health, Stephen Donnelly TD
The EU also suffered supply problems with the UK agreeing a contract with AstraZeneca before it had, meaning the 27 member states were behind the UK in supply numbers. This issue was compounded when Pfizer-BioNTech and Moderna both encountered issues with their production and distribution.
In February, the European Commission President Ursula von der Leyen admitted that the EU had been "late to authorise" and "too optimistic when it came to massive production and perhaps too confident that what we ordered would actually be delivered on time".
Ireland, as an EU member state, is free to make its own deals with vaccine manufacturers who have not reached an agreement with the EU. It is under these terms that some TDs have urged the Government to enquire about the feasibility of procuring quantities of the Russian Sputnik vaccine. How rigidly the terms of this agreement are enforced within the EU is also a matter of doubt in any case, given the German Government's side-deal with Pfizer that secured an extra 30 million doses for the country; the European Commission has refused to state whether or not this was a violation of the agreement's terms.
Ireland, as one of the few member states to have fully vaccinated over 6 per cent of its population by mid-April, is among some of the better performers in the EU. Portugal, Spain, Germany, Italy, Lithuania, and Sweden join it in the sixth percentile range. Greece, Romania Czechia, Denmark, and Austria rank in the seventh percentile range. Serbia and Hungary, who both agreed deals with Russia for the supply of the Sputnik vaccine, rank significantly in front of their EU counterparts, on 16.8 per cent and 13.2 per cent, respectively. Comparatively, non-member states proximate to the EU, the UK, Switzerland, and Turkey have rates of 11.8 per cent, 8 per cent and 9.4 per cent, respectively.
Things are beginning to more optimistic in terms of vaccine supply, with news coming in early April that up to 960,000 vaccine doses are to be delivered to Ireland in the month of April, some 100,000 more than was originally expected. Roughly 90 per cent of supplies are said to be used within days of arrival, meaning that at least 860,000 doses will be administered in April, assuming no issues arise with the supply. In comparison, 1.18 million doses were shipped to Ireland across the first three months of 2021. While the figures estimated are of course to be welcomed, it must be remembered that supplies are confirmed by suppliers for just two weeks, meaning that anything beyond this timeframe is based on forecasting.
Further good news for Ireland's vaccine supply came in mid-April, when it was announced that the EU is set to get an extra 50 million doses of the Pfizer-BioNTech vaccine in quarter two of 2021. Ireland, being entitled to 1.1 per cent of EU supply, will received 540,000 of these doses. A four-week gap between first and second doses is currently in operation, but it is now being mooted that this interval could be extended to give authorities the time to roll out first doses to more people than originally planned.