Business
Using employment law to retain and motivate employees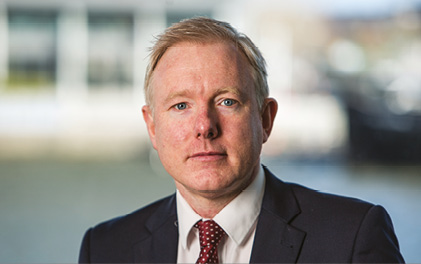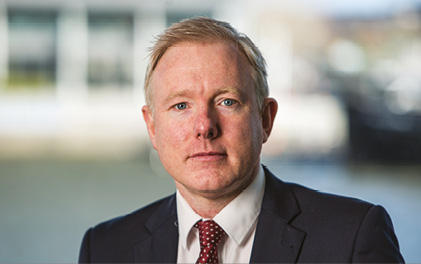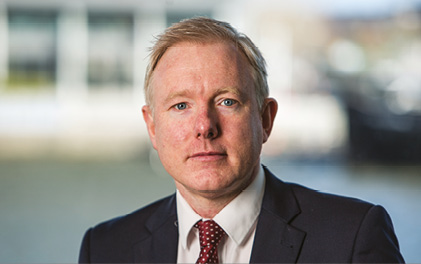 Recruiting, retaining and motivating talent can be a big challenge for employers, particularly in today's economic environment. With more and more employers focusing in on developing plans to tackle this issue, they should not forget that their employment law obligations and HR policies have an important role to play in laying the groundwork for a robust talent management strategy.
Employment contract
The contract of employment is the core legal agreement between the employer and employee and it is important that the contract is fit for purpose and tailored for key talent. In order to avoid uncertainty for employees, the contract should clearly define the job title, duties and reporting structure. It is also important, when dealing with key talent that the contract should protect the employer's goodwill by having appropriate notice and gardening leave periods to "lock in" the employee. For example, it may be appropriate to have a six month or even a 12 month notice period. Detailed clauses to protect the employer's intellectual property and confidential information should also be included in the contract of employment. For certain senior employees, there should be restrictive covenants which apply after the employment comes to an end which prevent the key employee from poaching employees and customers for a defined period.
Bullying and harassment
In order to retain and motivate talent, it is clearly important to have a positive culture and work environment which is underpinned by clear HR policies. These are fairly, and consistently, implemented across the firm. For example, an employer with strong values should have a zero tolerance approach to workplace bullying and harassment. Many employers say they do not tolerate bullying but in reality are slow to take action in any meaningful way and as a result end up losing key talent. In the process, they damage their brand as an employer of choice. Once an employer has a reputation for tolerating bullying at work it can be very difficult to change this perception internally or externally.
Managing underperformance
It can also be very demotivating for talented employees, if poor performing employees are not made accountable. Employers should ensure that they have a policy to deal with underperformance which should include putting poor performers on a Performance Improvement Plan. It is also worth noting that the probation clause in the employment contract is a useful clause to give the employer flexibility to terminate the contract at an early stage if it is not working out.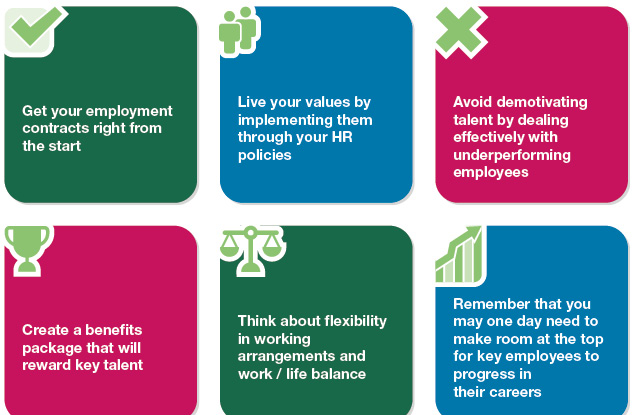 Benefits packages
Clearly to attract and retain key talent the package on offer has to be competitive. This may include a performance bonus and/or the right to participate in an employee share incentive scheme. As a general rule, the employment contract should not refer to bonuses or share incentive schemes. It is preferable if such schemes are subject to their own rules and terms and conditions. In relation to share incentives, it is common practice to structure the scheme in a tax efficient manner and usually the shares will accrue value based on specific targets being achieved whether that is a specific level of profit or a sale/merger by a particular date.
Appointment to the board?
Consideration should also be given to whether the key employee will be appointed to the board of directors. If so, the employment contract should set out that termination of employment will result in removal from the board. A signed undated letter of resignation from the board should ideally be obtained at the same time the employment contract is signed, and held on file until required. This is because it can be cumbersome to remove a director from the board, if he or she does not resign.
Flexible and part time work
In today's workplace, offering flexibility in working arrangements can be essential to retain and motivate key employees in order to help the employee have a better work-life balance. From a legal perspective, it is important that there is a clear policy around flexible and part-time working and that any application for part-time/flexible working is assessed fairly and objectively.
Making room at the top
Talented employees will generally want to progress quickly and take on new challenges and if there is no career progression they will leave. This can raise the sensitive issue of making space at the top by seeking to exit long serving employees approaching retirement age. In relation to retirement, compulsory retirement at a specific age can be challenged as age discrimination under the Employment Equality Acts and employers need to be able to show an objective basis for seeking to enforce a retirement age. It can be very delicate to broach the subject of an early exit by a long serving employee in order to make way for a younger up and coming executive. Apart from taking an unfair dismissal or age discrimination claim to the Workplace Relations Commission, an employee could apply to the High Court seeking an injunction where there is a purported dismissal in breach of contract. This could potentially be very costly for an employer to defend – not to mention it could be the source of embarrassing negative publicity.
In conclusion, while culture and values and benefits are of key importance in managing key talent, a well drafted contract together with well-crafted and fairly implemented policies, can help keep the relationship on a positive footing and protect the employer in the event of conflict.
Dermot Casserly is a partner and head of employment & benefits in Beauchamps.
Dermot works with domestic and international clients on the full range of legal issues that may arise during the employment relationship and on employee dispute resolution. He has specialist expertise across a range of sectors, particularly the education, healthcare, financial services, technology & communications, and public sectors.
T: +353 (0) 1 418 0947

E: d.casserly@beauchamps.ie

W: www.beauchamps.ie