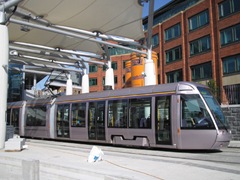 The Department of Transport, Tourism and Sport has had its current structure since June 2011. Transport first became the principal policy domain of a department in 1959, having been part of the Department of Industry and Commerce until then. Since 1959 it has undergone 10 name changes.
This department's status has arguably risen with the transfer of tourism in March this year and the jobs initiative in June, which emphasised tourism's role in economic recovery e.g. through the reduction in VAT on tourism-related services.
The department has six sub-sections: land transport and investment; corporate services and road safety; maritime; aviation and sustainable travel; tourism; and sports.
A wide definition of transport policy covers road safety, the public transport system, ports and shipping policy, and enforcing maritime safety and security standards.
National tourism policy, produced by the department, is implemented by its tourism agencies, including the all-island body; Tourism Ireland. Sports policy is delivered through current funding, which is delivered by the Irish Sports Council, and capital funding, which is provided directly by the department.
The department has one of the largest budgets in government (lower only than justice, health, education and social protection), and its capital budget is the largest of all departments. When accounting for the re-allocation of tourism and sport portfolios it has a total gross budget of €2.3 billion, out of a government gross spend of €57.5 billion. Transport amounts to approximately 31 per cent of government capital spending.
Agencies and related public sector organisations in aviation include three airport authorities, the Irish Aviation Authority and the Commission for Aviation Regulation. Marine bodies include the Irish Coastguard, six harbour authorities and 10 port companies. Amongst the other transport agencies are the CIÉ group, the Railway Procurement Agency, the Dublin Transportation Office, the National Roads Authority and the Road Safety Authority.
Under the sports remit the department is responsible for the Irish Sports Council and the National Sports Campus Development Authority. Through tourism the department is responsible for Tourism Ireland and the National Tourism Development Authority (Fáilte Ireland).
The department is headed by the Minister for Transport, Leo Varadkar, and has two ministers of state: Alan Kelly (Public and Commuter Transport) and Michael Ring (Tourism and Sport). Minister Varadkar has two advisers: John Carroll on policy and Nick Miller on press relations. Tom O'Mahony is the department's Secretary General.
Shadowing the Minister for Fianna Fáil is Timmy Dooley, whilst Dessie Ellis is Sinn Féin's spokesman on transport and Sandra McLellan is its spokeswoman on tourism and sport.
www.transport.ie