Just over a year from the launch of an ambitious strategy which sets out a vision to more than double the levels of renewable energy on the electricity system across Ireland to 70 per cent by 2030, EirGrid Group Chief Executive Mark Foley talks to Owen McQuade about the progress being made and the impact of Covid-19.
At the heart of EirGrid's five-year strategy to transform the Irish electricity system is a deep sense of obligation to lead the island's wider decarbonisation agenda, explains Chief Executive Mark Foley.
Foley is well aware that others will be required to join EirGrid in driving Ireland towards the ultimate goal of net zero carbon by 2050 but highlights a recognition within the organisation of the critical role they have as a key enabler and facilitator.
"We're at the epicentre of the decarbonisation agenda," he states. "Our newly created purpose is to transform the power system for future generations. That transformation is multi-faceted in nature and there is an enormously complex ecosystem that must move in tandem with us in order to make this happen."
EirGrid develop and operate the national electricity grid, taking generated electricity and delivering it to the distribution network, which powers every home, business, school, hospital, factory and farm on the island of Ireland. Critical to EirGrid's role is the understanding of the need to expand and upgrade the power system to handle increasing levels of renewable energy.
Importantly, explains Foley, EirGrid understand the necessary steps required for grid transformation. Elaborating on this message, he initially points to connection. "We've got to facilitate the connection of not just onshore wind, which we have done in a stellar way for the past 15-20 years, but also solar and crucially, offshore wind," he states, outlining his belief that the 70 per cent target by 2030 will not be achievable without a large increase in offshore generation.
Next, Foley highlights the upgrade of the grid itself, adding: "We have to make the grid fit for purpose so that when we do connect those increased levels of renewable electricity, there is enough capacity on the wires. That capacity will not only manifest in hard infrastructure but also the deployment of technology on those wires in a way that maximises the capacity of what already exists."
An increase in connection, coupled with an enhancement of capacity will require the development of complex and sophisticated engineering solutions, explains the Chief Executive, pointing to the need for the grid to ultimately be capable of operating at 100 per cent renewables. Those engineering solutions will be required around the "full universe of services" from batteries to other solutions, he says, highlighting that in order to achieve a 70 per cent target over the year to 2030, 100 per cent operation will be required when the wind is in favour.
Also crucial, will be the increase in interconnectivity between Ireland and the UK as well as mainland Europe. Interconnectors linking Ireland's electricity system with other countries play a key role in enhancing energy security, increasing competition and facilitating greater levels of renewables. As Ireland's electricity transmission system operator (TSO), EirGrid is statutorily obliged to explore and develop opportunities for further interconnection. Currently, two interconnectors exist linking the island of Ireland and Britain. The UK's decision to leave the EU, as well as the recently completed transformation of the Single Electricity Market, formally coupling Ireland's all-island electricity market with mainland Europe, has emphasised the imperative of greater interconnection.
EirGrid's flagship project is the Celtic Interconnector, linking Ireland with France and this project will be the first direct connection between Ireland and continental Europe. Separately, the private sector project, namely the Greenlink Interconnector, will provide a new grid connection between the Great Island substation in County Wexford and National Grid's Pembroke substation in Pembrokeshire, Wales. Both are vital to Ireland's decarbonisation ambition.
Outlining why increased interconnectivity is so important, Foley says that not only will security of supply be improved but it also offers a solution to any shortfall in demand. Describing the option to send surplus renewable electricity outside of Ireland as a "relief valve", Foley stresses that Ireland could be some five to 10 years ahead of most of Europe in terms of renewable electricity generation and so there is great potential to export surplus power. Ireland as an exporter of energy is a natural and appropriate evolution of our energy economy as we seek to deploy the natural resource which traverses our island.
"You can only achieve the economics around 70 per cent renewable electricity on the grid, on average, if you've got somewhere for the energy to go all of the time and that capacity will be really vital for us. Equally, we'll benefit from energy coming our way when such is required."
Foley believes support in the form of a €530 million grant from the EU Commission last October for the Celtic Interconnector was an "extraordinary" vote of confidence for Ireland Inc at the time of deep Brexit uncertainty.
"That support is iconic in terms of the Brexit project and the EU was not found wanting in terms of supporting Ireland's long-term connectivity back into Europe when the UK link is effectively severed," he says.
Highlighting a further evolution which is absolutely required, Foley adds: "All of the engineering innovation is worthless if we don't have a market that evolves to support the transformation. The market must evolve to both support investment in a range of renewable technologies but also support services and solutions which keep the grid stable.
Market evolution is arguably just as important as engineering solutions because without both sides of the equation, working in harmony, we will fail on the grand ambition.
"We must have a market that incentivises private investment, otherwise investment will not happen and targets will not be reached. Market evolution is arguably just as important as engineering solutions because without both sides of the equation, working in harmony, we will fail on the grand ambition."
Addressing whether enough has been done on the 'softer' side of the transformation around those ancillary services, for example, to make the 70 per cent by 2030 target viable, Foley states that he has no doubts about EirGrid's capacity to "define the scarcities" on the system and to come up with solutions which the market will find attractive to deliver.
"Currently, we are close to 40 per cent electricity from renewables sources on the all-island power system on the back of our engineered capacity to handle 65 per cent system non-synchronous penetration (SNSP) on the system. We are deeply grateful to all those in the energy eco-system who have stepped up and delivered competitive solutions around ancillary services to help us achieve this goal.
"I've no doubt in our capabilities to define the next round of ancillary services to get us from 65/70 per cent SNSP to 95 per cent, but we need to work with regulators and the market to come up with the next generation of engineered solutions and the regulators need to be prepared to work with us to remunerate such solutions."
Foley stresses that the market appetite to invest in Ireland's renewable transition exists, aided by the success of the previous 15 years in reaching 40 per cent electricity from renewables and also the vision of the Climate Action Plan, which he says highlights a world-leading government commitment that has inspired and enabled a unique common purpose across the whole energy system.
Finally, Foley believes that EirGrid, as a leader in the transition, must continue to look internally at their own processes and ways of working. "As a company, we want to be an exemplar in the decarbonisation space and so one of our strategic objectives is to be amongst the top companies in the country in this regard. To do so, we are assessing and analysing every part of our working day from how we travel, how we use electricity, what we eat in the canteen, how we use natural resources and our whole sphere of interaction with carbon and looking at how we can drive carbon out of the daily work cycle."
Community acceptance
The EirGrid Group Chief Executive is well aware that crucial to the lofty ambitions to transform Ireland's power system will be public understanding and acceptance, using the term "winning hearts and minds". One of four major strategic goals in EirGrid's strategy is to "engage for better outcomes for all". EirGrid are on the verge of launching a new programme focused on the notion of the just transition, with Foley describing its purpose as encouraging the people of Ireland, across the island, to buy into a vision for a decarbonised world for both business and society. "As part of that we recognise communities have to be beneficiaries of this transition," he adds.
"Our new proposition, set to launch in November, speaks to better engagement, giving more back to communities, both in a tangible financial way and equally, in terms of a leaving a better biodiversity proposition after we have developed infrastructure in the locality."
Recently EirGrid have taken an unconventional step in the form of television and radio advertisements which are designed to stimulate the discussion amongst the public on the requirements for infrastructure and renewables generation if full decarbonisation is to be achieved. Speaking on why the organisation felt the need to launch the campaign, Foley says: "Frankly, the biggest risk to this grid transformation programme is if the people of Ireland don't come with us. Equally, the biggest risk to the Climate Action Plan's ambition is getting the people of Ireland understanding why we need to do this and why the solution being advanced by EirGrid and others is the right solution."
The Chief Executive stresses the need for the debate to be proportionate. Highlighting that the debate often centres on projects where there has been contention, he points to over 4,500MW of built onshore wind in Ireland, the majority of which has not been contentious and where communities have been recipients of significant investment as a result.
"It's really important that the debate is proportionate and the same will apply as we look to build the next 10,000 plus MW," he says.
Covid-19
Undoubtedly, like most organisations, Covid-19 has impacted on EirGrid. However, as an organisation tasked with keeping the lights on, agility to maintain their services throughout the pandemic was essential. Foley credits his team's handling of the crisis which meant no interruption of supply over the lockdown period, explaining that EirGrid got ahead of the curve by shutting down their offices earlier than most businesses and protecting the control room.
However, he recognises that the slowdown in the construction sector "hurt" as scheduled works were unable to be carried out and generators had to postpone outages. What this means is that generator outages planned for the summer might now have to take place in the autumn and into the winter, which Foley states will "present challenges as we manage a tightness into the winter".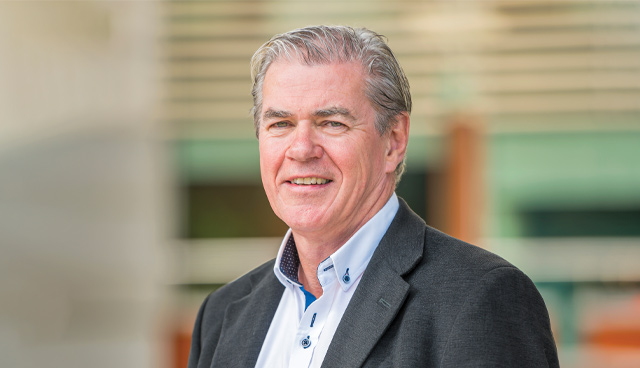 Frankly, the biggest risk to this grid transformation programme is if the people of Ireland don't come with us. Equally, the biggest risk to the Climate Action Plan's ambition is getting the people of Ireland understanding why we need to do this and why the solution being advanced by EirGrid and others is the right solution.
EirGrid had established a plan to return 50 per cent of their workforce to the office in September but increased Government restrictions in early October meant that that was no longer possible.
"That's been a bit of a shock and further realisation that this is going to take a lot longer than first thought. What we're now looking at is how do we protect the essence of our business plan next year and our best brains are now concentrated in this area, figuring out the appropriate protocols," adds Foley.
However, he is adamant that in the midst of the pandemic, EirGrid and Ireland won't lose sight of the decarbonisation agenda. "When Covid is gone we will get back to talking about the Climate Action Plan as being the big imperative from an Ireland Inc perspective and a catalyst for massive investment in the Irish economy.
"We have an enormous communications challenge on our hands and I believe that we need to create a collaborative and engaging communications plan for all stakeholders."
Pointing to the Government's communications in the early part of the pandemic as an exemplar for communications in informing and guiding the public, Foley states that in research done by EirGrid in late 2019, only one in five people had heard of the Climate Action Plan.
"There's a massive communications challenge once Covid stops being the dominant narrative," he states.
Despite the scale of such challenges, Foley is optimistic about Ireland's decarbonisation agenda and the transformation of the grid.
"In my whole career, I've never seen such a level of convergence amongst all of the actors in the whole energy system around what needs to be done. There's little to no dissent on the need to decarbonise energy and while it's accepted that we need to eliminate some of the legislative and regulatory roadblocks, there is a an exceptional common sense of purpose. It's extraordinary to see how joined up people are, ranging from government right through to the smallest operators and I believe that level of common purpose is a great foundation for achieving the ambitions."
A grid of the future
Turning to what the grid of the future might look like, Foley says that he was delighted to see 800 MW of solar get through the gate of the RESS-1 auction, recognising that the solution is a mix of renewable technologies in the form of solar, onshore and offshore wind.
"I want to see these three technologies connected on the grid and I want to see a massive deployment of technology to make the grid more sophisticated and efficient. On a services front, I want those technologies that allow the grid to stay stable and allow the grid to operate at 100 per cent renewables appropriately remunerated.
"Back in the control room I want to see technology that efficiently and reliably pieces the jigsaw together, predicting wind levels and switching generators and on-wire technology on and off in an automated and sophisticated manner," Foley adds.
On what the grid of the future might look like to the lay parson, he stresses a desire to achieve a sense of connection between individuals and their electricity use, so that as they use the infrastructure for green electricity deployment, there is an appreciation and understanding that they are playing a part in the overall decarbonisation agenda.
---
Profile: Mark Foley
A Cork native, now living in Newcastle, County Wicklow, Mark has over 30 years' management experience across a range of industry sector including private sector, multi-national and commercial state companies. A chemical engineer, he began his career as a plant manager for Loctite/Henkel in Tallaght before becoming Managing Director of Worldmark in 1998. In 2000, he became Director of Capital Programmes for Dublin Airport Authority, leading the then largest capital development programme in Ireland's history. In 2008 he became Managing Director for Coillte Enterprise, building their renewable energy and telecoms portfolios. In 2018 Mark was appointed EirGrid CEO. Outside of the office, Mark lists tennis, hill walking, reading and rugby as his passions.