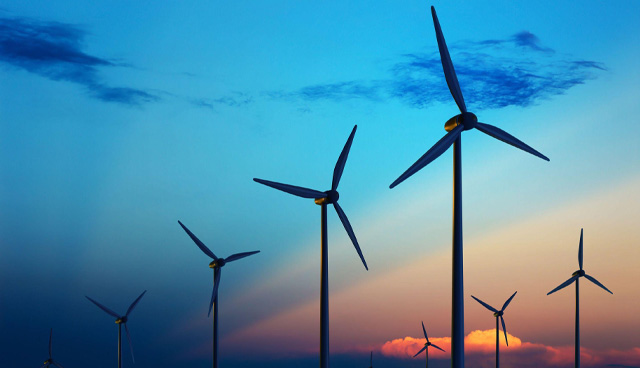 KPMG Ireland hosted a virtual round table discussion with experts from across local government and industry, applying their experience and insight to explore the role of local authorities in climate mitigation and adaptation.
In planning for the future, why is it important that local authorities give due regard to the National Planning Framework (NPF) and emerging technologies?
Shane O'Reilly
The National Planning Framework is Ireland's national strategy for sustainable planning and development. It is strategically aligned to the National Development Plan. Within the National Planning Framework, several key strategic objectives, including sustainable mobility, high-quality international connectivity, and particularly the transition to a low carbon and climate resilient society, have innovative technologies at their core. Therefore, to ensure both future growth and development at local city, urban settlement, and rural scales, alongside the application of best practice technology, it is essential that local authorities have regard for and alignment with the NPF. It is a cohesive and proactive plan spanning the next 20 years and beyond and, in theory, it should maximise the utility of resources it spends on development and innovation. It is essentially preparing Ireland for the upcoming climate challenges it will face. In being proactive, it should have a degree of flexibility because circumstances will change, and technologies will emerge much more rapidly.
"What is currently being achieved by local authorities through green and blue infrastructure strategies and biodiversity plans is evidence that where they do have control and appropriate objectives, a positive outcome is deliverable."

— Shane O'Reilly, Director, Sustainable Futures, KPMG Ireland
Kieran Reeves
The National Planning Framework is only one component of a national policy framework that includes climate action and transportation, but it provides real spatial coherence to what we must deliver in terms of compact growth along with its associated values. The NPF is interesting in that it aligns itself to the UN Social Development Goals and as such, in Limerick, we plan to align the Development Plan for 2022 to 2028 with the SDGs. The link to the National Development Plan is very coherent and is critical in enabling us to come up with plans and policies, alongside the funding mechanisms to go with it. The URDF [Urban Regeneration and Development Fund] programme of investment has been really critical to us in Limerick in the last two rounds. We have put in place solid plans for the future of Limerick in the Limerick 2030 strategy. Furthermore, we have created new vehicles to deliver that vision trough Limerick 2030 Strategic Development DAC, established to drive forward key investments. Funding for some of this will come directly through the National Planning Framework via the National Development Plan and the URDF. Through our involvement in the Positive City Xchange Horizon 2020 project, we have created an inclusive vision incorporating citizen innovation labs, complementing the innovation coming directly from the National Planning Framework. It's going to drive us.
Alan Dunney
The National Planning Framework is a really important policy framework. Both the National Adaptation Framework and the All of Government Climate Action Plan recognise the NPF as being a critical instrument in enabling the delivery of climate targets and building resilience at that local level. Ultimately, all local mitigation and adaptation measures will be delivered on the ground, and it is important that an overarching plan is in place so that we all work towards a common purpose. In relation to emerging technology, we are a very innovative country. For instance, employment in the technology sector in Dublin city is around 9 per cent, three-times greater than the EU average. We need to leverage that in terms of digitalising and automating our services, contributing to the sustainability agenda.
Clare McKeown
In Belfast, the net zero carbon transition is going to be a massive challenge, primarily from an engineering perspective. The decarbonisation of electricity and in particular the electrification of heat and transport sectors are the two key responses. It will be vital to have the planning frameworks ready to adopt those. Knowing exactly where grid upgrades will be required for example for charging electric vehicles at night is going to be a key part of how we prepare for the future. We see the marriage of digitalisation and the decarbonisation processes as the new global industrial revolution. It is a huge technological transformation, and the planning system must enable it. In Belfast, we are looking at new building regulations and retrofitting the existing stock to an advanced low carbon standard, these issues will be a core component of this transition. Going forward a key priority will be to develop an effective public engagement strategy to build consent and maintain support for new measures given the costs and adjustments that will be required to transition to a net zero future.
Ger Mulvaney
Clearly, there are broad systemic issues at play when we are talking about the effects of climate change and the risk of increased instances of natural catastrophes such as windstorms, floods, and wildfires. A coordinated national approach involving all stakeholders and available technologies is the way forward that is most likely to be successful. In relation to technology, insurance providers would like to see increased use of big data, for example, this could include tapping into information held by the technology multinationals located here in Ireland to assist with risk management. Likewise, catastrophe models are tools that can be deployed to identify, assess, and manage natural catastrophe risks. These models are highly sophisticated in terms of assessing the likelihood of storms and floods, as well as the associated damage. The increased use of such models is trending up across Europe and indeed globally, and Ireland is catching up in this space.
To what extent are planning regulations a help or hindrance to sustainable development?
Kieran Reeves
The mechanics of regulation are fine, but I think addressing the regulation around the creation of our plans is much more important. Physical regulations around buildings, for example, must react to technology advancements, and already have in some instances, including in relation to nearly zero-energy buildings. The system already allows for the regulations to be changed quickly to reflect changes in technology or circumstances. However, there is a need for change in how we make our plan and policies. Two years to devise a city or country development plan is too long. Additionally, development plans are running to over 1,000 pages. That does not incentivise collective buy in or support. People do not want to engage with such a long and detailed process but that is what is happening. We need to simplify and disaggregate the process to enable greater agility. At the core of this is the need to create a proper vision for the future and the establishment of key performance indicators and targets. Around this vision, a series of action plans are developed and continuously updated to reflect changes in circumstances, finance, etcetera. The pace of change in relation to the climate agenda is so fast that even existing policy frameworks will require agility.
Alan Dunney
The length of time it takes to develop a county development plan is a challenge. We are seeing local development plans going out for consultation but with the new all-of-government Climate Action Plan and the Climate Amendment Bill likely to be enacted soon, the goal posts will have shifted significantly. Nationally, the Wind Energy Development Guidelines and the Development Plan Guidelines would also be of great benefit to the forward planning process, particularly as our planners are looking at a development horizon to 2025.
"We need to be an innovative in relation to the partnerships we develop to facilitate a variety of projects, ranging from anaerobic digestion through to residential retrofit."

— Alan Dunney, Regional Coordinator, Eastern and Midlands Climate Action Regional Office
Kieran Reeves
In Limerick City and County Council, we consulted on the development plan last summer and I aligned every submission with the UN Sustainable Development Goals [SDGs], comparing them to what we did in 2010. Undoubtedly, there is a shift in public desire from economic concerns to a focus on communities. That is not a shift that has occurred overnight. Factors such as the merger of the two local authorities in Limerick and the development of the National Planning Framework and regional strategies has meant that is now over 10 years since the last development plan. Local authorities need to be able to respond much quicker and be increasingly innovative in their actions so that they evolve to match circumstances, technologies, and progress.
Shane O'Reilly
Planning regulations are beneficial, but they need to be supported by practical application, at a correct spatial scale, to avoid becoming a hindrance. The UN Sustainable Development Goals have only been around for between three and four years, which is probably not long enough to make a material difference but what they are doing is shaping national planning and a wider legislative framework across Europe. The alignment of the NPF's strategic outcomes and strategic investment priorities is based on sustainability, so there is a clear direction of travel. If designed and implemented with the proper goals, planning regulations can greatly help the emergence of sustainable development by ensuring that sustainable solutions are elevated to goals. The key challenge with planning regulations is to ensure they keep pace with the times and ensure that expectations match the level of affordable technologies, providing sufficient incentives to upgrade outdated technologies.
How can local authorities facilitate a sustainable future for natural resources such as waterways, forestry, and biodiversity?
Clare McKeown
Local authorities are large landowners. We own parks, playing fields, woodlands, and forestry, with rivers running through some of that estate also. Managing these spaces into the future will be important in order to protect biodiversity and use that land for climate adaptation purposes. This is evident in Belfast City Council's new Blue and Green Infrastructure Plan. We are also coordinating Belfast's One Million Trees programme. While the initiative is inherently positive, where these trees are planted and the species that are planted is vitally important. As such, we intend to liaise with communities over the 10-year lifespan of the programme. Learning from other cities about nature-based Climate solutions is important. Belfast is a member of the Global Rockefeller 100 Resilient Cities Network. It enabled us to observe the plans that other cities, such as Rotterdam, were undertaking.
"Identifying how we are going to finance the transition is going to be vitally important and we need to ensure we are planning ahead in order to avoid having stranded assets and to ensure a Just Transition."

— Clare McKeown, Sustainable Development Manager, Belfast City Council
Shane O'Reilly
While national plans can provide guidance for development, specific objectives can be defined by local authorities and communities. When it comes to local authorities and natural resources, it is important to consider what they can control and influence. Local authorities have a great influence on the sustainable future of their natural resources. As such, they have a key role in evaluating the current condition of their natural resources, benchmarking this against national or international leaders, before creating a cost-benefit analysis to determine objectives for the local authority and the community. What is currently being achieved by local authorities through green and blue infrastructure strategies and biodiversity plans is evidence that where they do have control and appropriate objectives, a positive outcome is deliverable.
Alan Dunney
It is about leadership, as exhibited by the work of LAWPRO and the community water officers, our environmental awareness officers, heritage officers and area engineers. There are several examples of effective initiatives. Firstly, most counties will now have adopted the All-Ireland Pollinator Plan. If you drive the length and breadth of the country, you will see that there are different techniques being used to manage our land banks, road verges and our parks. Secondly, many local authorities are beginning to engage with the Department of Agriculture, Food and the Marine on its afforestation programme. Thirdly, the County City Management Association is collaborating with the GAA, as a major landowner, to drive climate action and sustainability through the GAA network. Running in parallel to the Healthy Club initiative, the Green Club Programme aims to drive four pillars of climate awareness into the community: energy; biodiversity; water; and travel.
Ger Mulvaney
Fundamentally, the Government and local authorities have undertaken many useful initiatives, but what people individually are doing themselves is vital to protecting our natural resources. To that end, cultural change is necessary, and we have not quite got there yet. This requires some critical reflection on the actions taken to date to ensure buy in as well as contribution at an individual level and the GAA initiative is an example of that taking root. There is only so much that government or a local authority can do without communities of people also assuming a leadership role.
"What insurers are doing is stress and scenario testing to get a sense of the exposures in relation to climate change. There is a realisation of a need to evolve from being the indemnifier of all that could go wrong to helping to mitigate and manage the risk down."

— Ger Mulvaney, Director of Risk and Compliance, IPB Insurance
Kieran Reeves
Blue and green infrastructure will play a critical role in the transition to a sustainable future. Through their own example, local authorities provide leadership in this sphere. Equally, it is about engaging with our communities. The Public Participation Network allows the local authority to engage with communities as part of the decision-making process. We are lucky in Limerick to have the support of the JP McManus Charitable Foundation which, in partnership with the Council and communities across Limerick, sponsors a range of community initiatives including Team Limerick Clean Up and Going for Gold. Beyond this, the Rural Regeneration and Development Fund can be utilised to support communities in developing smarter, active travel routes. This means connecting different parts of our towns and villages, through the GAA clubs, the schools, and the housing estates, using safe walking and cycling alternatives to roads. It is critical that we engage and involve all facets of society in our decision-making. Limerick City and County Council is developing a Citizens' Observatory as part of the Positive City Xchange project and another EU project called Green Leaf where people are invited to contribute data and information about their local environment and to contribute to the policy making process.
How can the benefits of collaboration between industry and local authorities be maximised?
Alan Dunney
We need to be innovative in relation to the partnerships we develop to facilitate a variety of projects, ranging from anaerobic digestion through to residential retrofit. The private sector is showing flexibility and agility in how it is beginning to deal with the challenges of climate change and there is an opportunity for us to work with industry to facilitate the changes that are needed. There are many areas in which local government can benefit from partnership with the private sector and there are a lot of new opportunities for economic growth arising from climate action. Equally, demand from the private sector to partner with local authorities is increasing, with the realisation that local authorities have responsibility for on-the-ground delivery.
Clare McKeown
Given the speed required for transformation, collaboration between local government and industry is key. Innovation will be required on a large scale, as will the need to work together to solve problems. Business can be supported to come up with new solutions for the benefit of society through SBRI initiatives. We have been fortunate enough to be involved in three Innovate UK fund collaborations, bringing together the public and private sectors, along with SMEs and academia to solve problems. We are currently working on £9.2 million fund seeking to repurpose Virgin Media's communication infrastructure for on street charging for electric vehicles in residential areas. The EU Horizon 2020 fund is another route. These types of collaborations evidently create new jobs, new industries and promote wealth creation and inward investment. I am pleased that our city is engaging with those institutions and businesses.
Kieran Reeves
The public sector can act as challenge setters to encourage private sector innovation. Limerick is one of two EU 'lighthouse' cities selected for a major climate change pilot programme. The Positive City Xchange smart city project aims to establish Limerick as Ireland's first positive Energy City. We are working with a multitude of companies ranging from start-ups to established companies and, in the coming weeks, will be testing a small river turbine programme in the River Shannon in a bid to support local communities. The Small Business Innovation Research fund is another fantastic tool whereby local authorities and public sector bodies can support private sector innovation in research and development. We can provide sandboxes for the private sector to test and evolve solutions, all the while capturing the benefits for the public good.
"The mechanics of regulation are fine, but I think addressing the regulation around the creation of our plans is much more important. Physical regulations around buildings, for example, must react to technology advancements."

— Kieran Reeves, Senior Executive Planner, Urban Innovation, Limerick City and County Council
Shane O'Reilly
The Covid-19 response has served to highlight how collaboration can offer interconnected solutions. Climate change challenges facing local authorities can be very complex and multiple stakeholder engagement is the preferred route to solutions. Collective, cumulative resources generally benefit all parties, particularly if it is a community public impact project. Maximisation can be achieved through the likes of open forum discussions, collaboration on strategic future planning and private engagement through PPPs.
How will climate mitigation and adaptation programmes be funded and insured into the future?
Ger Mulvaney
The insurance model works because funding from the many pays for the claims of the few. If this were to become funding from the many pays for the claims of the many, it would likely provoke a collapse of the business model where insurance becomes too costly or no longer viable. What insurers are doing is stress and scenario testing to get a sense of the exposures in relation to climate change. There is a realisation of a need to evolve from being the indemnifier of all that could go wrong to helping to mitigate and manage the risk down. As we observe increased migration of investment portfolios towards environmental, social and governance criteria and sustainable-type investments, it is in the insurers interest to follow a similar strategy. Additionally, IPB is evolving its product offering to ensure it better aligns with the sustainable activity of local authorities. Insurers also have access to the global reinsurance market and data to assist in really understanding the risks. We are working with local authorities to help understand and quantify the risks and support mitigation but there is space for greater collaboration.
Clare McKeown
Identifying how we are going to finance the transition is going to be vitally important and we need to ensure we are planning ahead in order to avoid having stranded assets and to ensure a Just Transition. Belfast City Council is a member of Place Based Climate Action Network or PCAN, an Economic and Social Research Council-supported network with a sharp focus on green finance, green business development and the just transition. The PCAN project is bringing together the research community, climate strategies, financiers and decisionmakers in the public, private and third sectors to explore green finance and green business. It has been hugely informative in understanding how green finance will operate and how it can be mobilised into the city.
Kieran Reeves
Globally, there is an understanding that if we don't handle this transition properly, the world economy could collapse. Currently, the technology exists to get us to 2030 but post-2030 we are going to need a massive acceleration of technology, that will need to be financed, managed and future proofed. That challenge is focusing minds and we're seeing the emergence of several funds for sustainable investments. Horizon Europe, for example, is a €95 billion programme and we're starting to see other innovations including the monetisation of data to mitigate risks. In one colourful analogy, our current situation is akin to building an aeroplane mid-flight while running out of fuel and trying to determine how to land it.
Alan Dunney
I do not think funding should be a barrier to getting our structures established and getting our staff ready to embrace this challenge. There is €1 trillion aligned with the European Green Deal Ireland will benefit from access to that. Additionally, the Programme for Government has pledged that €1 in every €5 in Ireland's capital budget for transport is to be spent on active travel each year. Meanwhile, the OPW has set out nearly €1 billion for flood risk management over the course of the NDP. Local government has been pursuing climate change work for the last number of years and I do not think access to funding should be a barrier to getting on with that work. All that said, funding will be required over the coming years to really tackle mitigation and adaptation projects at a scale required to meet our obligations under the Local Authority Climate Action Charter.
Shane O'Reilly
Climate finance is the cornerstone of the EU's Green Deal and access to green finance will play an ever-increasing part of central and local government budgeting. Our five-year climate budgets, as proposed in the Climate Action Bill, are a potential mechanism to apply taxation to the heaviest of greenhouse gas emitters; not just those who are currently part of the EU ETS, but all industries and sectors. While funds available are vast, there is significant competition for access, and they are not endless. Those at the top of the pile for funding will be the greener and more mitigating projects and I am hoping that this competition will accelerate the innovation we need over the next decade.
---
Round table participants
Alan Dunney
Alan is the Regional Coordinator for the Eastern and Midlands Climate Action Regional Office (EM CARO) which is hosted by Kildare County Council. He is a civil engineer by profession and has worked in local government for 20 years. He has experience across several local authority functions including transportation, construction, water services capital and operations, flood risk management and landfill regeneration. He has been leading the EM CARO since its establishment in late 2018.
Clare McKeown
Clare McKeown is Sustainable Development Manager at Belfast City Council. She has been at the forefront of sustainable development policy implementation for almost two decades at both local and national level, as a senior policy advisor with the UK Sustainable Development Commission in Northern Ireland and subsequently Head of the Whitehall Team. She is currently leading a number of climate finance and technology related projects.
Shane O'Reilly
Shane O'Reilly is a Director within KPMG Sustainable Futures and leads the ESG and Sustainability service line. KPMG Sustainable Futures is a dedicated cross-functional team of experts who help corporates and public sector clients plan and execute programmes addressing ESG topics, decarbonisation, and long-term value creation. Shane holds an MBA, MSc in environmental management and a BSc in industrial and environmental chemistry.
Ger Mulvaney
Ger Mulvaney is Director of Risk and Compliance at IPB Insurance and has circa 20 years' experience in the Insurance Industry. Ger joined IPB Insurance in June 2014, assuming the role of head of risk in 2016 and subsequently risk and compliance in 2018. Prior to joining IPB, he worked in the Central Bank of Ireland as an insurance supervision manager overseeing the risk-based supervision of several large international insurance companies. Ger started his career at PwC where he qualified as a chartered accountant and gained several years' experience in the audit of insurance and other financial services companies.
Kieran Reeves
Kieran Reeves is a Senior Executive Planner in Urban Innovation at Limerick City and County Council. An experienced senior urban planner with over 25 years of local government experience in Dublin and Limerick, he has worked in a variety of areas including development management and strategic planning policy at local and regional levels. In recent times, Kieran has worked in the area of economic development as part of a wholly local authority-owned property development company — Limerick 2030 where he oversaw the development of strategic sites in the city centre. Currently he is working in the Urban Innovation Unit targeting the renewal of the historic city core.
---