EY hosted a round table discussion on how the rise of digital technology impacts on the workplace and on how organisations engage with customers and citizens.
What does digital mean for your workplace environment and the people operating within it?

Maurice Hennessy
We look at digital in a couple of different ways. As a service organisation, the first is how we apply digital to improve the services we deliver to customers and passengers. The second is how we use digital to improve our ways of working. In the work environment, the consumerisation of IT has led to a blending of the work/life balance. People now expect mobility and to be able to work anywhere, any time on a device of their choosing.
Another aspect is how we capture information. In the airport environment traditionally there have been a lot of manual processes. Now we look to capture everything digitally first time and give the right access to that information in real time. For example, we have airport perimeter patrols, which historically would have captured information manually. We developed a mobile app whereby the information is captured on a mobile device and colleagues in our control centre have access to it immediately.
Another area of focus is our data assets. We are investing in our data and analytics capability to utilise these assets to drive improvements in passenger experience, operating performance and revenue growth.
Richard Corbridge
We break digital into five areas: social media, mobile, analytics, cloud and security and these come together to create a 'digital fabric' within healthcare that creates knowledge and information for either clinicians, porters or patients. The elements of the eHealth programme are about pulling on strings that will create knowledge and information. We have a huge amount of data in lots of different places that we don't turn into knowledge.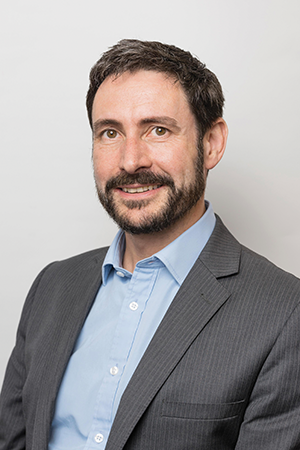 Digital for us is how do we use the digital infrastructure to create knowledge that improves the delivery of healthcare either through improved efficiency, improved safety, at greater speed or lower cost. Data in healthcare is also important in improving patient health and in clinical research. There is a push now to take the information from the patients going through the system and to link that with clinical research to help improve the health of future generations.
Margaret Lane
We are a utility company with gas and water businesses. The big impact of digital for our business has been around the response times to outages and linked into this, is using data gathered on the ground to feed into asset management strategies.
We are also capturing a lot of data that we haven't yet worked out how to use effectively.
Digital is also about working more efficiently and effectively, with changing from paper to digital systems. It is about changing the way we work to offer a seamless service to our customers. A big challenge for us now as a multi-utility is how we can run both gas and water networks together and being smarter in coordinating activities.
On the employee side, we have recruited a huge number of people in the last couple of years, particularly in Irish Water. We have also set up a shared services unit in Gas Networks Ireland with a lot of new people. We need to engage with them effectively and we are looking at how we can use technology to do that.
There is also the challenge of people wanting more flexible hours and to be able to work remotely and our infrastructure needs to be able to support that.
It is now a 24/7 business. We also need to recognise that nowadays we have a workforce that thinks differently. There are also changing demands from customers on how they want to pay their bills and how they interact with us.
We also need to recognise the impact of all of this on employees and their well being. There is now a sense that you are never away from work and there is no downtime. That has potential for burnout and stress. I think you have to always keep the human dimension.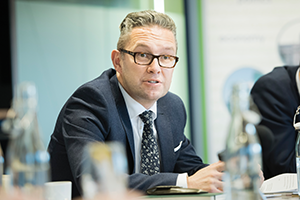 Niamh O'Beirne
We have quite a young workforce and we do a lot of graduate recruitment. This group is very digitally aware and they expect to be communicated to and recruited digitally. They also expect mobility and to be able to access all systems at anytime. The technology is evolving fast. For example, email is now only used for documenting things or sending large files. Our staff are very mobile while working on projects and they now use tools like Lync, text or WhatsApp as they need instant communication within the teams.
The other digital side of our business is supporting clients in digital transformation and what it means for them. This means hiring people with knowledge of digital transformation and also the HR aspects of any transformation.
Garvan Callan
Digital is really all about enabling change. From the bank's perspective we have 232 years of heritage as a physical business so to date we have been very physical and transaction orientated. We are now on a journey to tilt that in three directions: from physical to digital, from product and transaction to customer experience and also to enhance the employee experience in the workplace.
An example of the latter has been the introduction of the collaborative tool Yammer, which has had a massive impact in our branches. Teams in our branches only see each other maybe twice a year but now they are engaging, sharing, collaborating and even competing digitally every day. In the past year we have gone from 350 people using it to over 10,500 users. It was launched in a very organic way, starting with a small number of people and seeding it with activity. It has been very much a 'bottom-up' development and that's what digital is all about – an 'enabling' approach rather than a 'directive' approach.
The customer experience is what is really driving our digital agenda. To facilitate this we are getting the organisation digitally fit and raising our digital IQ. The goal is to meet customers on their terms. They are online and expect us to be online. And while we are focused on the customer experience, the employee experience often has to come first.
Orlaigh Quinn
We deal with such a wide variety of customers, with 16 government departments, all of which are different businesses in very different spaces. These range from large departments like the Department of Social Protection to smaller, more policy driven, departments like Communications, Energy and Natural Resources. We also work with a range of public bodies and agencies including the Revenue Commissioners whose focus on electronic processes has contributed to Ireland being first in Europe in terms of ease of paying business taxes.
In order to take a unified approach to digital matters we published our Public Service ICT strategy earlier this year. This is underpinned by a number of principles, including 'build to share'. For example, if we're putting in a digital system to handle Parliamentary Questions, we want to support every government department to have the same system. This also supports our aim to achieve greater mobility of staff.
We are also focused on 'digital first' so that all new services are designed so that customers who can use digital will opt to do so.
I would, however, question the assertion that everyone wants digital. We have a very diverse customer base, including some 500,000 pensioners and people with disabilities who may not be digitally aware or able and we must continue to provide alternatives for them.
Data sharing is also a key element. Can we use the data held in one department somewhere else? For example, the third level education grants system SUSI pulls data from Social Protection. While we have to ensure data protection, there are huge wins in sharing data across government, particularly for vulnerable clients.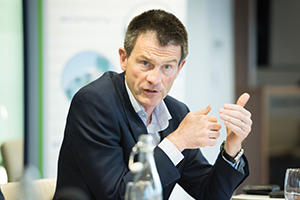 Open data is another aspect which Government is prioritising. One of the projects, for which I have responsibility, is Benefacts, a partnership initiative between Government and philanthropy. Benefacts will deliver financial and governance data on more than 12,000 non-profit organisations which receive more than €4.4 billion annually in government funding, This will support an improved assessment of public spending and support better decision-making and accountability.
Internally, we are also building shared services across the 36,000 plus Civil Service. We now have HR and payroll shared services and are exploring financial management.
Digital underpins all these activities, both internal and those engaging with citizens.
How can digital technology and capability help organisations engage within the workplace?
Richard Corbridge
This year we have tried to get people using technology more by opening things up and being more transparent. In February, I was giving a presentation to clinicians and one newly qualified doctor said there was one thing that we could do to help him: When he types the word breast into the internet search engine a security man appears and starts asking him questions – the doctor is training to be a breast cancer specialist.
It's about trying to open things up and enabling people to use the technology. We are taking clinicians through how to use Twitter, initially as a way of engaging with other clinicians and now starting to engage with patients. This is a challenge as healthcare people have been nervous about engaging on digital platforms.
Orlaigh Quinn
Government departments now use a wide variety of social media and communication tools. We need to encourage more of this. Data sharing is also key to much of our business. Data protection has always been a concern but protocols are in place. The CSO is a big data controller and its role is well set out but it is the day-to-day activity across the broader range of public services that is more difficult. For example, when we set up the HR shared service just trying to get everyone's data into one centre raised issues, which we did sort out. We must be mindful of these issues but not let them prevent change.
Niamh O'Beirne
The biggest issue within organisations is how agile their structures are and how their people now want to work differently. Organisations also need to think about how their people will work in the future. There are lots of issues around flexibility and mobility and at the same time you need a work/life balance.
In Ireland, we now have a retention issue with talent. I have been doing some research around 'having the best job in the world', which is focused on the individuals idea of the best job. It is about employers creating an environment that retains the right type of people they want – adaptable people with the right skills. In the past we hired people with the right digital skills and paid them a lot. They then moved on – we have made those mistakes. With the increased pace of change that's no longer the right way to hire. It is more about the capability of the individual to learn and be agile. I don't see any of the established businesses doing that yet as it is harder for them to be agile. The new technology organisations are not so focused on structures and look to foster more collaboration. For example, Microsoft's new performance management system rewards collaboration over individual effort.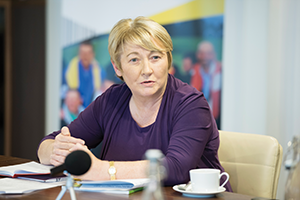 Margaret Lane
Training and support are important. You have to educate new people coming into the organisation. It's about demystifying technology and opening up. There is some fear particularly amongst those that have been there for some time and reverse mentoring by some of the younger members of staff can address this. Constant support is required particularly now that ether is change in people's roles. You have also to change the culture to one where collaboration is key, where it is OK to share.
Niamh O'Beirne
I agree. Culture is huge. It is easy to say we want innovation but you have to create a culture where you can take a risk in allowing mistakes.
Garvan Callan
The patterns of work are a key aspect. As an example, I have just been through Dublin airport and used the new passport scanning facility and looked across and saw three passport officers sitting in cubicles with no one near them. It reminded me what it might feel like being in a bank branch in the future. What we are looking to do with digital is to help the teams in the branches become mobile, helping them to get out from behind the desk and get into the community. To do this we had to raise our comfort and confidence in using technology as well as develop digital tools, look at education and importantly, we have also tried to create some fun around it.
Maurice Hennessy
Culture and work patterns are big issues for us. We have a large cadre of our workforce who don't sit at a desk. They don't need constant access to a PC or a mobile device to carry out their day-to-day work activities, for example, passenger screening security. We are assessing how we can use digital to give this group more control over their work lives. For example, enabling them to swap shifts or request annual leave through their own personal mobile device. We also want to improve communication and give them access to company applications such as email through their personal devices.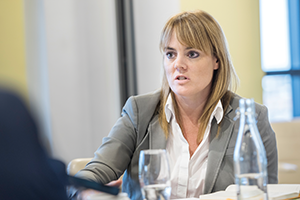 In an era of increasing customer expectations in terms of digital, how is digital transforming service delivery?
Richard Corbridge
When we engage with patient groups there is an expectation of being able to engage digitally. They can deal with their bank digitally on the phone whilst sitting on the LUAS. They have to go to a GP or a hospital and sit in a queue and wait. Over the next 12 months we will be asking patients' permission to share their information. Most patients respond with surprise that we aren't already doing that.
Niamh O'Beirne
Health is still very paper-based. I saw research showing that with maternity services the patient has to bring their paper files with them to every appointment. That could easily be done with an app. I did a digital strategy some years ago for the new children's hospital and we foresaw handheld devices, with the patient telling their story once. I had an experience recently in a hospital where I had to tell my story several times and it was physically written down on paper.
Richard Corbridge
The average referral letter from a GP touches 18 pairs of hands.
The conversation over the next 12 months in healthcare will be on information security. One of our messages is let's not stay with paper and be scared of digital and not use information security as the barrier. Who knows what is happening to the cupboards of paper files. If it is digital we can tell who looked at the files, when and why. Information security is actually better with digital.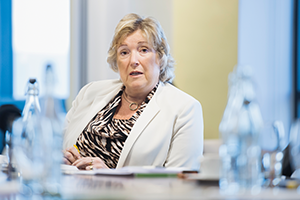 Garvan Callan
We are digitalising the transactions which are creating efficiencies for customers and the bank but that is also creating data and creating a capacity in the system to allow our teams to get out and engage with customers more. That's a virtuous circle of more efficiency, more data and more engagement which helps us give a better customer experience. We also respect that some of our customers still want to come into a branch and see us, and certainly for the bigger transactions such as pensions and mortgages. We see that as a face-to-face conversation as it is more complex with more emotional investment, and therefore enabled by digital rather than replaced by digital.
Maurice Hennessy
Digital has transformed the service offering at the airport. Take your journey: your car parking was probably booked online. The security queue times are digitalised and are visible which helps take some of the stress out of your journey. Baggage, particularly T2, is a much more digital process with little manual intervention. This has made a significant reduction in both in cost and in the number of errors. It also means the customer taking more control over their journey.
Orlaigh Quinn
Over the last five years digital was primarily focused on efficiency and cutting costs. It is now much more about improving the customer experience. There are over 400 government services online, via www.gov.ie, with varying degrees of take-up and success. Some of these are very focused, such as motor tax services now done online by 66 per cent of eligible clients. Another good example is fixyourstreet.ie where you can report non-emergency issues to local authorities. Almost 11,000 people used it in 2014 with an average response time of 1.5 days. That's real and tangible. Going onto the gov.ie website and seeing the range of services is quite empowering. It's now about doing more and reusing what's been done with the 'build to share' approach.
What one area should senior managers focus on when addressing digital issues in the workplace?
Maurice Hennessy
Embrace digital and put emphasis on the work environment and staff piece as well as the customer and service delivery side. We effectively digitised our car parks business with 80 per cent of our daily paid parking now booked online. That's very tangible. It's going to drive revenue and the business case stands on its own two feet. It is not as easy to look at the impact of digital on staff engagement as it is less tangible. It takes time and effort to build the case for using technology to engage staff; get sponsorship for that at executive level.
Richard Corbridge
Build credibility by setting achievable goals that will be successful, so that people start to believe in the digital infrastructure. In health – not so much in Ireland but elsewhere – there have been grand visions for what technology would do in healthcare, with huge amounts invested with little achieved. What we have tried to do is say what we're going to do and then achieve that, so we can build credibility with customers and staff. My advice is to understand what are the goals and what is needed to achieve credibility in delivering digital.
Margaret Lane
Help create the right culture. Be open and engage with people at a human level. I would say to managers, don't forget the human touch.
Niamh O'Beirne
Think about the environment you create and make sure it is open to new ideas and to taking risks. You need to be able to create an agility and adaptability amongst people and structures shouldn't be too rigid. There needs to be flexibility and movement of people. We all like to hold on to good people but for the good of the organisation we need that agility within the organisation.
Garvan Callan
It is about communication and understanding, finding a common language and common ground so digital can be embraced. Everyone is very busy on the 'what' – what can digital do? Try to keep the focus on the 'why', storytelling and understanding the 'why', to ensure the benefits are embraced and meaningful.
Orlaigh Quinn
Managers should think about how digital can support the culture of an organisation and how it can transform that culture. It can be a very powerful enabler of change and engagement. It is about leadership and listening. In the last year I've met about 3,000 civil servants in 'town hall' meetings as part of our staff engagement under the Civil Service Renewal Plan. The views of staff and customers are very important in informing managers as they aim to deliver change. Digital is a tool that can be used effectively to underpin and support that communication.