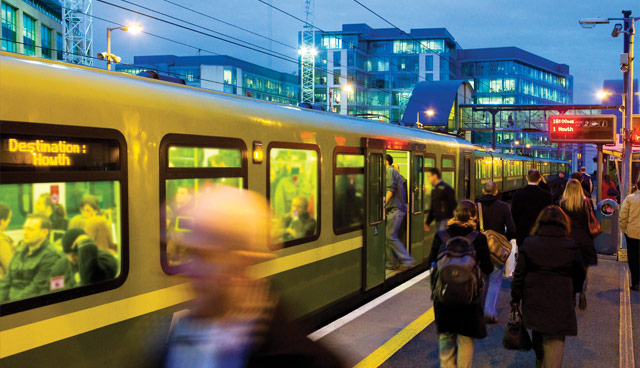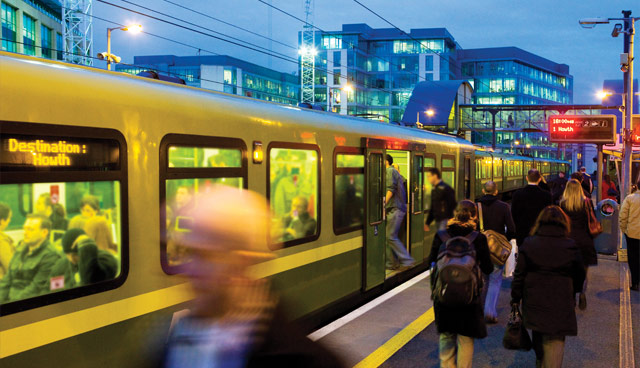 As our economy gathers pace, and record passenger numbers are using our rail services, our challenges as a train service provider have quickly transformed from ones of maintaining services in a downturn to fully addressing growing demands today and over the coming years.
In 2017, a record high of 45.5 million customers from a decade previously was equalled. The fact that this was achieved from an underfunded position and with dramatically lower investment than in the Celtic Tiger era speaks to a latent demand which must be addressed.
The Government National Development Plan (NDP) 2018-2027 charts a path to how this will be done. Before the investment from it directly benefits customers however, a range of measures are underway to provide additional capacity in the shorter term.
Just over 18 months ago, following a €13.7 million investment, we opened the Phoenix Park Tunnel for commuter services from the Kildare line to the stations between Connolly and Grand Canal Dock. Initially, services have been provided at peak times, with plans to extend operations to off-peak times and weekends in the near future. Already, over 1,200 commuters travel in each peak window using these new services, bringing more commuters on to public transport;
Later this year, the expansion of DART services to a 10-minute frequency is planned. This proposed 10-minute DART frequency will grow our daily service capacity, and make the DART on weekdays a 'turn up and go' service;
we continue to work on a programme to complete of the resignalling of the existing DART line between Clongriffin and Grand Canal Dock to allow more trains to operate, which will be completed in late 2019; and
finally, fleet investment will be critical to meeting demand in the shorter term, and we are working with the NTA provide this, including the restoration to service of a small fleet of 28 railcars withdrawn during the economic downturn.
In addition, investment in customer service systems and accessibility will make the train easier to buy and easier to use for all our customers.
Our new online booking system on our website www.irishrail.ie gives rail customers more control, choice and flexibility than ever before from managing your booking to choosing your own ticket flexibility and discount fare.
This will be complemented by more customer service personnel on board our trains, to provide assistance and information to our growing customer base. This will also improve accessibility assistance, as is the new DART Accessibility Pilot programme which provides greater availability and reliability of assistance on the DART network.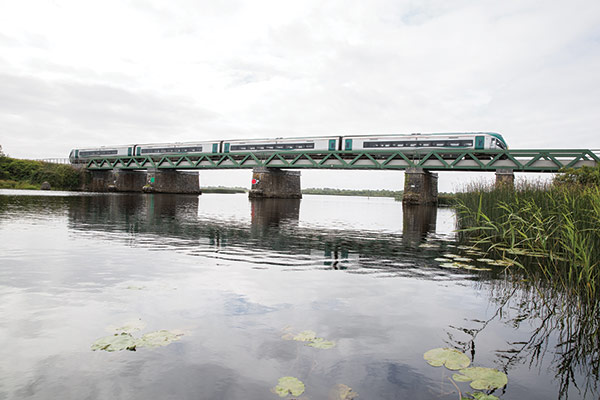 National Development Plan: €2 billion investment in unlocking the potential of the network
The NDP, however, will ensure rail services can play the fullest possible role in delivering solutions to some of the great issues facing our society and economy, including congestion and environmental sustainability.
The centrepiece of this investment is the DART Expansion Programme, which will allow more trains, with more capacity, to operate on all rail corridors on the network.
It includes:
Electrification of the Drogheda, Maynooth and Hazelhatch rail lines, and associated works including at level crossings on the Maynooth line;
enlargement of the rail fleet by 300 carriages, with hybrid diesel electric trains to be ordered to ensure emissions are reduced;
increase in capacity of key routes through resignalling and works on city centre station facilities; and
finalisation and protection of the route for the DART Underground tunnel alignment, to ensure future delivery.
It is an ambitious programme which will ensure services can expand in response to our growing employment and population levels, and provide a sustainable alternative to the private car and the resulting congestion. It develops the existing network in readiness for the DART Underground line from Heuston to the northside DART line, as included in the National Transport Authority's Greater Dublin Area Strategy, and Ireland 2040: the National Planning Framework.
However, while the benefits of DART Expansion will extend beyond the Greater Dublin Area, further rail service development is also targeted nationally.
This will include:
Improved train speeds will be targeted on lines between the capital and Belfast, Cork, Limerick and Galway, also benefiting Kerry, Waterford and Westport services. In addition, appraisal of high-speed rail options from Belfast to Dublin to Cork will also take place;
investment in Park and Ride facilities, rail stations improvements, and accessibility and passenger information enhancements;
detailed appraisals of potential rail expansion, including Cork and Navan commuter rail services, and further phases of the Western Rail Corridor will be undertaken; and
a Strategic Review of Rosslare Europort, for which Iarnród Éireann is Port Authority, in the context of Brexit – the NDP also identifies the potential for improved road access to the port.
As well as these service enhancement programmes, our future investment will also address key safety and maintenance requirements.
After a decade of underinvestment, and the legacy this has resulted in, the NDP commits to funding to meet the steady state maintenance and renewal requirements of the network by 2021.
It reaffirms investment in a new National Train Control Centre and in major safety investment programmes. These include automatic train protection systems, automated systems which prevent signals being passed at danger or overspeeding, and investment in enhancing safety at level crossings.
We are also working with our colleagues in Translink on opportunities to enhance further the Dublin/Belfast Enterprise service, with hourly services and improved journey times, envisaging a future electrification of the route.
National Planning Framework
Looking further ahead still, the National Planning Framework by strengthening regional cities, will provide a stronger environment for our national rail network to meet transport needs. Railways, more than any other form of public transport, rely on critical mass and higher density population centres to provide the economic case for investment, and the societal benefit. By developing strong cities to counterbalance Dublin, we ensure that the development of railways in Ireland in the future is truly national.
A fully electric future for our railways in Ireland is also one which we believe we must work towards, to maximise the environmental benefits railways can provide.
With strong national policies on transport, planning, sustainability and climate change mitigation, we stand at a time of unique opportunity to shape a better future for Ireland. Our railways can play a significant role in that future, for the benefit of the country and its communities, our economy and our society. An environmentally and financially sustainable service accessible to all and of maximum value to our citizens.

Iarnród Éireann
Head Office, Connolly Station, Dublin D01V6V6
T: 01 8366 222 | E: ienews@irishrail.ie | W: www.irishrail.ie | Twitter: @irishrail