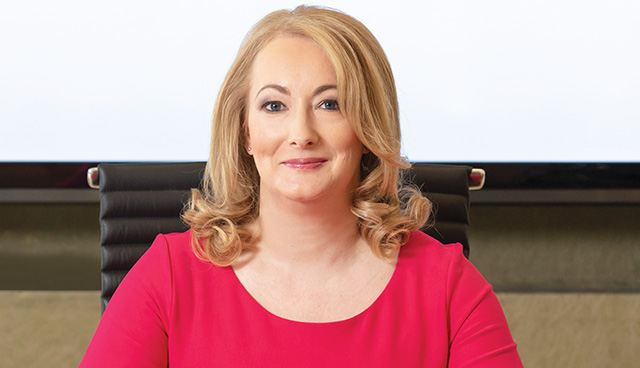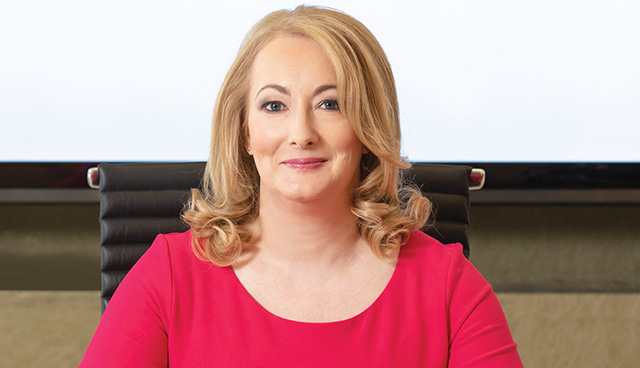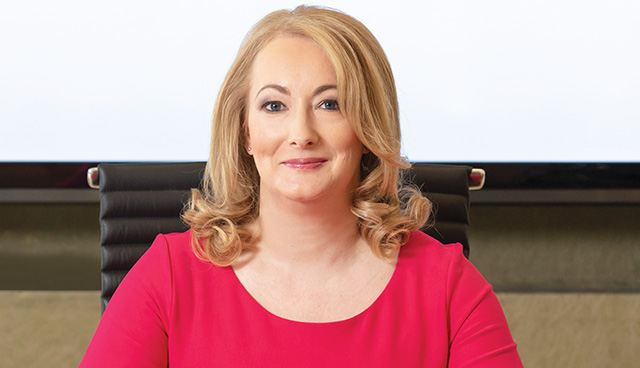 Rosemary Steen, External Affairs Director at EirGrid Group, speaks to eolas about the rapid transition of the energy sector and how the grid operator is harnessing that change to benefit the island.
"What we are doing here is world leading", says Steen, "we can now successfully manage record-breaking levels of renewable power on the electricity grid in Ireland and Northern Ireland."
Only recently EirGrid Group announced that the island's grid can handle up to 65 per cent variable renewable energy at any given time.
"The power systems of Ireland and Northern Ireland are the first in the world to reach this level, making this a truly ground-breaking achievement," Steen explains, "it also highlights the fact that the electricity industry is in a period of rapid transition. The energy mix is shifting towards lower carbon sources, driven by technological advances, growing environmental concerns and national and international policies."
Globally and domestically, renewable energy is now the fastest-growing fuel source. Across Ireland and Northern Ireland, EirGrid Group connected 27 windfarms to the grid last year. Indeed, in the five weeks before Christmas it managed to connect 10 windfarms, which was a testament to EirGrid Group and its customers working together. "Overall, we now have over 4,000MW of wind connected to the system. To put that in context, the highest all-island demand figure for electricity is 6,878MW," says Steen.
Renewable energy, primarily on-shore wind farms, accounted for nearly 30 per cent of all electricity generation during 2017. This means Ireland and Northern Ireland are closing in on Government targets by 2020. Ireland's binding EU target is for 16 per cent of the country's total energy consumption to come from renewable energy sources by 2020. In order to achieve this, a targeted 40 per cent of electricity generation must come from renewable sources and this is mirrored in Northern Ireland.
EirGrid Group has responded to this challenge by initiating its far-reaching DS3 Programme, 'Delivering a Secure, Sustainable Electricity System'. DS3 is designed to ensure that EirGrid Group can securely operate the power system with increasing amounts of variable renewable generation over the coming years. Much of this will come from offshore wind, where significant growth is expected. In fact, scenario planners in EirGrid Group predict offshore wind energy will grow to as much as 3,000MW by 2030.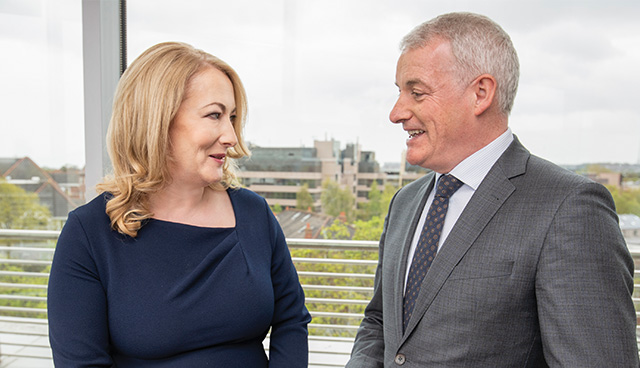 Overall, we now have over 4,000MW of wind connected to the system. To put that in context, the highest all-island demand figure for electricity is 6,878MW.
Achieving this level of renewable integration is unprecedented and presents significant challenges for the real-time operation of the power system. Steen believes the work carried out under DS3 is world-class. "It has already gained international recognition. Due to our expertise in this field, we have been asked to lead a pan-European consortium to conduct research into the deployment of renewable energy. "The project, known as Eu-Sysflex, involves 34 organisations from 15 countries across Europe and has a budget of €26 million.
"It receives funding under Horizon 2020, the EU's research and innovation programme and was launched in Brussels this March by Minister Denis Naughten and Seán Kelly MEP. We are very proud to lead this project and believe it will deliver benefits to economies across the continent."
The changing energy environment is reflected at consumer-level too. What EirGrid Group calls 'demand-side management' creates flexibility on the grid by adjusting the level of demand for electricity at strategic times during the day.
EirGrid and SONI run a successful demand-side management programme for businesses across the island. It provides significant benefits for customers in terms of reduced bills and gives them greater control over the energy they use and produce. There are now nearly 400 businesses in the programme, with a broad range of industries participating.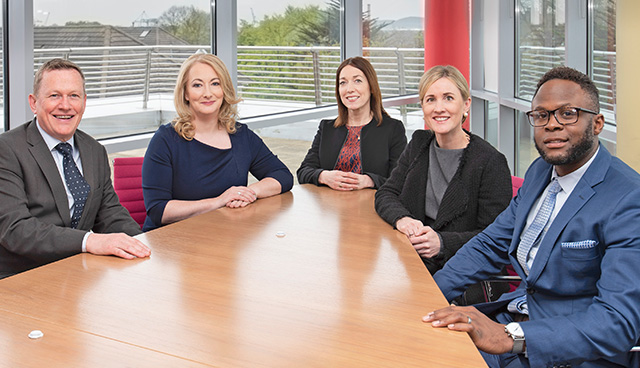 "It helps us in managing the power system efficiently; including accommodating increased renewable electricity generation. As such, it is a critical resource for a cost-effective transition to a low-carbon electricity system. Now, for the first time, we are rolling the programme out to consumers," she reveals.
"I would ask that business and industry finds the courage to stand with us, as we work to improve the grid to benefit everyone on this island."
Power Off and Save is an initiative that EirGrid is running with Electric Ireland. It is a pilot programme that rewards retail customers who agree to reduce their energy use when electricity demand is high. The 1,400 homes taking part in the project are asked to reduce their electricity consumption for 30 minutes. The pilot has been running for 18 months and, to date, EirGrid can see that customers are manually reducing demand from low-energy usage devices.
As more automated appliances – such as immersions and electric vehicles – come on-stream, there is far more potential for demand reduction. "We are confident that in the medium to long-term, it will result in lower electricity bills for consumers and increased flexibility for EirGrid and SONI," says Steen.
Initiatives such as Power Off and Save have an important role to play for EirGrid Group as it sees a return to growth in demand for electricity. This follows several years of zero growth in the wake of the economic crash. Much of this growth in demand is fuelled by new data centres. In Clonee, County Meath, Facebook is investing €200 million in a new data centre that will be one of the most advanced in the world. Powered by renewable energy, the data centre is a boost for the economy and is anticipated to provide both short-term and long-term employment for the local area.
Data centres are power hungry and can require the same amount of energy as a large town. EirGrid's analysis shows that demand from data centres will most likely increase by a factor of four between 2016 and 2020. A significant proportion of this extra data centre load will materialise in the Dublin region. Meeting this growth in demand requires new investments in the electricity grid.
"We are working closely with the Government, the IDA and other stakeholders to ensure we can accommodate this increased demand. High-tech investments, such as data centres, are of vital importance to the Irish economy and, as a state-owned company, we endeavour to make sure they happen.
"We work in partnership with global investors; those who are already committed here, those who are keen to expand and those who are considering locating here. We advise them on what is acceptable to our citizens and how they should approach connecting into the island.
"We in EirGrid have to be the voice of the community when dealing with international queries about connections to the transmission grid. We advise about our history, our culture and the expectations of our communities to have their concerns heard.
"It is our vision to ensure that business, industry, consumers, farmers, landowners and communities in Ireland and Northern Ireland have the electricity system they deserve: a grid that works with them and for them. One that is safe, secure and reliable," explains Steen.
She believes the spirit of cooperation is strong in Northern Ireland, where SONI has enjoyed strong support for its key infrastructure project, the North South Interconnector, which will further link the two grids on the island. "Large users of electricity in Northern Ireland have been publicly much more supportive, than those in the South.
"I would ask that business and industry finds the courage to stand with us, as we work to improve the grid to benefit everyone on this island. A strong grid will facilitate inward investment. It will ensure home grown companies have the energy they need to expand. It will provide a backbone to the economy. But, we can't do it on our own. We need the support of everyone across the energy sector and the wider business community. We remain hopeful that SONI and EirGrid, along with our partners NIE Networks and ESB, can move the North South Interconnector forward this year," she says.
As transmission system operator (TSO) for Ireland, EirGrid continually assesses potential opportunities for interconnection to the UK and Continental Europe. The Celtic Interconnector is a proposed link that will facilitate the movement of power between Ireland and France. EirGrid has been working with its counterpart in France, Réseau de Transport d'Électricité, to investigate the feasibility of a link between the two countries.
A series of joint studies into the feasibility of the interconnector have been carried out since 2011. These studies indicate that an interconnector would be beneficial for electricity consumers in Ireland, France and the EU. EirGrid is also working with Element Power on its Greenlink interconnector linking the power markets in Ireland and Great Britain. This project is due to be commissioned in 2023 and will provide a further link to EU and Nordic electricity markets via Great Britain.
Looking to the future, Steen sees increased economic activity, particularly around Dublin, further driving demand for electricity. "This is likely to continue and we will need to make sure that we have a grid that continues to support, rather than hinder, economic growth."
In the short to medium term, Steen outlines some interesting developments. "Battery storage increasingly appears to be a technology that can play a key role," she emphasises. In April, Lumcloon Energy announced an investment of €150 million in two battery storage technology centres in the Midlands. The facility will allow renewable energy generated at night to be stored, which would otherwise have to be curtailed due to a lack of demand. The power can then be released back into the grid, avoiding the use of conventional oil or gas-fired power stations to generate electricity.
The International Renewable Energy Agency says total battery storage capacity will grow from 2GW today to around 175GW by 2030, with costs dropping by two-thirds. "Internationally, we are also seeing a shift to localised, power systems incorporating diverse, distributed energy resources: what we call microgrids. This is now moving from a demonstration phase to commercialised projects."
Steen explains that this is being driven by the rollout of new electrical hardware, such as electric cars, electrification of heat, residential solar and storage. It also reflects the increasing digitalisation of the home and the ability to exchange information and trade at a distinct user level. This includes Blockchain and in-home controllers such as Apple Home Pod and the Amazon Echo Dot.
The confluence of these two disruptive forces has the potential to transform the Ireland and Northern Ireland power systems. "We are all witnesses to the transformation of the electricity sector. It presents opportunities and challenges and EirGrid Group is a pioneer, navigating and harnessing that change. We are laying the foundations of a brighter future for electricity on the island," the External Affairs Director concludes.
Profile: Rosemary Steen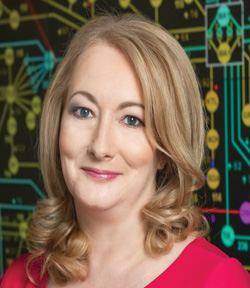 As Director of External Affairs at EirGrid Group, Rosemary Steen oversees Connections and Charging, External Communications, Customer Relations and Regulatory Affairs. Steen also leads EirGrid Group's public engagement strategy which includes working with developers, the business community and other stakeholders to build support for grid development projects.
EirGrid Group is on a journey, with change instigated through the External Affairs Directorate. Steen has been responsible for a shift towards a clear consumer and customer focused approach; an approach which is now the basis of EirGrid Group's successful business strategy.
This partnership approach has received notable accolades, with Steen's team winning the NALA Overall National Plain English Award for its 'Have your say' document, which underpins community and individual participation in developing the electricity grid. EirGrid's new approach received further recognition by winning the Irish Planning Institute's Participation and Engagement Award for its transformational approach to the planning of strategic infrastructure.
With extensive Corporate Affairs, Government Relations and Corporate Social Responsibility experience from the telecommunications, utilities and business industry body sectors, Rosemary has previously held senior positions in Vodafone, Shell and Ibec. Rosemary also serves on the board of the European Movement Ireland and is a council member for the Dublin Chamber.