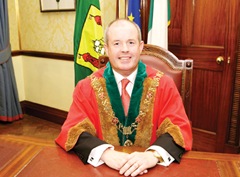 Cork's Lord Mayor Terry Shannon speaks to Meadhbh Monahan about his plans for the city and his thoughts on local government reform.
A jobs forum, an indoor bowls tournament and the creation of a mayoral and civic museum are some of Terry Shannon's priorities during his term as Lord Mayor of Cork City Council.
The father of four, who was elected Lord Mayor on 24 June, wants to "copper- fasten existing jobs" while looking at the possibility of reducing rates and developer fees in order to attract more jobs to the city. He also wants to encourage the already strong spirit of volunteerism in Cork and educate the people on the office of the Lord Mayor.
A member of Fianna Fáil since 1987 and a close personal friend of Micheál Martin, Shannon is now required to "step out of the political scene."
His role includes meeting the City Manager and the heads of departments to prepare for council meetings, signing tenders and other "behind the scenes" work. He also performs ceremonial roles such as welcoming visitors to the city and hosting civic and Lord Mayor receptions. The Lord Mayor is given the 'first car' too, therefore his registration will be 1-C-11 and next year it will be 1-C-12. This is not frowned upon by locals suffering from the effects of economic downturn, he contends, because they accept that with 10 to 20 appointments a day, a chauffeured car is needed. He points out: "I have my own personal car that I use if I'm popping down to see my mother for example."
The keen political historian refers to the story of Terence MacSweeney, who was arrested and died on hunger strike in Brixton prison and his predecessor Tomás McCurtain, who was shot dead by the Royal Irish Constabulary in 1920. These "martyred Mayors of Cork" have engendered a "deep respect between the office of the Lord Mayor and the people which has kept the office above politics," Shannon believes.
One of his favourite traditions, first established by MacSweeney, is that of visiting each school in the city and its peripheries for 'Lord Mayor's Day'. It provides an opportunity to explain to the children what the council does and what the role of the Mayor entails. It is "a terrific tradition" and he is particularly looking forward to visiting his own children's schools (despite their reservations).
Priorities
The city hall will celebrate its 75th anniversary this year and in order to mark that occasion, Shannon wants to open it to the public and "kick-start" the refurbishment of the building. In addition, he wants to see a mayoral and civic museum in the city hall displaying the collection of memorabilia which goes back over 800 years. Some artefacts, such as a chain of office given by Queen Elizabeth I over 500 years ago, are housed in the museum but having them all together would give the public an "holistic view of the office, the artefacts and the history."
Ideally, that would be expanded into a civic museum where schools and anyone with an interest could find out: "What does a city manager do? What do directors do? What is planning all about? Why, when you turn on a tap, does water come out?" Shannon comments.
"Cork is no different from anywhere else in the country. At the height of the boom there were 35 cranes on the skyline and now there are none," Shannon comments.
The main issue affecting the city is unemployment and a diminishing rates base. Shannon suggests that the council "needs to be innovative" with developer charges, water charges and rates. Ultimately, "we need to actively ensure that everything we do is towards job creation and sustainability and that we are not putting barriers up."
He plans to get local businesses and those involved in job creation together for a jobs forum in the first half of his year in office to discuss a jobs plan for the city.
Another priority is to support volunteerism and to recognise the passion for indoor bowls among the city's senior citizens by hosting a bowling tournament at city hall.
"We have a lot of facilities for our young people but this will encourage senior citizens to become more active and there's also a social benefit to it," he states.
Local government reform
On local government reform, Shannon believes that Ireland is "desperately centralised" and criticises TDs who have forgotten their roots as councillors and aim to have the Minister controlling everything from their office.
"Clearly, we need local government reform," he concedes, adding that he believes Cork city's boundaries should be extended. This issue is "a chestnut which has been around for a long time."
He explained that a report commissioned by the joint county and city committee "created murder on the county side because it looked like [the city council] were on a land-grab." Shannon continues: "We are a small city surrounded by the largest county. The county is too big and Cork County Council should be divided in half (either Cork North/South or Cork East/West)."
He refers to it as a "huge monolith of a council" which is separated from the people it is serving and the people it is providing services for. In comparison, Cork City Council has 31 members and "if you are looking for a councillor, you are going to get one very quickly." Large towns like Ballincollig and Carrigaline do not have any town council and are under- represented, according to Shannon, who says that "anomalies" such as this need to be addressed.
With regards proposals by the last Government to have directly elected mayors, Shannon says they were "pie in the sky nonsense."
Another option, he suggests, would be to reduce the number of councils in Cork but make them full time and pay them "properly". He states: "They would be the supervisory body overseeing an executive mayor."
Local government needs increased powers, must be decentralised and councils should be involved in health, education and possibly social welfare, according to the Lord Mayor. He says: "We are putting layer upon layer of local administration when, really, the city and county councils are working well but they just need support."
He is also critical of councillors who are keen to "pass the buck" for making decisions on difficult issues such as water charges to the City Manager. He says: "Water charges were in the remit of councils but they didn't want to make the tough decision to raise revenue. God forbid if they got the powers in the morning; that's got to change."
Local government is "at the coal face" and instead of TDs trying to "centralise everything" by creating regional development boards or district councils, more powers should be given to local councils which "would love to take on more responsibilities". With regards to Cork city, Shannon says: "We know our city, we know the people we serve and I think we are the people who can actually do it."
Cork
What's unique about Cork is the people, their boldness and friendliness, Shannon states. Also, it boasts the second largest natural harbour in the world after Sydney, has Ireland's deepest port and is connected to most major cities and towns in the country.
Shannon concludes: "Cork is a booming town notwithstanding the current economic situation we find ourselves in. We are pro-active in terms of what we want to do in the future. We are not waiting around for any government to sort us out."
Pro
file
Born 12 June 1962, Shannon is married to Ursula. The couple have four children: Robert 20, Conor 16, Katie 14 and Emily 10. The avid gym-goer begins each day with his fitness instructor. He is very interested in political history and architecture. In his spare time he likes to walk around his beloved city, which he is determined to promote as: "the place to be."