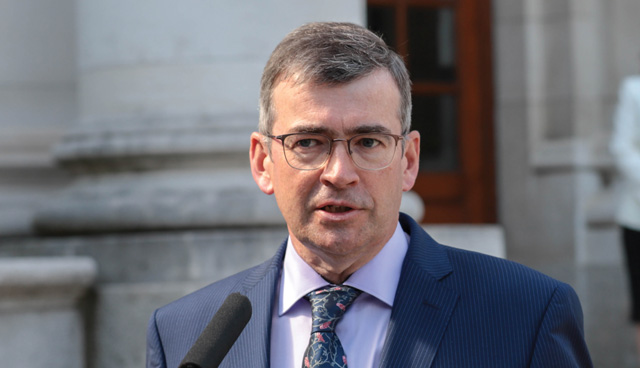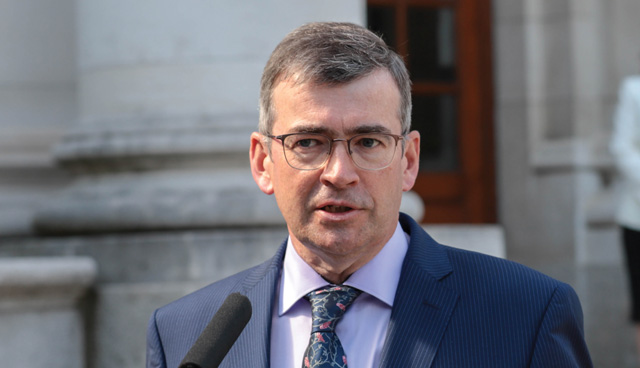 Former PSNI Deputy Chief Constable Drew Harris has successfully completed a rigorous selection process to become the new Commissioner of An Garda Síochána. It is the first time that an 'outsider', someone from outside the force and indeed the State, has been successful in their appointment to the role.
A total of five candidates were shortlisted through the appointment process, undertaken by the Public Appointment Service. Harris faced competition from Deputy Commissioner John Twomey, Assistant Commissioner Pat Leahy and two candidates from England and Scotland.
Former commissioner Nóirín O'Sullivan resigned in September 2017 following successive scandals. In September, following the report of the Commission on the Future of Policing, Harris will succeed Acting Commissioner Dónal Ó Cualáin who is retiring from the force. The posting has been likened by RTÉ's Tommie Gorman to "a swamp that delivered a messy premature departure for its two most recent commissioners".
With 34 years of policing experience, Harris was appointed as Deputy Chief Constable of the PSNI in October 2014 and was previously in charge of the Crime Operations Department – the department responsible for frustrating dissident republican activities. In this role, he liaised regularly with MI5 and, according to the PSNI, he is recognised as "a national expert in dealing with high risk covert policing operations".
In 1989, Harris' father, RUC Superintendent Alwyn Harris, was killed by the Provisional IRA after attaining 33 years of policing experience. His mother was injured in the same undercar bomb attack.
In October 2012, Harris appeared before a closed session of the Smithwick Tribunal in Dublin and gave evidence which was later published in a redacted format. During this sitting, Harris testified that MI5 intelligence indicated a now-retired Garda detective, operating as a paid IRA informant in Dundalk Garda station, had colluded in the killing of RUC Chief Superintendent Harry Breen and Superintendent Bob Buchanan in south Armagh.
At the time, Diarmaid McGuinness, senior counsel for then Garda Commissioner Martin Callinan, dismissed Harris' evidence as "not merely nonsense, but as has been said, 'it is nonsense upon stilts'".
In recent years, there had been an unspoken tension between Sinn Féin and Harris, who headed the investigation into the disappearance of Jean McConville which resulted in the arrest of Gerry Adams in April 2014. Subsequently, the republican leadership alluded to a "dark side" operating within policing and when Harris sought promotion to Deputy Chief Constable, Sinn Féin withdrew from the Police Authority selection panel.
However, more recently, Sinn Féin has said that it will work constructively with the new Commissioner. Justice spokesperson Donnchadh Ó Laoghaire said: "We look forward to hearing from [Harris] on how he intends to ensure that he and An Garda Síochána are fully accountable, and how it can be reoriented back towards Policing with the Community, and we look forward to meeting him in relation to that."
On the question of his allegiances, Harris will be expected to "make a solemn declaration under section 16 of the Garda Síochána Act, 2005, including to uphold the Constitution and laws of the State on the day his appointment takes effect" and the Government has confirmed that Harris has applied for an Irish passport.
Announcing the appointment, Justice Minister Charlie Flanagan stated: "I am confident that Drew Harris has the necessary ability and vital policing, security and change management experience required. He will bring these talents to his leadership of An Garda Síochána – one of our most important institutions of state – along with a commitment to serving the public in the best tradition of the Gardaí.
"I very much look forward to working with Drew on our shared objective of ensuring the security of the State and the safety of the public. Drew can be assured of my support and that of the Government as he faces the challenge of transforming An Garda Síochána so that it becomes a model of policing excellence, equipped to deal with the huge range of challenges facing police services worldwide." In the role, Harris will receive a salary of €250,000.
The five-year contract will see him head up a 14,500-strong organisation with a budget of €1.6 billion alongside a government commitment of expansion to 21,000 by 2021. However, while his appointment has been met with favourable media coverage, it also received a significant degree of criticism, including a motion from Donegal County Council urging the Government to withdraw the appointment.
Stephen Travers, a survivor of the Miami Showband massacre (an attack in which three of his bandmates were killed by a combined group of British soldiers and UVF members) asserted: "The fox is now in charge of the hen-house. What a dreadful betrayal of victims who have been consistently blocked and denied access to evidence by his current office. Shame on you."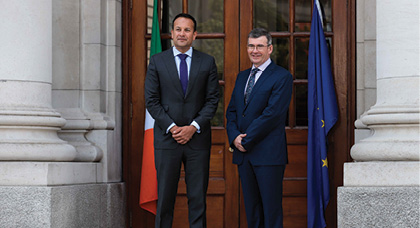 Likewise, Ciarán MacAirt, the Belfast-based director of Paper Trail (a legacy archive research charity) whose grandmother was killed by loyalists in the McGurk's Bar bombing, attempted to block Harris' appointment with a High Court challenge. MacAirt suggested that as a signatory of the UK's Official Secrets Act, Harris' is in contravention of his obligations under section five of the Garda Síochána Act, particularly in relation to State security. The challenge was dismissed as not having not reached the necessary legal threshold to go before a full hearing of the High Court.
Last year, Belfast High Court Judge Seamus Treacy ruled that a letter from then PSNI ACC Harris to the legal representatives of collusion victims, dismissing the possibility of a wider investigation, amounted to an abuse of power. Justice Treacy concluded: "The unfairness here is extreme [amounting to an abuse of power] … The frustration of the [Historical Inquiries Team (HET)] commitment communicated by the ACC completely undermined the '… primary aim [of the HET] to address as far as possible, all the unresolved concerns that families have'.
"Whether the legitimate expectation is now enforceable or not its frustration is inconsistent with Article 2 [of the ECHR]."
Most tellingly, retired Detective Chief Superintendent John O'Brien, who served in Dundalk, described "a shockwave" and "downright hurt" among former and serving gardaí upon the appointment. While not calling into question Harris' competency, O'Brein suggested that "in relation to security and legacy issues… it would not be possible for Drew Harris to fulfill that position".
Furthermore, he asserted: "No country that I am aware of would have an officer that is directly connected with a security service of another state, running its security service. Now running the police service might be something else but remember that An Garda Síochána is both a security service and a police service."
Harris joins An Garda Síochána at a time of considerable scrutiny of the organisation, which has suffered a collapse in public confidence. Indeed, it is Harris' change management experience, garnered during his Patten Report transitionary work which saw the RUC disbanded and replaced by the PSNI that will be of particular relevance in his role.
The Commission on the Future of Policing, chaired by Katherine O'Toole, is due to publish its report this autumn. A Patten-style review into the actions of An Garda Síochána has examined "root and branch" issues within the police service, including a potential separation of policing powers from security. Such a transformation within An Garda Síochána could mirror the approach of the PSNI's formation, which saw "positive action policies" enacted to secure public confidence.