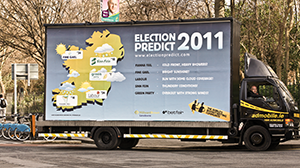 eolas looks at how decreasing the Dáil's size and the number of constituencies will impact on Ireland's electoral landscape.
The countdown to the next general election will increasingly put the spotlight on the new boundaries for Dáil constituencies.
Legislation passed in 2013 – the Electoral (Amendment) (Dáil Constituencies) Act – allows for two cuts in the size of Dáil Éireann:
• reducing the membership from 166 members to 158; and
• reducing the number of constituencies from 40 to 43.
The Act legislated for the Constituency Commission's boundary review, carried out in the previous year. Bunreacht na hÉireann sets an overall ratio of TDs to citizens of no less than 1:30,000 and no more than 1:20,000. The ratio is determined by the most recent census before each review and should be relatively consistent across the State. All constituencies must have three or more members.
A constituency revision must take place at least once every 12 years with the outcome taking effect when the Dáil is dissolved. The 2012 review was chaired by Mr Justice John Cooke, assisted by Ombudsman Emily O'Reilly, Dáil Clerk Kieran Coughlan, Seanad Clerk Deirdre Lane, and Geraldine Tallon (Secretary General of the Department of the Environment, Community and Local Government).
The Dáil has had 166 members since 1980. Ireland's increasing population would have eventually led to a larger chamber but Fine Gael entered government with a commitment to reduce the number of TDs to 146, reflecting public cynicism about politics and cuts.
The Constituency Commission opted for 158 members as a lower number would come too close to the 1:30,000 upper constitutional limit. A total of 533 submissions were received, mostly on local issues, and these had to be weighed up against the possibility of a "far-reaching domino effect" where a large area is transferred from one constituency to another. Commissioners were also obliged to avoid breaching county boundaries "as far as practicable" and to ensure that each constituency was contiguous i.e. not containing any enclaves of other constituencies. Significant physical features and the extent and density of each constituency's population were also considered.
Five new constituencies will either cover whole counties or the majority of a county's area:
• Donegal (five seats);
• Kerry (five seats);
• Tipperary (five sets);
• Laois (three seats); and
• Offaly (three seats).
Mergers will result in the net loss of one TD each in Donegal, Kerry and Tipperary. Roscommon South-Leitrim and Sligo-North Leitrim will be reconfigured into Roscommon-Galway and Sligo-Leitrim; the latter constituency will also extend eastwards into Cavan. Dublin North-East and Dublin North-Central will be reshaped into Dublin Bay North and Dublin Bay South.
Tighter contests can be expected in the constituencies which will lose one seat each: Cavan-Monaghan; Cork South-Central; Dublin South-Central; Galway East; and Mayo. Dublin South-West and Galway West will gain a seat each.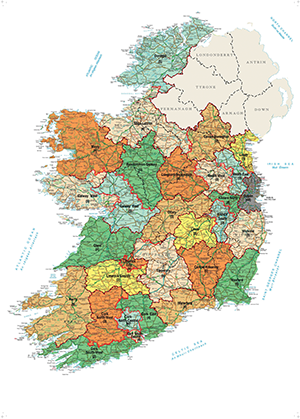 Eleven constituencies will be unchanged: Carlow-Kilkenny; Clare; Cork East; Dublin Mid-West; Dublin South-West; Longford-Westmeath; Louth; Meath East; Meath West; Wexford; and Wicklow.
At the 2011 census, Donegal had the largest population (152,238) while Cork South West had the smallest (82,952). The threshold of 30,000 people per TD is exceeded in five constituencies but only slightly, with Donegal again being highest at 30,472.
The lowest ratio is 27,607 people per TD in Dublin Mid-West. The most common number of seats per constituency will be four (in 16 cases) followed by 13 three-seaters and 11 five-seaters.