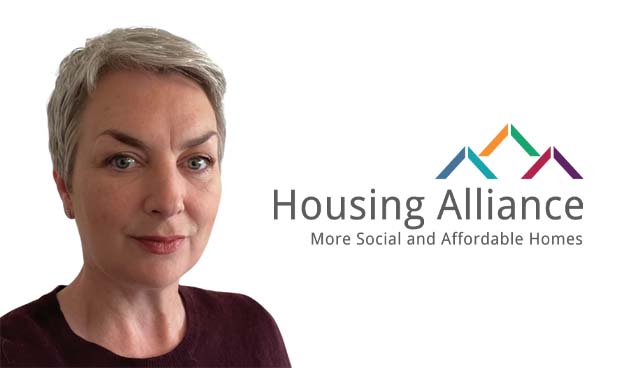 Executive Director of the Housing Alliance, Camille Loftus, discusses the role of local housing action plans in achieving the ambitions of Housing for All.
The Housing Alliance is a collaboration between the six largest not-for-profit social and affordable housing providers (AHBs) in Ireland: Circle Voluntary Housing, Clúid Housing, Cooperative Housing Ireland, Oaklee Housing, Tuath Housing, and Respond. Housing developed by AHBs can maximise value for public funding, secure housing assets for the long-term, and provide high-quality, well-managed, secure and affordable homes for people locked out of the housing market.
Recognising that this kind of housing is central to solving Ireland's housing crisis, the Housing Alliance was formed to rise to that challenge. In that context, the Alliance is eager to work with government at both national and local level to achieve the targets for social and cost rental housing set out in Housing for All.
Any policy strategy is only as good as its implementation. Housing for All puts local authorities centre stage in delivering the Strategy, every local authority must submit a detailed five year housing plan to the Minister before the end of 2021. It is in these local housing action plans that the State's housing delivery capacity will be detailed: if Housing for All is the 'what', local housing action plans are the 'how'.
This is a potential game-changer in realising a planned approach to meeting housing need. By January 2022, every local authority should have a detailed road map setting out how many homes, of what size and tenure, where and by whom, housing will be developed over the next five years. This kind of detail should be invaluable in ensuring that sufficient serviced land is available for housing over coming years.
The requirement to align housing development with housing need is welcome. Housing need is changing in developed economies, and Ireland is no different. For example, single person households account for over half of all households on the social housing waiting list. We also need more adaptable housing, so older people and people with disabilities can live with dignity at home.
Nearly half of all social housing currently in construction is being developed by not-for-profit providers; with Housing Alliance members accounting for 39 per cent of the total in Q1 2021. Our members also delivered Ireland's first cost rental homes this year, a new tenure to Ireland, and one with the potential to improve the quality, security and affordability of rented tenancies in Ireland. The Irish Government Economic Evaluation Service finds that AHBs build "a much larger proportion of apartments", typically one-beds.
This is the housing that Ireland needs. Housing Alliance members build housing that remains in the stock of social and affordable homes. We borrow money to build, including from the State, and repay it with interest. We make no profits, but provide high quality, lifetime secure, and affordable homes designed to meet the needs of households for whom the market does not provide.
The Housing Alliance wants to, and can, play a greater role in delivering the housing that Ireland needs. Our hope is that the forthcoming plans will allow us to realise that ambition. We are eager to work with local authorities to develop the detail, and with national government on the policies and programmes to support implementation.
The time is now.
E: info@housingalliance.ie
W: www.housingalliance.ie