Issues
Higher Education Authority's proposals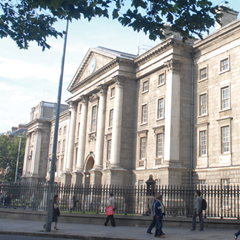 Collaboration and delivery define the Higher Education Authority's plans for the sector. Peter Cheney reports on the proposals and the reactions so far.
Universities and colleges must cluster together, despite their competitive instincts, to deliver results for the economy, under the Higher Education Authority's response to the Hunt report. 'Towards the Future: Higher Education Landscape' was published on 13 February and institutions have until 31 July to reply.
The report places the future of smaller institutions in doubt by suggesting that the State will stop funding them unless they have a "strategic" reason to exist.
All institutions will be grouped into regional clusters, sharing office services, procurement projects and academic staff, and (potentially) joint teaching or research programmes. Institutions will be steered towards getting 'results' for the State as a whole. Higher education must focus on providing jobs and research to benefit the Irish economy.
Each institution must produce a distinct strategy for its own future, including its type, structure, and participation in international alliances and regional clusters. These strategies are for the medium term i.e. for approximately the next five years. Separately, the HEA will commission an objective study of the overall system, crucially assessing the available finances.
Writing to university and college presidents, HEA Chief Executive Tom Boland explained that the authority would consider all submissions "in the round" this autumn.
A "coherent blueprint" will then go forward to Education Minister Ruairí Quinn by the end of the year, recommending the specific number, types and locations of institutions needed over the next 10-20 years.
"We all share a common objective," Boland added. "A high quality higher education system that puts the interests of students first, meets their needs and the social and economic needs of the country."
Fragmentation
The current higher education landscape is "crowded and unstructured" with a "fragmentation of offerings" due to growing student numbers over the Celtic Tiger years and the historic trend of regional distribution. Forty-four institutions currently offer undergraduate programmes, of which 27 carry out high-level research, and that increase has blurred the differences between the various institutions.
That said, the sector is a small but successful international player. European Commission research indicates that, in 2005, Ireland had the highest number of graduates per 1,000 inhabitants in any EU member state (13.5). In 2009, Ireland ranked fourth out of the 35 OECD countries for young adults (aged 25-34) with tertiary qualifications, sixth in the output of sub-degree work-related qualifications, and tenth in PhD graduation rates.
The HEA emphasises that "we must be focussed and strategic to maximise our return from research investment and to fully engage in international research activity". However, last September's NUI Maynooth study on Irish biotech found that private sector spin-offs were much more successful than those from universities. Eight business-led examples attracted €224 million in venture capital investment over 2000-2010, compared to €100 million spread over 21 academic ones.
Two drivers for change are identified (quality and participation) although both can be contradictory.
Ireland "must meet or exceed international standards" for quality by employing well-qualified and motivated staff with strong teaching skills. Quality is undermined by unprepared school leavers and the "rapid expansion" of narrowly-focused undergraduate courses.
Expanding higher education was "inevitable and essential" for the economy's sake. The number of school leavers is set to grow, according to demographic projections, but the future skills mix is much harder to forecast. The National Framework of Qualifications (NFQ) is affirmed but no institution "can or should attempt to provide the full range of entrance and pathway opportunities" open to students.
Institutes of technology would continue to focus on level 6 and 7 courses, which generally train graduates for specific jobs, and help employees upgrade their skills. At levels 8 and 9, taught mainly at universities, the HEA rejects the distinction between "academic" and "market ready" programmes and instead prefers to highlight the "richness and diversity" across the board.
Clusters will be compulsory with all higher education institutions taking part. They are seen as especially important for high-cost courses (e.g. in medicine, engineering and architecture) or those with few students.
Consolidation (mergers in other words) is very much on the agenda. The North merged 16 institutions into six regional colleges in 2007. Five "nascent clusters" already exist: the Dublin Regional Higher Education Alliance, Líonra (in the border, midlands and western region), the Shannon Consortium and the South and South East collaborations (around Cork, Waterford and Carlow).
Non-regional clusters may also be formed, focusing on a particular field such as tourism or agriculture. Small institutions will lose their public funding, unless there are "significant reasons of a strategic kind" for their existence.
The innate competition between universities and colleges obviously works against clustering and the HEA recognises that change will not happen if left entirely to the institutions. It will therefore take the lead by commissioning the relevant research and introducing a full system for performance monitoring in 2014.
Education not administration must drive decisions on the sector's future, according to the Irish Federation of University Teachers. "We must be very careful to avoid any loss of diversity in higher education through forced merging of 'smaller colleges' with other institutions," said General Secretary Mike Jennings.
IBEC's Head of Education, Tony Donohoe, welcomed the proposals as they reduced duplication but wanted to see more detail on how employers and institutions would work together. In his view, the education versus economy debate in the sector misses the point: "There is no inherent contradiction between educational values and what business is looking for." Business looks for "well-rounded citizens" with a disciplined, creative and ethical mind.
Union of Students in Ireland President Gary Redmond was upbeat, seeing the plans as a "milestone" and "and ideal opportunity … for open and honest dialogue". The union, disillusioned with Minister Quinn over fees, wants the process to be "transparent and free from political interference at every stage."
Technological university
A technological university will have a "systematic focus" on preparing graduates for "complex professional roles in a changing technological world" and must involve the merger of two or more institutions. The concept has attracted interest among institutes of technology in the south east and the midlands.
The HEA pledges to respond to expressions of interest within six months.
The bidding group would then put forward a plan to meet specified criteria, to be assessed within six months by an international panel of experts. If that proves successful, a similar panel would then consider the formal application. The ultimate decision rests with the Minister.