Issues
The future of small hospitals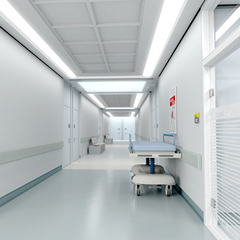 Health reform continues, with the Minister instructing the HSE to form regional clusters of acute hospitals, with a view to creating formal hospital trusts down the line.
Hospitals are to be grouped together with each group having a single management team, a clearly defined budget and an employment ceiling.
Currently, hospital budgets are administered by the HSE, due to be abolished under the Minister's health reform plans. The Government is preparing legislation to abolish the board of the HSE and replace it with a directorate comprising a director general and a number of directors, including a 'national director for hospitals'. The new hospital groups (and in the future, new hospital trusts) will report to that hospital director. In the interim, the Minister wants the transitional arrangements "to be developed as a matter of urgency."
He has not indicated how he wants the acute public hospitals in the country to be divided and grouped. Four HSE regions currently exist: Dublin Mid Leinster, West, Dublin North East and South.
Two hospital groups already exist:
• the Mid-Western Regional Hospital Group consisting of Limerick Regional Hospital, Ennis General Hospital, Nenagh General Hospital, the Croom Orthopaedic Hospital and St John's General Public Voluntary Hospital, Limerick; and
• Galway/Roscommon Hospital Group consisting of Galway University Hospital (incorporating Merlin Park Hospital), Portiuncula Hospital in Ballinasloe and Roscommon General Hospital.
By grouping smaller hospitals, the department hopes to eradicate over-crowding and inefficiency. In Galway University Hospital, for example, 40,517 outpatients were waiting to be seen by a consultant after a GP referral in May. In Limerick, procedures were cancelled due to severe overcrowding in March.
Reilly has said that the initiative will ensure that the role of smaller hospitals are protected. Speaking in the Seanad, he warned: "I have said time and again in the past that notwithstanding the difficulties we have had with removing some services from smaller hospitals because of safety concerns, that is nothing to the row that will result when we start moving the less complex procedures from the bigger hospitals back to the smaller hospitals but we are determined to do it, and it will be done. The future of smaller hospitals is guaranteed."
The two group chief executives are Bill Maher, currently acting CEO of St Vincent's University Hospital and CEO of the Galway/Roscommon Hospital Group on secondment, and Ann Doherty, former head of the National Hospitals Office, CEO of the Mid Western Hospitals Group.
Reilly's ultimate aim is for public hospitals to become independent not-for-profit trusts with managers accountable to their boards and the latest move comes in advance of legislation required for the creation of such trusts.
In instructing the HSE, he invoked section 10 of the Health Act 2004, which allows him to give formal policy direction to the body.
Wider reform
His letter to HSE Chairman Michael Scanlan states that the move is "a key part of the wider reform process on our way to Universal Health Insurance [UHI]."
He instructed the HSE to create the groups as quickly as possible, establish executive teams with the independence to reconfigure services across the group and create boards (on an administrative basis), with non-executive members appointed through an "appropriate process."
At the time of writing (March), he said he would take account of the recommendations in a HIQA report into over-crowding and patients being treated on trolleys in corridors at Tallaght Hospital. In the meantime, he called for the hospital groups to be formed so that they would be ready to be reviewed before 2015 "to ensure an appropriate environment for the introduction of UHI."
Arrangements should be made for appointing suitable people to key leadership positions such as group chief executive, chief financial officer and clinical director, he stated.
An annual budget and employment ceiling for each hospital group would give the executive team the authority to deploy and re-deploy staff (including consultants) across the group, the Minister wrote.
In terms of reconfiguring services across a particular hospital group, the executive team will have to take account of an agreed policy framework (considering safety, quality, cost and sustainability of medical staffing), as well as standards and targets to be set by the Minister. Exact criteria will be contained in the Framework for Smaller Hospitals, which the Minister told the Dáil in May, will be published "shortly."
The hospital groups will also have to comply with "existing and future" shared services for procurement, payroll and recruitment.
Recommendations in the extremely critical HIQA report stipulate that:
• the establishment of boards of hospital groups should be in accordance with the recommendations of its report;
• hospital boards should contain up to 12 people who are selected and appointed through an independent process established by the State. The board should contain non-executive directors and a chairperson. Individuals with conflicts of interest should not be appointed. In advance of this process being implemented, the Minister should appoint members with the necessary knowledge, skills, competencies and experience; and
• the chairs of all hospital boards in receipt of state funds should be line-managed by a nationally designated post-holder (e.g. the director general of the new HSE structure) in order to hold the chair and the board accountable for the provision of well governed and effectively managed services.
Fianna Fáil's Health Spokesman Billy Kelleher said that the Minister's plans are "simply a case of more boards, more bureaucracy, more bluster." He accused Reilly of creating a plan "that offers no clarity on continuity of care and re-establishes a health board structure that was abolished almost a decade ago."
Sinn Féin's Health Spokesman Caoimhghín Ó Caoláin accused the Minister of "building castles in the air". He said "the Minister seems set on implementing another round of bureaucratic changes while services to patients deteriorate further thanks to the Coalition Government's health budget cuts."
When asked for their alternatives, Billy Kelleher declined to comment and Ó Caoláin told eolas: "The energy and resources expended on the establishment of the HSE would have been better used building a truly reformed healthcare system based on equity and efficiency." He points to Sinn Féin's 'Healthcare in an Ireland of Equals' document which calls for a stop to the over-centralisation of hospital facilities and reversal of cutbacks in services at local hospitals and for community health partnerships, responsible for the strategic planning and oversight of community-based services and local hospital services.