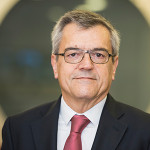 As Secretary-General of the International Transport Forum, José Viegas has a detailed understanding of the sector's trends. He talks to Owen McQuade about how shared taxis can optimise public transport and the need for rail freight to expand its reach.
As the leader of the OECD's transport think tank, José Viegas follows trends in transport across most of the world's developed economies.
He has been Secretary-General of the International Transport Forum (ITF) for the last three years and, looking ahead, he foresees transport as providing some of the most practical solutions in traffic congestion, environmental policy and even ageing. All of those issues coalesce in how we travel. The "most visible" pressure on transport is the combined issue of air quality and climate change. "It's a universal concern – and everybody recognises it – although in many places we are still seeing that as something on the horizon," he comments. The action is often "not bold enough".
Demographics is another pressure which presents itself as an ageing population in Europe. "We also have the question of globalisation," he adds, "and what this means for the changing patterns, particularly in relation to freight transport."
The old question of congestion remains along with the need to respond through improved public transport services.
"Our understanding is that the traditional provision of public transport will not be enough in an environment of increasing income," he continues.
"The usual measures of demand management will not be enough as well. We think that new sorts of policies will be needed. The big difference this time is that we have connectivity of people, vehicles and infrastructure which allow radically different solutions to be enacted."
A radical rethink of public transport is needed, developing solutions that provide energy and spatial efficiency benefits similar to those provided by public transport but with private transport's levels of service. These will be more acceptable to a population with a growing income but inertia in the system will hold up change.
Viegas comments: "Market space is less constrained than physical space and, of course, there are the incumbents but if you have something really bright, the adaption of behaviour and the [change in] choices of consumers will be quicker."
Shared taxis
Physical space in cities is decided by the allocation of road space which slows down change and private citizens will not easily give away the investment that they have made in private cars.
A largely deregulated taxi market, though, gives Ireland a particular opportunity in rolling out shared taxi services.
Mobile phones make it easier to book shared taxis. The service works by guaranteeing a low fare but not the time of departure as the taxi will leave when it is full. If someone wants to go to a certain point, he or she can make a booking for a shared taxi that is going in the same general direction. A potential passenger can also call up a new taxi.
Most European countries do not currently allow shared taxi systems but the technology to set them up is quite easily available. "If you do that, our simulations show you that you can quickly increase the load factor," he says, referring to the number of vehicles required.
"And if this becomes more widely known and this is matched with an adequate parking policy, a lot of people who today drive to work and park will take a shared taxi instead. There's a huge benefit in terms of congestion [and] in terms of parking space without any significant loss in the level of service that we enjoy."
The ITF has modelled a shared taxi system for Lisbon and is now looking for cities which are willing to go ahead and do similar studies. It is approaching the European Commission for co-funding and is hoping that four or five cities with sufficiently good data "will take a dive" and simulate this.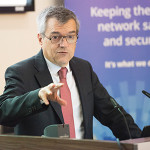 "If the data is there and a minimum of public engagement is there," he explains, "we can even discuss not only the simulation on the mathematical model but also what would be the transitional steps, which will be different for different cities because they start from different points."
In many cities, including Dublin, a large number of buses in the evenings run with only two or three people on board. Shared taxis offer the potential to optimise public transport, especially in more sociable cities.
All European countries have ageing populations. An increasing number of people in their seventies and eighties will still want to have a social life but will be unable to drive due to poor eyesight or reduced mobility. In many cases, these people will not have the money to pay for an individual taxi service every time. They may also be reluctant to take bus rides which involve transfers or where they have to go up to stairs to the top deck.
"Again, the solution of shared taxis makes it so much more affordable and even sociable," Viegas comments. The benefits of shared taxis could include less congestion, reduced carbon emissions and less isolation for older people. However, there is a risk that it will be "disregarded only because it's so new." In terms of uptake, Viegas adds: "The numbers for Lisbon will be different from the numbers for Dublin or for Brussels or for Bratislava but I would suspect that in many cases they will be similar."
Rail markets
To become an efficient and preferred solution, rail needs density and distances i.e. international routes in many cases.
"Today, the environment in the European discussions is so protectionist," he notes. "The Commission provides something which seems like a good proposal and then it gets diluted in Council and in Parliament by a series of protectionist arguments – disguised as whatever but then any independent reader will look at that and then it smells of protectionism from all corners." It's a matter of "protecting the national slice of a fast-shrinking pizza."
In other cases, a lack of technical harmonisation is preventing electrification. Diesel locomotives often have 20-30 year old engines, meaning that they pollute more per tonne or kilometre than modern trucks.
A strategic view of rail is "really necessary" along with strong warnings that protectionism cannot meet the needs of the market. Most railway operators in continental Europe have decided that they only want to serve full (block) trains e.g. with 40 carriages. Smaller quantities of freight will be directed to road transport.
"They've just thrown away 90 per cent of the potential market," Viegas states. "So it's a lot simpler for them but I don't know any road haulier who will just say: 'I want the simpler parts of the market.'"
He puts this down to a shortfall in investment in how to optimise marshalling yards. Road hauliers have to "fight for their market" and rail has to adapt its value proposition and business processes. At present, rail is slightly better for the environment than road but that advantage will be lost within the next 5-10 years.
Ireland's economic growth "generates a lot of envy in other places." On the dual nature of the economy, Viegas remarks: "It's better to have a two-speed economy in which one of them is fast than have a one-speed [economy] where everybody is very slow."
The tension between an improving economy and constrained public finances "will be a constant" over the coming years "and more so as we get older." An ageing population will reduce revenue from income tax returns while additional health services will be required.
Additional contributions from people using public services will, in his view, become necessary and public transport pricing must get smarter.
Connectivity makes it easy to subsidise transport but for the majority of passengers – perhaps two out of three – this is not necessary, especially in a growing economy. Viegas continues: "We don't subsidise water. We don't subsidise electric power in our homes. We don't subsidise food – on the contrary we subsidise the producers of food – so why do we subsidise transport?"
Smart subsidisation will reduce public spending. He also points out that universal subsidies increase inefficiency within the operating company. The best approach is to "target the user in need" who will benefit the most from a subsidy and maximise the use of new technology.
Profile: José Viegas
An academic and consultant for many years, José has always specialised in transport. He is originally from Portugal but has worked internationally for the last 25 years, including as the co-ordinator for several European Commission research studies.
The ITF was formed in 2006 and has been operational since 2008. Since taking office in 2012, he has created a corporate partnership board and set up a short cycle of national studies. "I prefer Lisbon but Paris is a good second best," José comments. He keeps in touch with his family via Skype but misses the proximity to the sea. He sees the post as a fresh challenge after 40 years in university life.