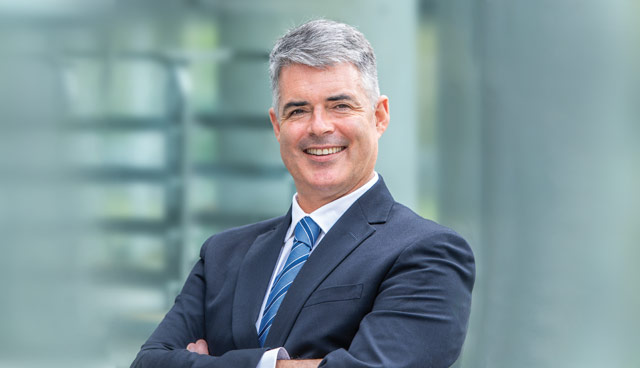 Now is an important time for determining the future of gas in Ireland and further afield. Ireland plans to be carbon neutral by 2050; Gas Networks Ireland's (GNI) Head of Commercial and Corporate Affairs Ian O'Flynn tells Odrán Waldron about gas' future and GNI's plans to introduce renewable gas into their network this year.
GNI, part of the Ervia Group, operates the gas network, a €2.5 billion publicly-owned energy asset. "It's safe, secure and modern, one of the most modern gas networks in Europe," O'Flynn states. "We have about 700,000 customers who depend on natural gas today for their heat and power and we're privileged to provide that energy."
Natural gas accounts for 30 per cent of Ireland's energy output today. As O'Flynn points out, "natural gas powers 52 per cent of all of Ireland's electricity. Throughout June and July last year, that was 70 per cent. On certain days during the beautiful weather in 2018, it was as high as 90 per cent."
O'Flynn stresses the role that natural gas plays, not just in the delivery of energy by itself, but in supporting the supply of renewable energies and acting as a supplement should it be needed. He pays tribute to the "huge steps Ireland has made in getting renewable electricity created from wind and solar" but says that natural gas can be "hugely complementary" to these "intermittent" sources. "If the wind doesn't blow or the sun doesn't shine," he says, "natural gas steps up to provide our energy when those sources can't."
From step change onwards
"Energy policy is broadly based around three things: security of supply; fairness of cost; and the environment. That final point around environment is becoming increasingly urgent. Natural gas is replacing much higher CO2-emitting fuels. Natural gas produces 40 per cent less CO2 than coal and peat and about 23 per cent less than oil. Today, it's providing lower emissions and will continue to do that as we continue to remove higher-emitting fuels from our mix. However, that step change isn't enough, there's a massive challenge facing us. Climate change is one of our greatest and most urgent global challenges. This challenge is man-made and the implications of not solving it are catastrophic."
Even step change can feel like progress in Ireland, a country that is constantly ranked toward the bottom of EU tables on climate action. Agriculture's unique position within Ireland and those low rankings have created a different kind of challenge for Ireland when compared to its EU counterparts. "We need to decarbonise electricity, heat, transport and agriculture," O'Flynn says. "If you look across those four sectors, Ireland is making good progress decarbonising electricity and gas can help with that ambition as we replace peat-fired generation and coal-based generation.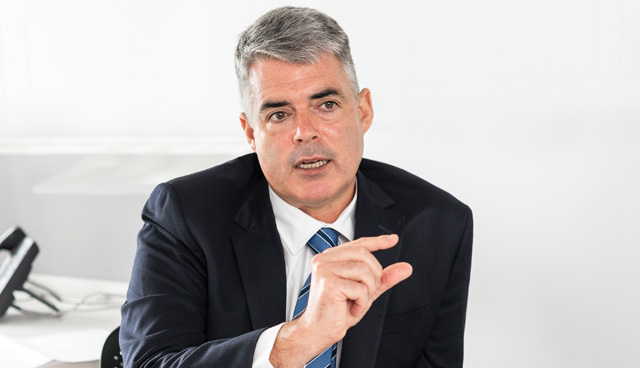 If you look across those four sectors, Ireland is making good progress decarbonising electricity and gas can help with that ambition as we replace peat-fired generation and coal-based generation.
"It is relatively simple and cost-effective to store a molecule. We're storing vast quantities of energy today in the form of methane molecules and when someone switches on their gas, the molecules are immediately converted into heat. It is more costly and complex to do the same thing with electrons because electrons need batteries for storage. Gas is dispatchable, available when we need it, wind is intermittent."
Transport and agriculture are the areas in which Ireland is lagging and this is a reality that O'Flynn faces up to. "In terms of transport, it's very difficult to get at that area and try to replace diesel and petrol," he says. "Compressed natural gas (CNG) is the opportunity for us to help in transport.
"In GNI, the sector of transport we're focused on is the 3 per cent of vehicles on the road that make up 20 per cent of road emissions and that's heavy goods vehicles (HGVs) and buses. We're seeing electric cars getting there in terms of technology; it's much more difficult to propel something that weighs 10 tonnes and is carrying a big load. CNG is our solution to the heavy goods transport issue.
"Today there's currently about 30 HGVs running on natural gas in Ireland, some travelling daily between Dublin and Cork. The first public CNG station started dispensing gas for those vehicles in December 2018 and there's a number of private stations around Ireland. Our role in the short term is rolling out 14 of those public stations in partnership with the EU and our regulator. We envisage that between now and 2030 there could be as many as 150 CNG filling stations around Ireland. CNG creates 99 per cent less particulate matter than diesel, but the game changer is when you introduce renewable gas, which is already carbon neutral, then you have carbon neutral transport, which is where we must get to as a country."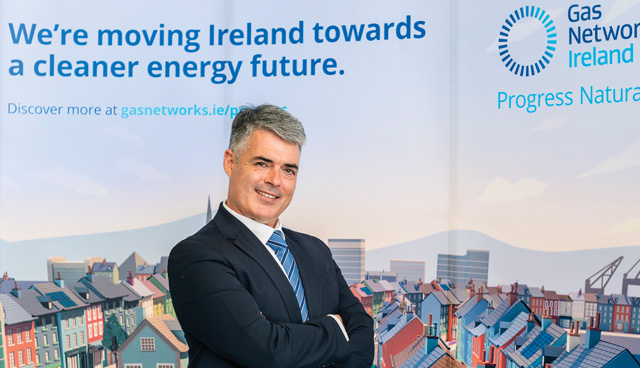 The beauty of getting renewable gas onto our network is you don't need to change any equipment that uses natural gas. It can be introduced without any change in behaviour on the side of the consumer, this makes it more likely that people will make the change to renewable energy.
The potential of agriculture
Agriculture represents the greatest challenge for anyone looking to play a role in climate action in Ireland. The statistic that agriculture accounts for 33 per cent of Ireland's total emissions is often used as a stick with which to beat the sector, but O'Flynn sees potential for the sector to drive, rather than hinder the task of transforming Ireland's performance. "We're agreeing targets with countries whose agricultural emission challenges are much lower than ours," he says. "We're at 33 per cent with an incredibly important food and agriculture industry. Renewable gas is going to be produced from agricultural and food waste and it presents a unique opportunity to reduce emissions from farming."
Amidst projected population growth and a growing economy, the reality is that Ireland will need to produce more energy than it ever has while decarbonising to the point of being a zero-carbon country by 2050. O'Flynn explains that a big step in that process will be the introduction of renewable gas into the GNI network, with the aim of displacing roughly 20 per cent of the network's natural gas by 2030.
"Renewable gas is a renewable source in the same way as wind or solar, it can be carbon neutral and crucially it is a secure, predictable energy source that isn't dependent on weather," O'Flynn describes. "The beauty of getting renewable gas onto our network is you don't need to change any equipment that uses natural gas. It can be introduced without any change in behaviour on the side of the consumer, this makes it more likely that people will make the change to renewable energy. It's indigenous and produces an opportunity for rural communities to play a role in the production of energy and you can use this biomethane in CNG for vehicles as well."
Reaching that desired 20 per cent displacement by 2030 is a goal that is heavily reliant on there being two sources of renewable gas: food waste – which O'Flynn projects to meet between 10 to 20 per cent of overall requirements – and agriculture. "Ireland has the highest potential per capita to produce renewable gas in Europe," O'Flynn says. "Our population base is relatively low and we have lots of opportunity to do something with our land, which countries like the UK do not have because they have so many people.
"We envisage between 300 and 400 anaerobic digestion (AD) plants taking in animal slurries and mixing it with other sustainable rotation crops and grasses to create biomethane. There are two AD plants today producing network ready biomethane in Ireland and just last month, we introduced renewable gas to the gas network for the first time. It is a massive opportunity for a rural economy that is in trouble to have a place within energy production. Our estimates are between 4,500 and 6,500 new jobs created."
Future innovations
Talk to anybody whose work involves the future of gas and they will inevitably mention the potential of hydrogen. O'Flynn is no different, expressing his enthusiasm for what he calls a "really exciting opportunity in the provision of heat and transport in the future", one he stresses is carbon neutral. One of the ways hydrogen can be utilised within the energy sector is through surplus electricity, for example wind-powered electricity on a particularly windy day. Such a surplus could then be combined with water to create hydrogen, which O'Flynn sees "being mixed into our network so we can start to replace natural gas". It is possible, O'Flynn speculates, that parts of the GNI network "could be 100 per cent hydrogen" in the future.
There is also the exciting potential of carbon capture and storage (CCS), which O'Flynn sees as playing a major role in the energy market after 2030. CCS is the capture of CO2 emitted by energy sources and its compression or liquification and transportation by vehicles or pipelines. Its goal is to limit the amount of CO2 allowed to escape into the atmosphere and to utilise the CO2 captured industrially or to store it. "Our parent company Ervia is taking a lead investigating CCS. There are about 18 CCS facilities operating around the world today," O'Flynn says. "In common with groups such as the International Energy Agency, we see it as one of the options that must be considered to get to a zero carbon 2050."
Such radical change requires extensive funding, which O'Flynn says has proven to be the case already, pointing to the successful example of the Public Service Obligation contract's role in the kick-starting of the wind generation industry. "We need to think about how we will kick start the renewable gas industry," he stresses. "Germany, France and Italy are all very well advanced, and we need to work with the Government to figure out the support mechanism here." It isn't just the Government that O'Flynn and GNI want to partner with either: "Our vision for renewable gas is around communities coming together and being involved in energy production, whether that be a co-op of farmers owning an AD plant or creating excess rotation crops or grass to go into an AD plant. This will increase the benefit to Ireland's rural communities."
O'Flynn says that addressing our climate challenges will require wide-ranging spending and reasons that leveraging a public asset that has already had €2.5 billion invested in it makes financial sense. "Our economy and our population are going to grow, so taking immediate action is important," he says, before concluding: "It's challenging, but it's an amazing time to be involved in energy."
Ian O'Flynn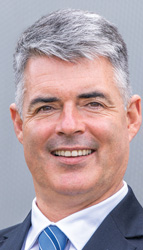 Ian O'Flynn is Head of Commercial and Corporate Affairs with Gas Networks Ireland (GNI), part of the Ervia Group, and is responsible for delivering GNI's commercial growth and innovation strategies, with a focus on promoting and maximising the utilisation of the gas network. He also oversees the operations of Aurora Telecom, Ireland's leading backhaul dark fibre service provider.
Passionate about the environment and the responsibility we all have to take action to address climate change, Ian recently led the launch of GNI's 'Progress Naturally' advertising campaign, which promotes the important role natural gas will play in Ireland's cleaner energy future. Ian cycles to work every day.
With a BSc in Computer Science and an MBA from University College Cork, Ian has 30 years' experience in leading strategic change and transformation initiatives. He has held a number of senior positions within Ervia and GNI over the last decade. Ian previously spent 17 years in the retail sector, where he held a number of senior IT positions.