Issues
The freedom to deploy the right technology, right now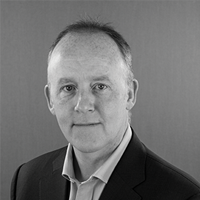 IT Financing Solutions for Public Sector bodies.
The demand for IT agility is becoming more acute as organisations need to accelerate growth, accommodate demand for technology enhancements with constrained budgets or consolidate in order to reduce running costs. As a result, financing has now become a strategic tool in addressing these demands, with over 85 per cent of organisations saying that the ability to provide financing is a key factor when deciding on a technology vendor partner. Dell Financial Services is experiencing particular growth in financing in the education and healthcare sectors in Ireland and across Europe.
Dell Financial Services (DFS), headquartered in Dublin and operating across 18 European markets, is dedicated to giving organisations the freedom to acquire and deploy the right technology solution right now, not just when the budget allows. Providing full-service leasing and financing solutions to tens of thousands of customers in over 50 countries worldwide, DFS funds over four billion dollars annually.
Delivering a single solution for all your technology financing needs, DFS cover hardware, software and services from Dell and third-parties, providing the same financing terms whether you choose to buy direct or through a channel partner.
"Financing with DFS gives many of our customers a clear competitive edge"
Cormac Costelloe, Vice President of Europe, Middle East and Africa & Asia Pacific at Dell Financial Services
Flexible financing solutions
DFS provide an easy, comprehensive approach to funding complete technology solutions, delivering:
• Financing that is integrated with the fulfilment process and a single point of contact
• Simplified administration, using a single Master Lease Agreement throughout your organisation
• Easy end-of-lease process, with renewal periods if required, returns accepted and secure data-wipe
• International capabilities in over 50 countries that support consistent international leasing strategies
• Competitive pricing and special financing offers, including payment deferrals to overcome end of year budget challenges and 0 per cent deals that change from time to time and by product
DFS provides a single solution that strengthens upgrade planning and manages total cost of ownership (TCO), addressing the challenges faced by managers across the organisation, including the Higher Executive Officer, Secretary/CFO and Asst. Principal.
Financing and leasing with DFS empowers you to act strategically to implement the right solutions for your business and break free from budget constraints, delivering lower TCO and real savings when compared with the costs of buying equipment outright.
Financing benefits for the IT Director:
• Enables the regular rotation of assets and the refresh of technology at the optimum times, avoiding the continued use of expensive obsolete systems
• Provides the budget flexibility to drive upgrade decisions
• Overcomes operational restrictions by including services in the finance agreement
• Enables the organisation to acquire and use the latest technology at all times
Financing benefits for the Finance Director:
For the Secretary / Asst. Principal, financing with DFS conserves capital and preserves credit lines, allowing organisations to focus more on investing in the business rather than on the infrastructure to run it. DFS solutions can:
• Prevent budget overspend and deliver predictable expenditure over a defined time period
• Shift the spend from capital expenditure to operational expenditure, conserving capital for use elsewhere
• Enable infrastructure modernisation, avoiding escalating maintenance costs and building efficiency
• Manage cash flow – payments can be structured to budget or cash flow requirements
• Lower the total cost of ownership (TCO) by facilitating a three-year technology rotation that minimises support and running costs
Financing options from DFS:
Financing for Technology Refresh
Residual Value Lease
For customers who want to refresh their technology in regular cycles, the most suitable option is often a Residual Value Lease, also known as an Operating Lease. The Lease provides the lowest monthly rental for financing hardware and at the end of the period, customers can either return the equipment or decide to extend the lease.
Financing for Technology Ownership:
For customers who want to own their technology, there are two options:
Finance Lease
A finance lease is used to pay for hardware that is going to be used for a fixed period. At the end of the agreement period, the equipment may either be purchased or the lease extended.
Loan Softcost and Services funding
The loan option provides cash to the customer, who owns the solution up-front and then makes fixed repayments. The loan option tends to be used for software and services.
"Leasing two generations of PCs over six years is 24% less expensive than buying one machine and running it for six years"
IDC Total Cost of Ownership latest data
Total solution financing
DFS can fund complete customer solutions for your entire enterprise-wide IT systems, including, for example, the software and services that may be contained in proposals from Dell Partners, resellers or other providers. DFS can also provide financing for both Dell and non-Dell hardware, software and services and bespoke combinations of Dell and non-Dell products.
"Using DFS simplifies our budget process, relates costs to use and reduces the assets on our balance sheet"
Magnus Isaksson, CEO, Sigma
Learn More: Visit dell.com/DFS_IE or contact your Dell or DFS Account Team through Gavin_McCarthy@Dell.com or Gerard_Cassoni@Dell.com