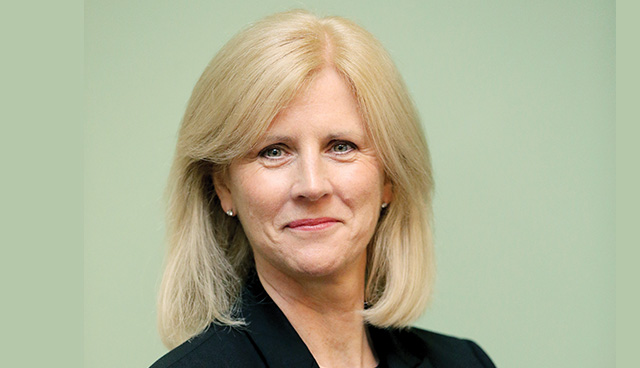 Following the recent completion of the four-year Payroll Shared Services Project undertaken by the National Shared Services Office (NSSO), the wider shared services model is set to expand with the establishment of a new Finance Shared Services operation. Ciarán Galway visits the NSSO to speak with Chief Executive Hilary Murphy-Fagan.
When the Government's strategy and policy for shared services was developed in 2012, in alignment with the reform agenda, the core principles were putting the customer at the heart of change and using innovation to transform work across government. NSSO CEO Hilary Murphy-Fagan outlines: "As early as 2014, when Brendan Howlin was Minister for Public Expenditure and Reform, we anticipated that, at a point in time, it would make sense to create a specialised office for shared services, separate from the Department."
Subsequently, legislation was progressed and there is now an organisational distinction between the NSSO and DPER which provides everyone, including the Department, with clear accountability for the delivery of shared services. Murphy-Fagan identifies the service ethos and culture around delivery, quality, innovation and digitalisation as being "at the heart of what we're about: to serve the civil service and support government in that regard". As such, it is different when compared with the ethos, pace and focus of the policy department.
"I think there was an early recognition that, to be at our best, we really needed to have different structures and supports. We're very much at the centre of the civil service. We work with all of the departments and all of the staff across government and so, in that respect, our purpose is to help the Civil Service provide excellent service to Government, in the same way as Government is trying to serve the citizens of Ireland."
The NSSO now provides HR and pension administration services to 35,400 civil servants and makes payments to 125,300 employees. "When you look at the scale, relative to what private sector organisations would deliver in that time, it's significant," asserts Murphy-Fagan. "The NSSO is clear that the real benefit and value comes from the bringing together and combining HR, payroll and financial management capabilities, and embedding them to create a single end-to-end view for each department."
Having finished the initial set-up phase for payroll last year and HR in the previous year, the NSSO has entered the continuous improvement phase. "This means that we have the capacity now to really focus on operational improvement, and service quality improvement. We've had very good political and leadership support from across all the Government departments and that continues. We very much appreciate that."
Challenges
With such systemic transformation, the NSSO CEO identifies effecting behavioural change as a significant challenge. "The difficulty on a personal level is for people who performed their role in a certain way for many years and fundamentally changing how that work gets done and who carries it out, alongside controls and technology. We're very mindful that it takes a number of years for the behavioural change that shared services brings to settle down. It requires people working in the shared service centres, and those who don't work in the shared services office as well, to adopt and work with the new processes."
Another major challenge identified by Murphy-Fagan is the management of expectations in terms of the timeframe and pace required to implement change. "This is not a technology project – it's about hearts and minds," she contends. "It's about controlled behavioural change as much as it is about support by the technology. It takes time to change a very large system like government departments and the civil service."
Likewise, the move to self-service and online technology to carry out transactions which were paper-based can be difficult for staff. However, Murphy-Fagan indicates: "It is also very beneficial and a lot of our staff and users are delighted. For example, we now deliver online access for all leave applications. You apply online and the action is completed for you in a very short space of time. All of our payroll is online also via a single platform. We're confident that we're on the right road and very proud of what we are achieving, but there's no short-circuiting that. There's a process of maturing that we need to go through."
Financial management
Now the NSSO is pursuing the establishment of a finance shared services operation intended to transform Government financial management. Currently, financial management is carried out on 31 different financial management systems. When finance shared services is established, the NSSO will manage in excess of €30 billion of expenditure for 48 public service bodies on one single technology platform.
"We will be starting with the first wave of departments later on this year, providing transactional processing and accounting services to those departments. It will probably take three years for all of the departments in scope to transition their finance activities into the finance shared services organisation," Murphy-Fagan explains.
"Ultimately what we're trying to achieve is to have consolidated accounting for government on a single finance technology platform, where all financial data is structured, captured and mapped in exactly the same way. This will enable each Department to look across their expenditure buckets and see the efficiency and effectiveness of how financial resources get deployed. Currently, data consolidation is a highly manual process so the change is a hugely important benefit that finance shared services can bring.
"A very significant component of what we're trying to achieve concerns business data intelligence and getting insights from all the data which now sits on a single technology platform.
"This will provide management information, data analysis, trend analysis and reports that help to inform the decision making of departments and managers in terms of policy, costing, evaluation, etcetera."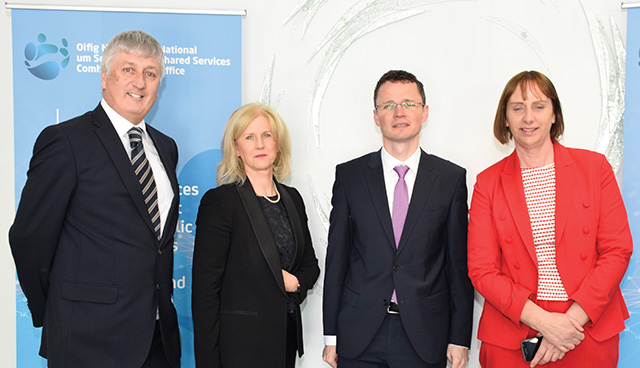 Rationale
With the departments receiving these services from the NSSO, they are relieved of the requirement to deploy their own resources on a smaller scale. As such, they can concentrate on their core business. "This is a whole-of-government approach and it is about investing to save but also using the model of shared services to really improve service efficiency and effectiveness, delivering value for money to the citizen, using technology in a smarter way that meets service requirements and collates the type of information that we need as a government for public service delivery."
The vision
Murphy-Fagan regards her office's role as having embarked upon "a never-ending journey of change and constant improvement". The journey is still in its initial stages with Phase One set to be completed when finance is established. "Our vision for the Office is to have a single digital platform which runs all of the services for us, while we're building the analytical and data capabilities of the staff working in the NSSO.
"From a user perspective, it is about creating a simple, easy way to access our services. Our challenge is to ask what we need to do to enable digitalisation and create a positive experience for staff by providing a quality service that is fast and reliable and on demand. That is what is important to us."
The NSSO Chief Executive emphasises her pride in the Office's staff and their commitment and dedication. "It has taken a huge effort on behalf of some really committed people. It's quite humbling to see the level of effort which has combined across our four operation locations.
"Fundamentally, I want us to be the very best that we can be at this and, while we're certainly not there yet, that's our level of ambition," she concludes.