Digital
The Department of Social Protection's Niall Barry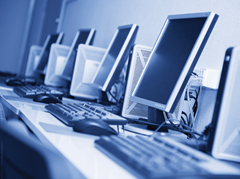 Innovation is very much at the heart of the Department of Social Protection's role, Niall Barry, its Assistant Secretary of Information Systems, has told an eolas innovation conference.
"We all have responsibilities as managers to innovate, we have the responsibility as managers to create the space for workers to innovate, and we have the responsibility as workers to play our part in innovation. It isn't a case of sitting back and waiting for leadership to innovate for you," Niall Barry says, explaining the transformation programme his own department has undertaken in recent years. The challenge of innovation has been significant for a department that by the end of 2010 had 5,175 staff and 90 different schemes to administer, Barry contends. Every year it receives 2.5 million applications for social welfare, makes 83 million payments and its social welfare inspectors carry out 450,000 assignments.
The department and its offices also receive 6.5 million phone calls a year. It means transformation must be continuous. "We are not a yacht; we are a very large tanker in Irish terms. You don't spin that around on a sixpence," Barry says.
Modernisation of its information systems began in 2004. The core of a new enterprise architecture took approximately one year to introduce. Since then it has had to adapt to structural reform of the social welfare system and much organisational change as other agencies have merged with the department. In 2006 the system to support the early childhood supplement payments was implemented and it pays 225,000 people.
The modernisation programme has involved addressing the simultaneous challenges of process modernisation, service development and the integration of new services simultaeously.
In terms of process modernisation, Barry says the central questions are: "What is there at the moment? Can we change it? Can we make it better?" The department's customer service function has been updated and is now more "persona- based". Text messages are used by the department to acknowledge claims and to help people book appointments to see officers. Child benefits can be made online. "We've spent a lot of time and energy [on online service provision] over the past couple of years," explains Barry.
On the policy side there has been "continuous change at the policy level within the department. That requires the sort of innovation, thinking, and design of our system that isn't always apparent," he adds. The department has been dealing with structural reforms of the social welfare system such as child income support, single working age assistance, the National Pensions Framework and disability allowance. New employment schemes such as Tús are also being implemented.
Organisational reform is a major task facing the Assistant Secretary and his department at present. The previous and current governments both spelt out the need for certain agencies to merge with the Department of Social Protection. Fás, with a staff of 750, has become part of the department.
The programme for Government envisages a new 'national employment and entitlements service', managed by the department, that will "provide a 'one-stop shop' for people seeking to establish their benefit entitlements, looking for a job, and seeking advice about their training options."
The General Register Office has also migrated into the department. Though plans have not been fully clarified, Barry says aspects of the health services such as the community welfare service are to be incorporated. Social employment schemes in the rural social community area have also become the responsibility of the Department of Social Protection. Redundancy and insolvency payments will become the full responsibility of Barry's department by the end of the year.
The consequence of these changes, according to Barry, is an increase of approximately 2,200 more staff than it had at the end of 2010.
Throughout this process, the department has developed its strategy and organisation. It has engaged with staff through surveys. One of the systems developed for this challenge was BOMi (Business Object Model implementation), which has helped the department to focus on organisational capacity. Another system being developed is a public service card. This smart card for people to access public services will replace current cards such as the social services card and the free travel card.
At all stages, Barry says, an architected approach underpins the modernisation: "You cannot do points solutions anymore. You must architect it, you must make sure you're not repeating things around the place, and it must fit into a coherent whole." Flexibility is inbuilt into it. The services are consistent, fully automated and strategically positioned for further modernisation.
Fundamentally, according to Barry, all these challenges have been approached along two axes: customer service and organisational capability.
The transformation has yielded significant results, Barry reported. In PRSI refunds, a 10 month backlog is being cleared, with the processing of 25 cases a day now increased to 100. Contribution statements are being processed four times faster with some complex cases now completed in minutes rather than hours. The department is also "dealing with a 35 per cent increase on the pensions side with a lot less staff."
Barry surmises the benefits of transformation, saying: "There's faster services, less paper, better communications for the customer. [There are] control savings in terms of being better able to know what we're dealing with, also productivity."
There is also the provision of identity services and event publishing, "telling people what has happened within our system so they can use it in their system." The Assistant Secretary says there is a "lot of innovation going on but an awful lot more to do." At a time of increasing numbers of customers, the department's administration costs are falling.
Barry remains focused on the importance of a modern, transformed social protection system: "I think if you look up the United Nations International Labour Organisation general research [definitions], a functioning social protection system is vital for a healthy economy. It's not as some people portray it – a drag on the economy – you actually need it. There is a lot of research to back that up. But that means that the social welfare system has to change and adapt. So innovation is there in itself."