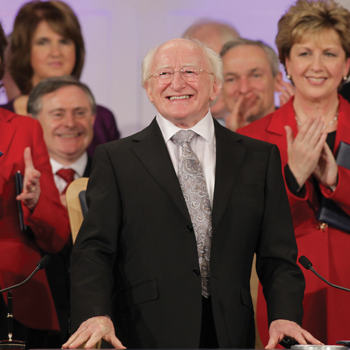 Peter Cheney considers the importance of the Council of State, a presidential advisory body which could have a major influence on the referendum decision.
A presidential decision on referring the euro zone treaty to the Supreme Court will bring one of the lesser known organs of government into the spotlight.  The Council of State has a duty to "aid and counsel" the President on how he or she uses certain powers, including referrals to the Supreme Court.  It gives the President advice from both his appointed advisers and those who have gone before him.
European Affairs Minister Lucinda Creighton has said that a Supreme Court ruling in the Government's favour would be "very helpful".  It would protect the treaty legislation from the risk of legal challenges, similar to the 1987 Crotty case, and rule out a referendum.  Michael D, though, may dissent.
The Constitution sets the Council's  functions out as:
convening a meeting of either or both Houses of the Oireachtas;
communicating with the Oireachtas "by message or address" on any matter of national or public importance;
addressing the nation on any matter of national or public importance;
deciding on whether to appoint a Committee of Privileges (to assess whether a Bill is a money Bill);
deciding on whether a Bill should be fast-tracked through the Oireachtas in emergencies;
deciding on whether a Bill should be tested in a referendum; and
referring a Bill to the Supreme Court to test its constitutionality.
Messages or addresses to the Oireachtas or the nation must be approved by the Government; the last was President McAleese's millennium address to the Oireachtas in December 1999.  Council members (currently 24) fall into three categories, outlined below:
Seven ex-officio members (Taoiseach, Tánaiste, Chief Justice, President of the High Court, Ceann Comhairle of Dáil, Cathaoirleach of Seanad, Attorney General);
Former presidents, taoisigh and chief justices (10 at present); and
Seven presidential appointees.
A President is not obliged to appoint any members to the Council but in practice, all have done so.  Appointees ensure that independent (or indeed supportive) views are heard.  The President has absolute discretion in those appointments, and they naturally echo his or her interests, hence the presence of NUI Galway alumni and academics on the current Council.
Since the 1960s, it has been customary to appoint at least one northern member, reflecting the presidency's all-island scope.  Indeed, there have consistently been two northern-born appointees since 1990; the current representatives are Michael Farrell and Deirdre Heenan.
Three senior members of the Council (the Chief Justice, Ceann Comhairle and Cathaoirleach) serve as the Presidential Commission, a collective vice-presidency.  It assumes office on the President's absence (e.g. on an overseas visit), incapacity, removal from office, resignation, failure to serve or death in office.
Given its small number of duties, the Council only meets rarely; four times in the last presidential term.
 
State business
No minutes of meetings are released, to ensure a frank discussion.  The last meeting, on 21 December 2010, considered the Credit Institutions (Stabilisation) Bill which gave the State sweeping powers over banks.  President McAleese subsequently signed it into law.
Article 26 of the Constitution gives a seven-day deadline for decisions on referrals to the Supreme Court.  The last referral took place in December 2004, regarding the Health (Amendment) (No. 2) Bill on patient charges.  The court ruled that the Bill was "repugnant to the Constitution" and the President therefore withheld her signature.
Under Article 27, the President can also initiate a referendum on a Bill if they receive a petition from the majority of senators and at least a third of TDs.  The Council of State must also be consulted before this decision is made but that power has never been invoked.
UCD law professor John O'Dowd describes the Council as a "purely advisory body" which exists only to assist the President with those decisions.  O'Dowd understands that judges tend to remain silent and appointees tend to be the most outspoken members.
Seán MacEntee vigorously demanded that President Cearbhall Ó Dálaigh refer the Emergency Powers Act to the Supreme Court in 1976.  Relations between Ó Dálaigh and then the Cosgrave Government were notoriously tense and eventually led to his resignation.
Former presidents would be the most relevant sources, but only one or two are available at any one time.  O'Dowd presumes that former taoisigh were added to provide a wider range of experience.
The Council's structure allows retired politicians to hold influence long after holding office, even when the public mood is strongly against them e.g. Bertie Ahern.  However, the President always has the last word and the Council does allow him or her to draw on 'the long view' of history from elder statesmen and women.  With Liam Cosgrave being the oldest member, aged 91, those recollections still go back to the early years of the State.
The appointed advisers
Michael Farrell Senior solicitor, Free Legal Advice Centres.  Former co-chair, Irish Council for Civil Liberties. 
Former member, Irish Human Rights Commission.
Deirdre Heenan Provost and Dean of Academic Development for the University of Ulster at Magee. 
Lecturer in policy studies at University of Ulster from 1995.  Appointed professor in 2007.
Mrs Justice Catherine McGuinness Adjunct Professor of Law at the National University of Ireland, Galway. Independent Senator (Dublin University) 1979-1982.  Previous Council of State member for President Patrick Hillery 1988-1990.  Supreme Court judge 2000-2006. President, Law Reform Commission 2005-2011. 
Ruairí McKiernan Business graduate, social entrepreneur and community activist.  Founder and former
Chief Executive, SpunOut.ie, a charity "working to empower young people to create personal and social change".
Sally Mulready Labour councillor, London Borough of Hackney since 1997. 
Dublin-born campaigner for Irish emigrant rights, including the Birmingham Six and Magdalene Laundries cases.
Gearóid Ó Tuathaigh Professor emeritus in history and former Dean of Arts and Vice-President, NUI Galway. 
Former Cathaoirleach, Údarás na Gaeltachta and published writer on modern Irish history.
Gerard Quinn Director of the Centre for Disability Law and Policy, NUI Galway School of Law. 
Former Director of Research, Law Reform Commission.  Former member, Irish Human Rights Commission.