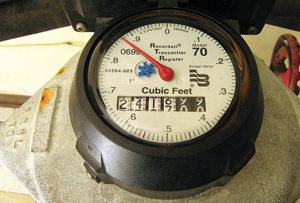 Meadhbh Monahan examines the Government's plans for water charging.
"90 per cent of all houses will be metered by 2014 before the meter is switched on," Environment Minister Phil Hogan has said. A public consultation on the proposed approach to water charges and water metering ends on 24 February.
Under the terms of the EU-IMF memorandum of understanding, the State has committed to introducing water charges. The Programme for Government provides for the introduction of a fair funding model to deliver clean and reliable water. The Government says it will install water meters in households connected to public water supplies and move to a charging system based on usage above a free allowance, which is not yet decided but speculated to be around 140-150 litres.
A flat rate charge will not be implemented prior to the installation of water meters, a spokesman from the Department of the Environment, Community and Local Government told eolas.
Households that are not metered will pay "an assessed charge based on the metered charges paid by comparable metered properties," he explained.
Ireland is currently the only OECD country that provides its citizens with water and sewerage facilities free of charge.
"The Government believes the installation of water meters represents a long term investment in how we, as a society, manage and fund our water resources and that it is appropriate to press ahead with this programme at this time," the consultation document states.
It quotes a January 2011 Eurostat document which notes that: "most EU member states show annual rates of freshwater abstraction of between
50m3 and 100m3 per capita, although extremes reflect specific conditions: for example, in Ireland (141 m3 per capita) where the use of water from the public supply is free".
The department's argument is that "from an environmental point of view, the best way to conserve water is to incentivise people to use less."
There are approximately 1.35 million households connected to the public water supply in Ireland. Approximately 1.05 million of those will be included in a universal metering programme. The remaining households on public supplies are likely to be too expensive or technically difficult to meter individually (e.g. apartment or flat complexes and gated communities). These premises will have a water charge levied on a fixed basis.
The consultation document does not give away how much the Government is considering as a charge. However, it says that an economic regulator will ensure that the customers' interests are protected. It points to the non-domestic sector, where water charges are set by individual local authorities, with prices varying significantly (e.g. €1.75 per m3 in Kildare to €3.04 per m3 in Wicklow).
Industry expert Kevin Murray estimated that the typical water charge for a non-domestic customer was €2.25 per m3 in 2009 and the typical unmetered consumption of a family of four is approximately 220 m3 per annum. He concludes that a family of four in Ireland should be paying an annual water charge of almost €500.
In England, Scotland and Wales, the average price for water and sewerage services was £356 (€428) in 2011. Non-domestic water remains free in Northern Ireland.
An alternative to water metering might have been upgrading and investing in water mains rehabilitation. However, the estimated cost of the water metering programme (which the department won't reveal prior to the project going to tender) would only finance the maintenance of 3.5 per cent on the distribution network and reduce leakage levels by approximately 5 per cent. On the other hand, the Government expects the domestic water metering programme to reduce consumption by approximately 10 per cent, as well as reducing customer side leakage.
Speaking at a water meter conference in May 2011, Phil Hogan referred to the Greater Dublin Water Project's 1996 estimation that customer side leakage may be 65 litres per property per day and said it is more likely to be "significantly higher."