Transport
Sustainable transport increases before pandemic
The Department of Transport's Transport Trends 2020 report depicts a sector that was recording falls in private transport and increases in sustainable, public, and active transport use in Ireland before the outbreak of the pandemic.
The year 2019 showed a decrease in the number of kilometres travelled by private car journey, as well as an increase in sustainable and active modes of transport, the report shows. Total kilometres driven on Irish roads and private car kilometres both showed decreases of 1 per cent and 1.5 per cent respectively in 2019.
Complementary to this, there was a 3 per cent rise in the number of public transport passenger journeys on the four main state operators in 2019, a total of 326.1 million. The National Transport Authority's annual Canal Cordon Count estimates a 4.8 per cent annual increase in active modes of transport (cycling and walking) in 2019 in Dublin.
In terms of the sector's carbon footprint, approximately 12.2 million tonnes of CO2 equivalent were emitted in 2019, a decrease of 0.3 per cent from 2018. Under existing measures, the Environmental Protection Agency projects that this figure will drop to 11.3 million tonnes of CO2 equivalent emitted annually from the transport sector by 2030. If the emissions target set out under the current Programme for Government is achieved, then this figure will fall significantly to 6.3 million tonnes of CO2 equivalent.
€4.7 billion transport revenue in 2019, a 1.4 per cent increase
108,000 people employed in transport and storage in Q4 2019
24,616 electric vehicles on the road in October 2020, a 59.9 per cent increase
12 million tonnes of CO2 emissions from transport, a 0.3 per cent decrease
82 per cent fall in passenger journeys on public transport during pandemic
30 per cent fall in maritime freight volume during pandemic
90 per cent fall in flights in and out of Ireland during pandemic
The total number of passengers coming in and out of Irish airports increased again in 2019, with a total of 38.1 million passengers, a 4.8 per cent rise on 2018 levels. Conversely, the total amount of air freight handled at Ireland's main airports fell by 7.2% from 157,400 tonnes in 2018 to 146,000 tonnes in 2019.
Decreases were also seen in maritime activity, where the number of vessels arriving at Irish ports decreased by 2.4 per cent in 2019 to 12,952 vessels, although the gross tonnage of vessels increased by 5.4 per cent to 278.8 million tonnes. A 3.4 per cent annual decrease in the amount of freight handled at Irish ports was also recorded in 2019. Data from the Central Statistics Office shows that the number of maritime passengers, which excludes cruise ship passengers on excursion, coming in or out of Irish ports fell by 0.8 per cent to 2.6 million in 2019, while the number of cruise ship passengers rose by 8.5 per cent in 2019.
Covid-19
Covid-19 "caused severe disruption" to the Irish transport sector in 2020 according to the report, which includes the caveat that the full effect of the pandemic on the aviation, maritime and land transport sectors will not become clearer until 2022's Transport Trends report at the earliest.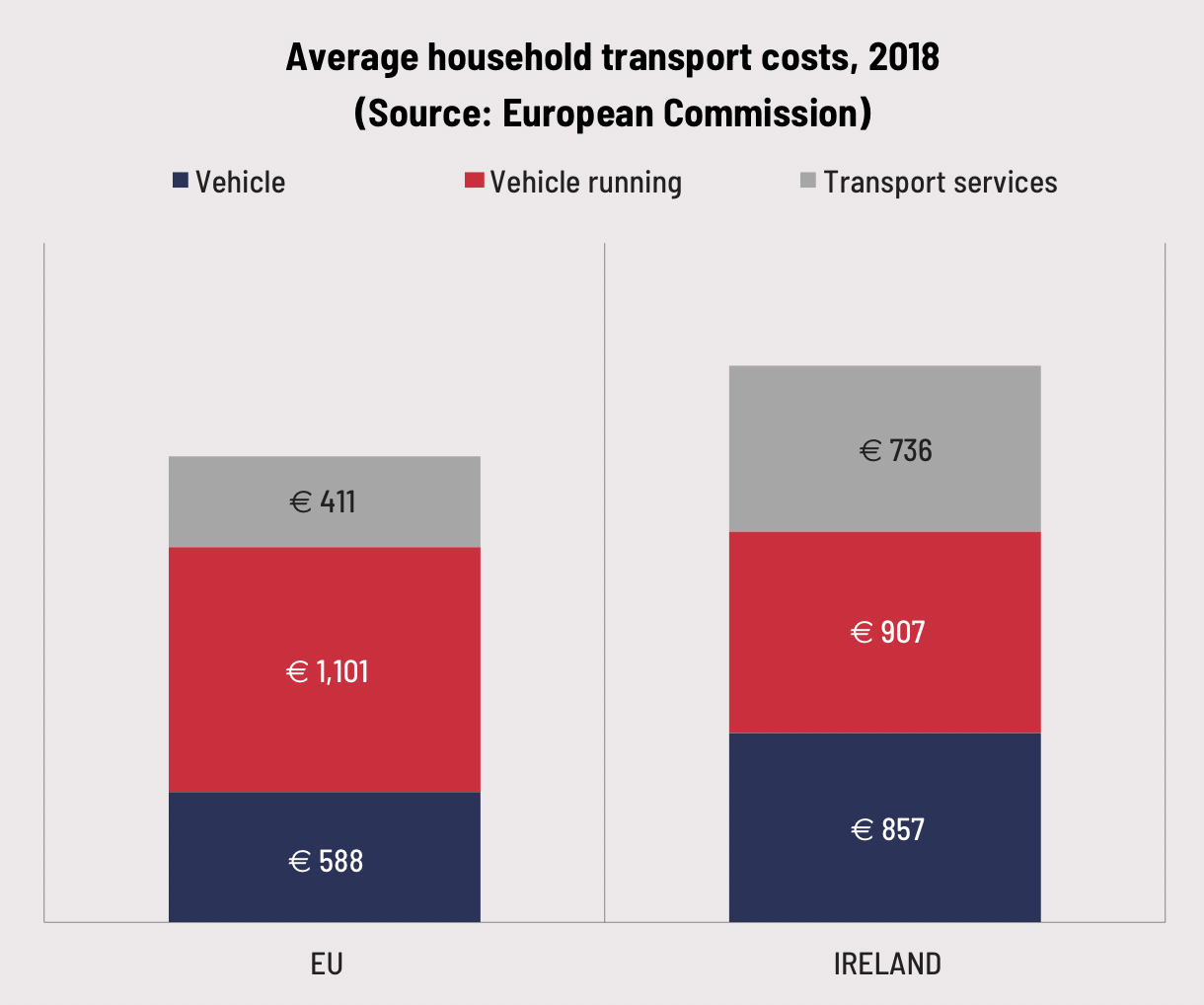 Following the international travel restrictions imposed in March 2020, the number of flights in and out of Ireland fell by 90 per cent compared to 2019 levels, freight volumes through Irish ports fell by approximately 30 per cent in April 2020 compared to 2019 and average daily passenger numbers for the four main public transport operators also fell by 82 per cent over the period March to April. It is estimated that over 167,000 flights were "lost" in the first 10 months of 2020, with a record low of 59 flights in one day. The first nine months of the year showed a decrease of 75 per cent in passenger numbers in comparison with the same period in 2019. Shannon Airport was the hardest hit of all Irish airports, operating at 30.5 per cent of capacity by the end of September 2020.
There was also a fall in the average daily traffic volumes of 58.8 per cent between March and April. Public transport passenger volumes and traffic levels are said to "have increased slowly as restrictions were eased and have fallen once again as new travel restrictions were imposed".