Issues
Summer vaccine success sparks hope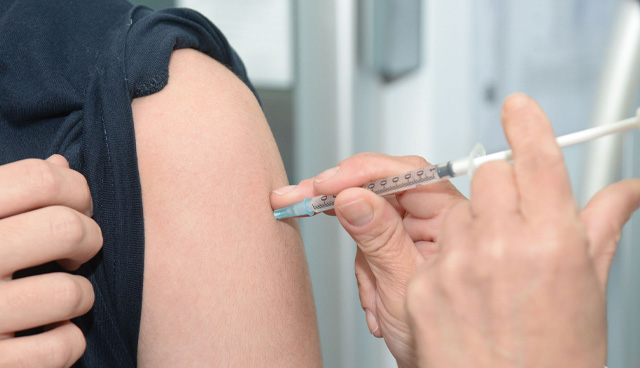 Ireland's efforts to combat Covid-19 have stepped up in the summer months, with the provision of walk-in vaccination centres and the rollout of vaccines in local pharmacies thought to have been critical to a large uptick in numbers of those vaccinated.
As Irish summer officially began on 1 May, just 9.1 per cent of the Republic of Ireland's population, 445,326 people, had been fully vaccinated. 1,146,562, or 23.4 per cent of the State's population, had received at least one dose of the vaccine. By the official end of Irish summer, 1 August, over two-thirds of the Republic's population had received at least one jab, and over half had been fully vaccinated. With 3,319,049 (67.7 per cent) receiving at least one dose and 2,768,882 (56.5 per cent) fully vaccinated, rates had at least doubled in both cases, with one dose rates have increased by 2.9 times and fully vaccinated rates having increased by 6.2 times.
By 1 August, 87 per cent of the Republic's adult population had been partially vaccinated and 76 per cent of the adult population fully vaccinated, a rate which saw the Republic overtake Northern Ireland, whose adult population was 72.1 per cent fully vaccinated at the same time. With 1,219,389 people having received at least one dose of the vaccine in Northern Ireland by 1 August, and 1,048,595 having been fully vaccinated, the vaccination rate for Ireland as a whole stood at 68.8 per cent having received one dose and 57.8 per cent fully vaccinated.
The massive uptick in vaccination rates in the Republic came after the opening of walk-in vaccination centres and the rollout of the vaccines into local pharmacies, allowing the health system to work quickly through the age groups in order to get over three quarters of the adults in the State vaccinated by August. That the story is similar in Northern Ireland is also clearly good news for an island that has been found lacking in its efforts to treat itself as a single epidemiological unit. With the vast majority of adults now seen to, the National Immunisation Advisory Council in the Republic has advised that 12–15-year-olds also be vaccinated.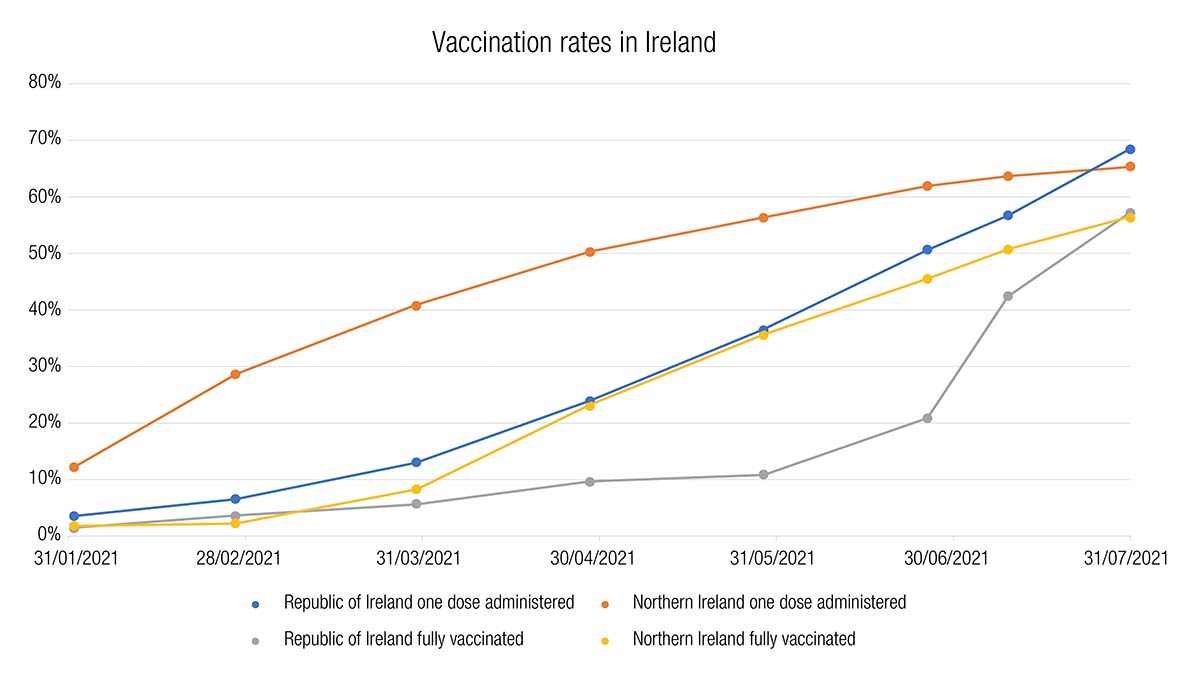 Whether the uptick in vaccinations precipitated the loosening of hospitality rules in the Republic or vice versa has become something of a chicken and the egg scenario, but Ireland's new hospitality rules have since come into effect, requiring people to provide proof that they have been vaccinated fully before they can dine indoors. Outdoor events have also gradually had their maximum capacities enlarged, dependent on their venues. These policies have seen both the Connacht and Ulster Gaelic football provincial championship finals held in Dublin's Croke Park in order to accommodate crowd numbers unsuitable for either province's stadia. The gradual reopening of spectator sports has also seen soccer clubs such as Bohemians play their European ties in a partially filled Aviva Stadium and the All-Ireland hurling final being played in front of 40,000 spectators in Croke Park.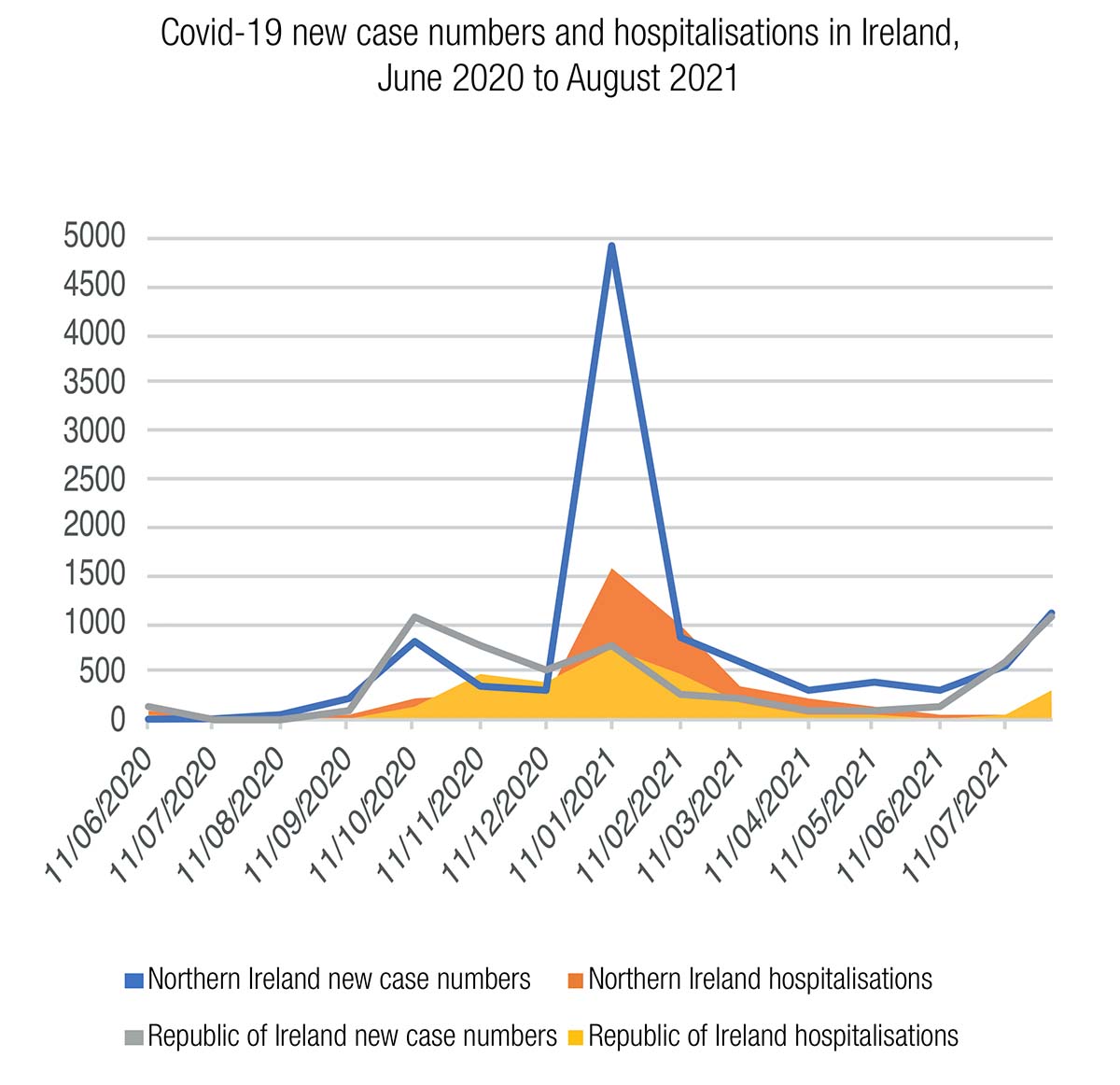 The effectiveness of the various Covid vaccines available throughout Ireland can perhaps best be seen through hospitalisation rates as the country's infection rate rises once again due to the presence of the Delta variant of Covid-19. For example, on 11 January 2021, almost 5,000 new cases (4,926) of Covid-19 were confirmed in one day in the Republic; on the same day 1,575 people lay in hospital beds diagnosed with Covid. For every 3.2 cases of Covid, one was severe enough for hospitalisation. In Northern Ireland, the new cases versus hospitalisation rate was much worse. Despite a much better handle on new case numbers on the same date, with just 759 recorded, 740 people were recorded as being in hospital, diagnosed with Covid-19.
On 1 August 2021, with the majority of people in Ireland vaccinated but the Delta variant rampant, rates of confirmed cases versus hospitalisation are much more favourable. 1,098 new cases were recorded on that date in the Republic, with 163 hospitalisations. In Northern Ireland, the numbers were less favourable but still an improvement on January: 1,072 new cases and 317 hospitalisations were recorded. Monthly death rates have not been in the triple figures in the Republic since April 2021, in the North since February 2021.
The stats tell the story of one Ireland, one epidemiological unit, and though politicians in either jurisdiction have taken the opportunity to boast when their jurisdiction has taken the lead in vaccination rate, the prevalence of vaccines on both sides of the border is an inarguably positive development. While precautions will remain in place for some time yet in an attempt to tackle the spread of the Delta variant and the variants that may come after it, a summer of successful vaccination programmes is still something that has been all too rare during this pandemic: unequivocal good news.