Economy
Strong recovery to continue despite legacy challenges
DKM Economic Consultants produce a regular consensus forecast for the Irish economy – the DKM Economy Watch – based on forecasts from a range of leading sources. Annette Hughes and John Lawlor summarise the latest edition.
The Irish economy has definitively turned the corner after a calamitous recession triggered by the property crash and financial crisis. Domestic demand – private and government consumption and investment – contracted severely as households, businesses and the public sector sought to get their debt levels under control by cutting back on expenditure. The result was a severe reduction in output and a huge spike in unemployment, which peaked at over 15 per cent. The one saving grace had been exports which to continued to perform in the intervening years (see chart).
The consensus forecast points to robust, albeit decelerating, GDP growth of 3.8 per cent in 2015 and 3.1 per cent in 2016, following on 4.8 per cent in 2014. A key feature has been the return of domestic demand to positive territory. Of the constituents of domestic demand, growth in investment, which surged ahead in 2014 (+11.3 per cent), is expected to be strongest as the construction sector recovery gains ground. Foreign direct investment is also continuing apace, boosting demand for office and industrial space.
Private consumption is expected to play a more prominent role this year, boosted by income tax reductions (significantly greater for most households than the upcoming water charges), the improving labour market, notwithstanding continued high debt burdens, and strong demand for housing in key markets. The KBC/ESRI Consumer Sentiment Index confirms that consumer sentiment is definitely on the up.
Retail sales volumes recorded a strong increase in January 2015, and were 8.9 per cent up on the year. Gains were particularly pronounced in motor trades (+17.8 per cent). SIMI reports that new car sales are up 28.5 per cent in the first two months of 2015 compared to the same period last year.
As the final constituent part of domestic demand, government spending is expected to increase modestly over the coming years, not least in the lead up to the general election, as the Government reduces the general deficit in line with (potentially softening) IMF and EU budgetary guidelines. This will be facilitated by continued strengthening of the Exchequer position: as of the end of February, tax revenues were up by almost 16 per cent year-on-year, and
5.4 per cent ahead of expectations.
The general government deficit as a percentage of GDP in 2014 is estimated at 3.7 per cent, well inside the EU/IMF target level of 5.1 per cent. The Department of Finance 2015 forecast is 2.7 per cent, which is expected to be achieved despite some loosening of the purse strings. International confidence in the Irish recovery has been confirmed as yields on Irish 10-year bonds fell below
1 per cent for the first time ever in February.
2014 was a year of continued and consistent improvement in the Irish labour market as 98,000 joined the workforce between Q1 and Q4 2014, although over two-thirds of those additions were part-time workers. This drove a reduction in the unemployment rate from 12 per cent in Q1 2014 to 10.4 per cent at the end of the year. February 2015's Live Register results recorded a further decline, bringing the rate down to 10.1 per cent. 2015 is expected to see continued improvement.
Despite the overall positive picture, an underlying issue remains in the form of the large private debt overhang, which will inevitably continue to drag on consumption. The number of mortgages in arrears in Q4 2014 stood at just under 146,000, down 17 per cent year-on-year but still at unsustainable levels. The improving property market and stronger bank balance sheets have increased the appetite to finally tackle this problem, and there is expected to be a definite acceleration in the level of repossessions this year. Noteworthy also is that the total number of mortgages classified as restructured increased by a third to 140,000 (over 25,000 of them buy-to-let) between Q4 2013 and Q4 2014. Resolution of this problem is long overdue. We note the Government is looking at a series of measures to avoid repossessions, including some reform of the insolvency legislation.
Concerns also remain regarding the danger of a wider deflationary-spiral across the euro zone. Despite the upturn, Ireland is not immune; the annual inflation rate in Ireland fell below zero in both December and January, in part due to falling energy prices. The ECB's Quantitative Easing programme is billed as a remedy to this deflation, though it is doubtless aimed at boosting economic activity and tackling the serious unemployment problem in many euro zone countries.
As a final observation, we would be inclined to think that the consensus forecast may err on the side of caution for 2015 and 2016. It is a well-observed phenomenon (in Ireland at least) that on the way down forecasts tend to be revised downwards, while on the way up they tend to be revised upwards. Economic momentum and confidence are strong, Exchequer returns are ahead of profile, ECB Quantitative Easing is kicking in, the Government is seeking a relaxation of Ireland's deficit targets (emboldened by the treatment given to France and Italy and the experience in Greece if popular pressures are ignored), and finally there is an election coming up. Everything points to more money circulating in the economy, generating increased activity and employment in the short to medium term.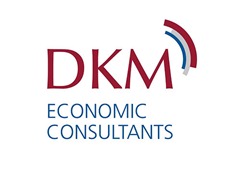 DKM Economic Consultants
6 Grand Canal Wharf
South Dock Road
Ringsend, Dublin 4
Contact Annette Hughes or John Lawlor
Tel: 01 667 0372
Email: info@dkm.ie
Web: www.dkm.ie