Economy
Strong recovery predicted for 2015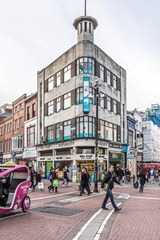 The economic recovery is set to make more progress over this year according to the most recent quarterly economic report published by Ibec. eolas reports.
Despite disappointing preliminary growth figures for the third quarter, the Irish economy will significantly outperform the rest of Europe and grow by 5.7 per cent this year according to Ibec. Real GDP in Ireland grew by close to 5 per cent in the first nine months of 2014 alone compared with the same period last year.
As a result of employment and investment growth, alongside growing consumer confidence and a strong export sector, Ireland was the fastest growing European economy in 2014. As another bonus, 2014 was also the year when economy recovery finally reached the domestic market too.
Looking to the year ahead, Ibec is forecasting that this strong growth will continue throughout 2015. Lower oil prices will be something of a double-edged sword for the Irish economy. From a positive aspect, there will be added momentum to the consumer recovery. Every $10 fall in the price of a barrel of oil translates into an additional €100 million spending power for Irish consumers.
If oil prices stabilise at $70 per barrel, 30 per cent below the 2014 average, private households could save about €200 million from their transport costs, or €120 per household, in 2015. However, weakening oil prices are clearly a symptom of emerging market instability.
Further downside risks to the economic outlook emanate from the euro zone's fragility. The key risks identified include unemployment and wage pressures.
However as an uplifting boost for the economy, Ibec forecasts unemployment, currently around 11.4 per cent to fall to below 9 per cent by the end of 2015. Employment growth is set to rise to 2.6 per cent in 2015, with much of this growth in full-time employment. The construction industry and professional services sector enjoyed a strong rejuvenation in 2014 and this is expected to continue through 2015. Continued increases in employment in these two sectors should help to drive future employment growth.
Commenting on the report, Ibec Chief Economist Fergal O'Brien said: "Ireland is well placed to continue growing strongly this year. Consumer confidence is on the rise and Christmas sales for 2014 look set to be at their highest level since 2009. €80 million more was spent in the shops in December 2014 compared to 2013. These positive trends look set to continue over the coming months as low inflation supports consumer purchasing power. Record low interest rates should further boost investment."
Indeed, it is predicted that consumer expenditure will grow by 2.7 per cent in 2015. For 2015, Ibec forecasts GDP to grow by 4.8 per cent. Exports remain the main driver of the economic recovery and this factor looks set to continue into 2015.
The inflation outlook for 2015 is slightly conflicted at present. Some inflation could have been expected to return to the economy in 2015 but the recent dramatic reductions in oil prices, possible further reductions in mortgage interest rates, and the prospect of deflation in the euro zone has led to Ibec reducing its inflation forecast for 2015 from 0.8 per cent to 0.4 per cent.
The prospect of low inflation is a worry for both households and government as it does nothing to erode the real value of debt. This, however, is somewhat mitigated by the fact that the reduction in oil prices and mortgage interest rates will increase the purchasing power of households and boost the domestic economy in the short run.
On the cost of living growth despite scope for price increases in some sectors, Ibec expects that inflation is likely to again remain low. This is not wholly negative for the economy, however, with transport and energy spending likely to benefit from falling oil prices and possible reductions in mortgage interest rates increasing the real purchasing power of households. Certainly according to recent figures published by Retail Ireland (Ibec's branch in that sector), this would appear to be the case. Retail Ireland's Q1 report indicated a strong start to the year in the industry. Strong January VAT returns, which were €225 million or 12.9 per cent ahead of last year, suggest that the recovery is starting to gain traction. Ibec estimates that consumer spending will rise by 2.7 per cent in 2015, following growth of 1.3 per cent last year. Key factors supporting further recovery over the coming months include an expected rise of 55,000 people in the workforce, and a rise of 3.5-4 per cent in disposable income.
Another positive indication is that public finances have improved much quicker than expected. Strong tax revenue growth, along with prudent expenditure controls, will see the deficit fall towards close to 2 per cent in 2015.
Investment is also expected to grow this year with leading indicators such as the Purchasing Managers' Index signalling an expansion. Ibec has therefore set its forecast to a 13 per cent increase in investment during the course of 2015.
In general, the report paints a largely positive outlook for Irish economy in 2015. Certainly, it is one of the more optimistic reports that the country has received in recent years. However, there are still core challenges which need to continue to be addressed over the coming months. Whilst employment figures are going in the right direction, Ibec points out that there is still a long way to go in order to fully stabilise the post-recession economy.