Issues
Strengthening healthcare in Ireland post-Covid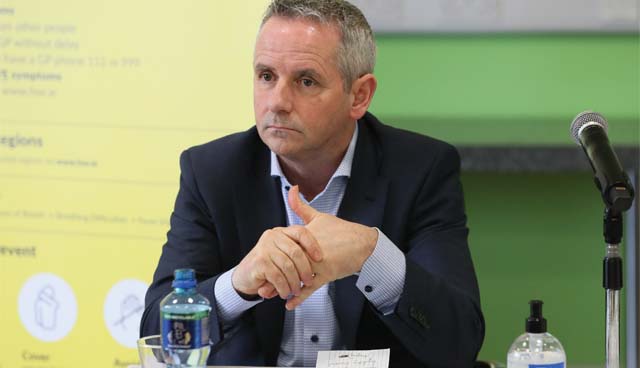 Paul Reid, Director-General of the Health Service Executive (HSE), speaks to eolas to reflect on healthcare's experience of the Covid-19 pandemic, the implementation of Sláintecare and post-pandemic plans for reform in the health system.
"'Post-Covid future' is the riskiest statement you can make, certainly from a health service perspective," Reid states. "We have been talking about 'post-Covid' for four waves of Covid throughout the last 18 to 20 months."
Before focusing on the concept of a post-Covid future for the HSE and Ireland's healthcare system, Reid is keen to emphasise the experiences of those who have worked to ensure the survival of that system throughout the pandemic.
"From a public perspective, sometimes we forget when we just look at numbers of 5,100 people sadly passing away, that all these people have families," he says.
"What we are seeing from a health perspective is very significant impacts on mental health presentations across all age groups, significant impacts on frailty in older people, and delayed care.
"What we think we will see going into the future is medium- to long-term impacts of what lockdowns, restrictions and Covid have meant for us all. I am struck by people that I talk to within the HSE, particularly on the frontline, telling me about what they are experiencing now and what they have experienced throughout Covid."
Reid reflects on the weekly press conferences the HSE has held throughout the pandemic and how the platforming of healthcare workers during those press conferences has allowed the public an insight into life on the frontline during the pandemic.
Reid states that the "hardest thing" he has done in his career has been "talking to families who have lost healthcare workers through Covid, those who went out and sacrificed, ultimately their lives, going out on the frontline at a time when we were all scared".
Yet as Ireland approached the summer of 2021 and vaccination rates continued to rise on both sides of the border, there was cause for optimism that the worst of the pandemic was over. Then, in mid-May, the HSE was plunged into another crisis.
"I always remember on Thursday, May 12, we were doing one of those weekly press conferences and things were looking brighter," Reid recalls, adding: "We were saying that we were at the end of Covid… hospitalisations were down; I went home that Thursday night and about three o'clock in the morning I got a call from our IT guys to say we have had a cyberattack and have had to shut down all the systems.
"I have spent a long time between private sector, not-for-profit, central government, local government and now the health service, and I have never seen the pace of change and innovation implemented in such a short space of time by so many people with so many benefits as I have seen across the healthy system in the past 18–20 months."
"A cyberattack is catastrophic for any organisation but to provide healthcare without the basic core systems, it is actually phenomenal how our teams have gotten through that. I visited some hospitals and primary care centres just looking at the workarounds that were in place; we had people whose whole job was to run across the hospital with scan results, we had people taking blood tests and samples where if you get the decimal point wrong within three points, the result can be catastrophic. The resilience of our teams to work through the waves of Covid and that cyberattack has been quite phenomenal."
Reid highlights the whole-of-government response delivered by two successive governments. He recalls his first meeting with the Taoiseach, Tánaiste, government ministers, Garda Commissioner Drew Harris and Defence Forces Chief of Staff Mark Mellett, in which Harris volunteered Templemore as a temporary hospital and Mellett told Reid that all Defence Forces personnel were at the HSE's disposal.
"There were a few things for ourselves working through that period that we had to focus on and the first thing for myself and the leadership team was communications with key stakeholders," he recalls, adding: "Key stakeholders being the public, the Government, the Taoiseach and Tánaiste and ministers, opposition party leaders, opposition spokespersons.
"That was an important process for us and one of the key pieces of feedback we are getting is that the public engagement did boost confidence in what we were doing. The public heard a lot more coherent advice coming from the health system, from GPs, the Government, NPHET, ourselves, and I think that helped give the Government much more trust."
The HSE chief says that one of the key lessons for the HSE during that period was the way in which the centre of the HSE and the services worked together. The centre "took responsibility for some big national lead programmes and let the services get on with driving the change, making hospitals safer and bringing services to our communities".
This is a lesson that Reid states will be key to the future of the service, something he terms "a tight and a loose grip", meaning tight at the centre with direction and mandate but loose to allow the services to apply them in a manner suitable to it.
Another lesson was what Reid calls "the 70:30 approach", where the HSE accepted that operating at pace, forcing people into quick decision-making would mean that the HSE would get "70 per cent of decisions right at best".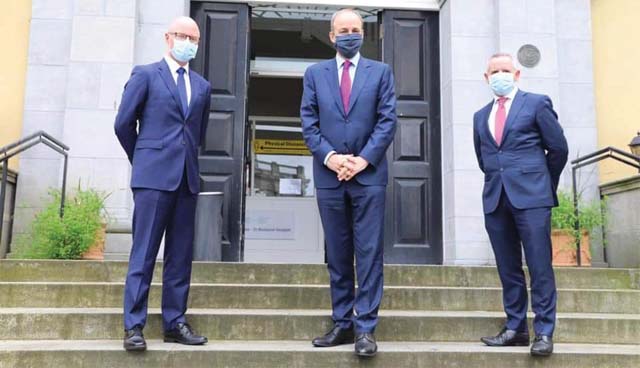 "That's something from a public service perspective that we have to get stronger at and have a clearer mandate to do," he reflects. "In healthcare, you always have to manage the risk in a clinical perspective, but from an organisational perspective, this was important for us."
Taking stock of all that has changed in less than two years since Covid arrived in Ireland, Reid reflects: "I have spent a long time between private sector, not-for-profit, central government, local government and now the health service, and I have never seen the pace of change and innovation implemented in such a short space of time by so many people with so many benefits as I have seen across the healthy system in the past 18 to 20 months.
"We built a testing and tracing system that didn't exist and now has a workforce of over 2,000 people. We put in place a vaccination programme, we did it at pace and with great success. At a hospital level, we made it very clear that we had a bed capacity of about 10,500, that we were probably going to have to double based on predictions. We made temporary hospitals and we took on board some of the offers from the State to build those temporary hospitals.
"We also took onboard something the public may not always hear about, but we built a temporary morgue and thankfully that is something that we have not had to use due to the response of the Irish public."
Reid identifies changes during Covid, such as taking the workload away from private hospitals, putting in place 29 community assessment hubs for people who could not get access to GPs, and the transformation of the national ambulance service from a 24-hour paramedic service to a service working in the community, treating people at home and in nursing homes, as having each brought the health service closer to implementation goals of Sláintecare.
He mentions that the HSE is now finalising plans for its multi-annual waiting lists, plans with private hospitals to support the HSE with extra capacity and plans to further enhance capacity in the hospital system.
Along with Department of Health Secretary General Robert Watt, Reid is "now looking at what is the most practical way we can design regions for healthcare delivery in the future".
"The challenge now is to sustain the changes we have made into the future. One of those is supporting the treatment of people in their homes or communities, which is one of the core aspects of Sláintecare," he says.
Concluding, Reid dismisses criticism of a perceived hesitance or reluctance to implement Sláintecare, but also reflects on how trust in the health service has grown throughout Covid: "The one piece we can all look back at with pride is that throughout Covid, we can demonstrate and track public trust and confidence in the health service continuously grew. We know it's always volatile, but it is a very good base to understand that the public recognises our work and values it.
"There has been a lot of commentary of late about the health system's commitment to Sláintecare; to be quite frank, it is all a load of nonsense. It has been quite dismissive, quite untrue and quite unfair to our teams who worked relentlessly throughout Covid to put in place innovation and change at pace.
"Certainly, I will take responsibility for the implementation of regions, which has been talked about. There was no way that we were going to do a massive organisational redesign and change in the middle of a pandemic, because we wanted our managers, teams and frontline staff saving people's lives. That was the right decision and I'll stand over that for a long time."