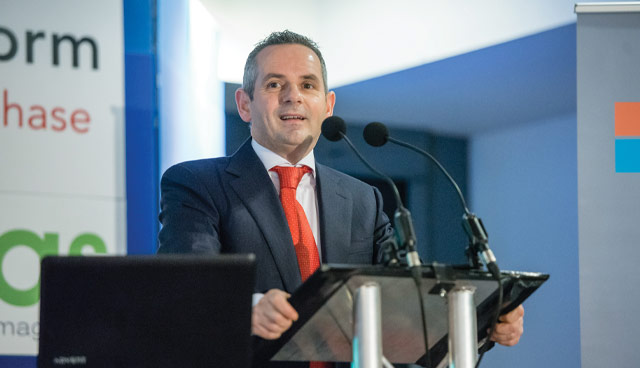 Paul Reid, Director General of the HSE, talks to Owen McQuade about his first impressions of his role leading the health service and his priorities for the coming year.
Reflecting on his first six months, Paul Reid relates his first impressions of his role in leading the HSE. Prior to taking up the role he undertook a "very useful" and comprehensive stakeholder engagement campaign meeting with An Taoiseach, ministers, HSE staff, staff representative bodies, patients, patient advocates, clinicians, and the top 30 mangers in the HSE. When asked what came out of that exercise, he replies: "Firstly, a sense that the organisation was in trauma and turmoil because of what happened around the CervicalCheck controversy. Secondly, we were at war with a lot of our key stakeholders including government, the department, our trade unions and our staff didn't feel connected with senior leadership." The major impression he came away with from the exercise was that he is going to have to spend a lot of his time on stakeholder management. "We have to start to gain their trust and confidence. If we can get them all working with us towards the same end goal that can be very powerful. The trust wasn't there. The Government, the Department, the media, the public all thought we were working against them. That was the key focus of my first six months; working with all our stakeholders," he explains. 
Moving onto other impressions he lists three, the first being the level of commitment from health care staff: "I spend a lot of my time out and about. I commit a day and a half every fortnight to make sure I am out in the services. You get a real impression of the commitment of staff to services. They are very committed to their job and that comes through in any staff satisfaction survey. They are very committed to health care and working in challenging conditions."
The second impression is that the HSE centre is "not strongly connected enough with the service delivery system of hospitals and community settings".
The third impression is around the capacity and skills set of senior managers: "Coming in I thought the primary focus would be building leadership capacity across the organisation. I thought it might be 60 per cent leadership and 40 per cent management in terms of challenge but I've come to the view it's more management; it's probably 70:30 management to leadership in terms of challenge. We have to get the fundamentals right in management. That's about how we manage people, the service and finance."
Having launched a new service plan in mid-November Reid frankly states: "We are not providing the service that the Irish public needs or expects. That's just a statement of fact." However, he believes that this can mask "a lot of quite positive experiences". From an overall health perspective Irish people are living longer, with a lot of key clinical diseases having better treatment. People are living longer, healthy lives which Reid says is positive. "That puts extra demands on the health service but overall, it's a positive thing."
The HSE carries out a national patient survey each year and it gives very positive experiences for those that have gone through the system with a hospital stay. Their experience is actually quite positive, with 84 per cent stating positive/satisfied experiences between out emergency department, admissions and discharge experiences. "There are a lot of positives about the Irish health service and we need to recognise and celebrate that more," says Reid.    
The last impression is that there is a real challenge to strengthen financial management process and controls "to ensure predictability for the funds that government gives us. It has been one of my early priorities".  When asked if that is the result of poor process or just a case of everyone thinks there is an endless supply of resources, he replies: "We don't have an endless budget. We have to manage within budgets, each month, each unit. We don't have strong financial systems that are not connected but that's not the early solution. The early solution is good financial management month by month. It's getting financial discipline. We've done some good work on that in the last six months."
This is reflected in the fact that the budget overrun last year was €800 million and this year it is expected to be less than half that, which is a good turnaround in six months from Reid's perspective. "We had over run in the first five months of this year. This [reduction in overrun] has given government confidence and it has helped me secure some extra funding for next year. We are building the trust and confidence with government in terms of financial management."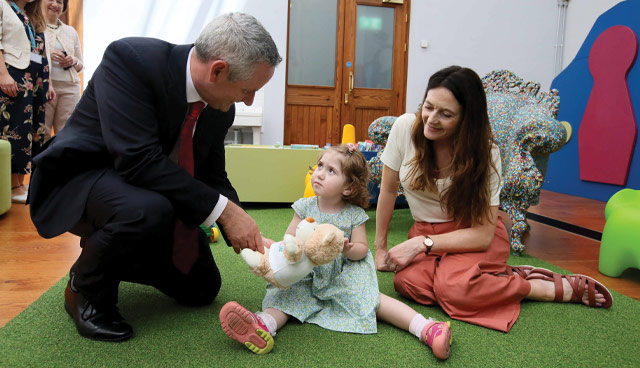 "We now have a new board in place, and they are mapping out their corporate plan for the next five years. That's an important milestone and it will be a roadmap for our future." 
Reform
When asked does he feel management is sometimes held responsible for things that are more policy than management, Reid insists that "it's not really a distinction". "For example, looking at people on trolleys can be a function of how the system is managed and how the processes are run," he says. "There can be huge variations between hospitals. Sometimes it's variation in the local population but other times it's down to operational issues. There are clear policy areas such as investment profile for health in the future."
Reid says there was a similar discussion this morning involving himself, the HSE board chair and the Minister. HSE has now a new board and it is very connected with policy formation, "because we know what's happening". "That's something that will be important for me and the HSE board and executive will look to influence that. I fully respect the role of the Department in policy formation but, going back to my Civil Service days, you can't have good policy unless you think the implementation through," he says.
The HSE announced the formation of six regions as a key part of its reform plan in late 2019. Reid has much experience of reform, not least from his days at the Department of Public Expenditure and Reform, where he was chief operating officer.  "The starting point for me is the patient. Those that are using the services. I start there and work back. I've done that in every job I've been in, whether in the private sector from a customer perspective, or my days in the not-for-profit sector with Trócaire. In looking at what patients want he says: "The first thing they want is for the service to be delivered locally and they want to have a local connection and identity to services. Secondly, they want their services to be integrated. Currently, we have a hand-off for customer experience whereas it should be a hand-over. If they are in a primary care centre and they have to be referred to an acute setting, or vice versa, that should be a seamless handover. Patients want services local and integrated and that's why I'm supportive of the [new] regions. It's not about geography, it's more about integrated devolved decision-making and budgets etc."
Thirdly, Reid believes that HSE has to transform the way the patient engages with the system. He says that it has to move away from the primary care route into the acute setting through the emergency department towards community-based services. This means strengthening GP and pharmacy services and extending our primary care centres to have diagnostics. "That means fundamentally changing the route to market for the patient," he adds.
Reid says that this will be reflected in future budgets, with more resources going to primary care.
This year's budget has already started that shift and any extra funding this year reflects that new transition – this includes one million extra home help hours, extra nursing home support schemes, 1,000 staff into the community side – public health nurses and primary care nurses. "The best way to help the acute side is to build-up capacity on the community side." When asked if this will be difficult as it will take time to move the centre of gravity of the health service from primary to secondary care, Reid says that they have no choice but to start this transformation now. "The reality is that we have 127 primary care centres around the country. Some of them are state-of-the-art buildings but don't have the resourcing or capacity or diagnostics that they need and that can be a huge relief for the acutes. When you look at emergency department attendances there is a significant proportion that doesn't need to be in the emergency department."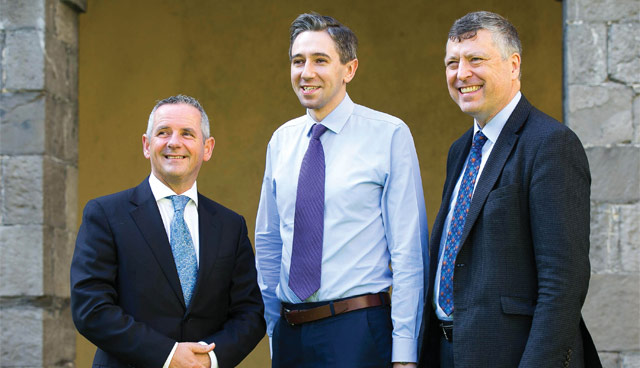 Turing his attention to the corporate centre of the HSE, he has asked the question to colleagues, "what should the core be about?" He acknowledges that there will always be the need for central functions such as clinical standards, quality standards, controls of levels of employment and financial oversight. "We now have to look at the centre and see what we currently do. The primary test should be, 'is it adding value from a patient's perspective?' If they are not adding value we have to stop them. We also have to strengthen the connection between the delivery system and the core. The core has to support the front-line services and not the other way around. I'm concerned how the centre has grown to what it is currently," he states. 
Moving on from structural issues, to softer issues such as changing the culture of such a large organisation, he replies: "Personally, where I get most of my energy from is working with the front-line teams and staff. We need to look at how we provide the supports they really need and to give visible leadership and focus on listening and the culture [of the organisation]." Reid acknowledges the huge challenge in changing the culture of an organisation of 119,000 people dispersed across the country.
A new board
Reid says he has just caught breath after an "intense" first six months. Looking to the future and, particularly 2020, he sees the new board of the HSE having a pivotal role. "We now have a new board in place, and they are mapping out their corporate plan for the next five years. That's an important milestone and it will be a roadmap for our future." 
Looking to 2020, the detailed design and business case for the six new regions will be the focus. "However, you can't have the whole system waiting for the new." Therefore, some early priorities will include things that Reid can start now, such as strengthening clinical and medical resourcing and their voice within the organisation. This will also include strengthening the resources of the chief clinical officer, "a key function relating to quality of patient care and standards." He will also start "that shift towards primary care and well as strengthening the leadership of the organisation and then recruit for the new regional organisations". 
Although there are many challenges in his new role, Reid is optimistic and says he has seen a lot of good practice and innovation that needs to be built upon. "We need to be a more process driven organisation. I see some great examples of care in hospitals and community settings. We need to scale these up and then roll them out across the system," he concludes.