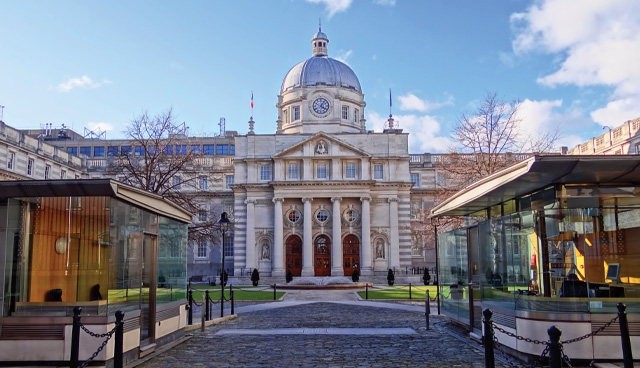 Special advisers are directly employed by a government minister or a minister of state with their terms of employment beginning with the formation, and ceasing with the resignation, of a government. Successive governments have increased the total number of special advisers employed, including 10 allocated to junior ministers in the latest cohort.
Each formal appointment of a special adviser requires a Government Order to be made in accordance with the provisions of Section 11 of the Public Service Management Act 1997.
In the 33rd Dáil, only government ministers and ministers of state who regularly attend Cabinet have special advisers appointed to them. However, "where particular need is identified", a special adviser may be appointed to a minister of state with DPER and government sanction.
Current special advisers to ministers and ministers of state of the 33rd Dáil have sanctioned pay rates ranging from €43,662 (David Healy and Niamh Allen who workshare) to €180,276 (Deirdre Gillane).
Special advisers to ministers and ministers of state who regularly attend Cabinet are placed on the Principal Officer (Standard) personal pension contribution (PPC) scale: €87,325 / €90,920 / €94,487 / €98,082 / €101,114.
While appointments are normally made to the first point of the scale, secretaries general may approve any increment on the PO Standard pay scale "where they are satisfied that this is justified".
Special advisers to ministers of state are placed on the Assistant Principal Officer (Standard) PPC scale: €67,659 / €70,104 / €72,537 / €74,977 / €77,411 / €78,816.
However, there is precedent for salaries in excess of these scales. Where a salary exceeding the maximum Principal Office (Standard) pay scale is considered, the relevant secretary general must seek sanction from the Secretary General of DPER, "having regard to the candidate's existing pay and previous relevant experience to justify the pay rate now being sought".
As of July 2021, across 18 government departments, there are 59 special advisers (24 of whom are women) with a total annual wage bill of €4,878,766 (excluding Alan Ahearne).
The Department of Public Expenditure's instructions to HR managers on ministerial appointments to the 33rd Dáil indicate that any appointments being made from outside the Civil Service require the sanction of An Taoiseach. As such, applications for the Taoiseach's sanction are made directly to the Taoiseach's Private Office. Ministerial special adviser appointments no longer require the sanction of the Minister for Public Expenditure and Reform.
Upon appointment, DPER advises: "To support the role of the special advisers it is important that there is clarity about how the Department operates and how the Department can support special advisers to perform their functions effectively."
The Department of the Taoiseach currently has eight special advisers (six advising Taoiseach Micheál Martin TD and two advising Government Chief Whip Jack Chambers TD). The total wage bill for the Taoiseach's six advisers is over €580,000 per annum, excluding Alan Ahearne who is on part-time secondment from NUI Galway.
Meanwhile, the Tánaiste/Department of Enterprise, Trade and Employment and the Department of the Environment, Climate and Communications/Transport have seven and 10 special advisers respectively. Tánaiste Leo Varadkar TD has six advisers while Environment Minister Eamon Ryan TD has eight, with salaries totalling around €730,000 and €680,000 each year respectively.
Overall, 17 special advisors across 10 departments are in receipt of sanctioned pay rates exceeding €100,000 each.
A combination of political appointments and former journalists constitute the bulk of special advisers to ministers and ministers of state in the 33rd Dáil.
Among those erstwhile journalists who have traversed into the ranks of the special advisers are: Caroline Murphy; Eoin Murphy; Margaret Ward; Paul Melia; Chris Donoghue; Sarah Bardon; Susan Mitchell; Páraic Gallagher; Fiach Kelly; Niall O'Connor; Sam Griffin; and Juno McEnroe.
Details of all 59 concluded appointments for special advisers (as of 20 July 2021) are as follows: