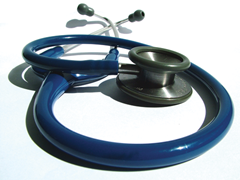 Social media can connect hospitals and the communities they serve. Paul McGarrity reviews how American hospitals are using the internet creatively in their work.
"I am Haitian" reads the sign held high by Dr Sharon Henry from the University of Maryland Medical Center. The photo features prominently on the MD4Haiti site set up to share information supporting the post-Haiti earthquake medical operation. MD4Haiti captures the essence of how hospitals and the wider health community are using social media to communicate more effectively online. So why are hospitals throughout the US – and further afield – using social media? And how does online engagement help inform and support hospital communities?
What are social media?
Social media are defined as online channels that help people engage and share user-generated content. Social media channels and sites such as facebook and twitter facilitate sharing of news stories, video and photo content and swapping and discussing stories. Unlike TV and newspaper advertising, it's a more democratic form of media because it's not controlled by corporations and news editors. Social media takes a number of different forms including blogs, video-sharing sites such as YouTube, social media networks such as facebook and LinkedIn, and photo-sharing sites including flickr.
Why 'social' media?
Before the rise of social media it was surprisingly difficult to interact with information and experiences online. The first era of the internet, sometimes called Web 1.0, enabled people worldwide to gain access to huge amounts of information and provide greater levels of communication than ever before. However, something was needed to share everyday content such as home-made video, photos and music. It's easy to understand why social media are so popular. We all have a desire to interact, share and engage and social media have evolved the internet to let us do just that.
How do organisations use social media?
Businesses and organisations throughout the world use social media to interact with social 'friends' and 'followers'. People who choose to follow organisations on social media sites do so because they want to learn more and engage with a particular organisation by receiving news and updates and by sharing their own opinions and content online.
Effective social media marketing works by attracting followers and then using creative, thoughtful and interesting online content which engages with them on a regular basis. Social media savvy organisations raise their profile through the design of material such as humorous video content, exclusive interviews and social media applications that can be shared through channels including YouTube and facebook.
The rise of social media
Social media are now huge. According to eConsultancy.com 99 per cent of Generation Y (18-24 year olds) had a presence on a social media site in 20091.
However, it's not just young people who have embraced social media. Research shows that baby boomers in the US have also jumped on the social media train. In 2009, the Boomer and Social Media report by eMarketer revealed a major rise in social media usage among baby boomers between 2007 through 2009.
Based on data from Deloitte, the report showed that 2009 was the year that social media really took off among baby boomers, with nearly 47 per cent of them actively maintaining a profile on the social web, up 15 per cent from 20082.
'Social' hospitals
There are many sectors that fit naturally with social media, but probably none more so than health and medical. New media channels have helped medical experts, hospital institutions, patients and their families come together to learn,
share information and have access to supportive communities. Below and overleaf are five key benefits social media have brought to hospital care and marketing:
• community engagement – helping people in the local community find out more about the hospital, its work and its people;
• customer service – learning more about customer issues and concerns through online monitoring and helping to provide a contact point for customers;
• education and information – bringing the traditional hospital role of 'reaching and teaching' into the 21st century through more interactive channels including video and blogs;
• online brand promotion – continual promotion of favourable, positive stories online;
• crisis communications – using online and social media to quickly and effectively manage communications and PR during crisis management incidents.
The rise in social media is also a huge opportunity for hospitals and their marketing departments. In the new democracy of online content, smart marketers know that stories and trusted information are highly prized in health communities.
Paul McGarrity is Director of Octave Online Communications.
University of Maryland Medical Center
The University of Maryland Medical Center is a teaching hospital in downtown Baltimore that provides a full range of services to more than 300,000 patients each year. The centre also offers an impressive offering of speciality services including diabetes and Parkinson's disease treatment, and robotic surgery.
For the UMMC, social media is not 'just another marketing channel'. With social media the hospital can enable and enhance word of mouth, promote the UMMC brand and listen to and monitor what's been said about it online. Probably the greatest advantage for the centre is to establish the UMMC as a trusted source on the web. Expert and accurate medical advice online can often be difficult to find and the UMMC's social media presence, with its emphasis on openness and community, helps patients and their families access valuable health information.
The UMMC uses social media across a variety of different channels. Video lies at the heart of its online strategy and video is hosted on the hospital's website and its YouTube site (www.youtube.com/user/ummcvideos). This YouTube channel has over 100 videos which, combined, gain an impressive 600 views per day mainly from people searching the internet for trusted, professional information on procedures, surgery and expert medical advice.
The UMMC also utilises popular social media channels including facebook and twitter to interact and engage with its communities. Over 5,000 people, or friends, receive regular updates from the UMMC facebook page (www.facebook.com/MedCenter). The medical centre shares a host of information through the site including photographs, news updates, an impressive virtual tour of the centre, an 'Ask the Expert' section and a range of
links to other health-related sites and initiatives. The most prominent section on the facebook page is the wall – an updated stream of health content news and updates from the medical centre. Through its wall, facebook friends are served continual medical centre updates ranging from ground-breaking studies to expert health tips such as 'how to avoid digestive health problems'. But the facebook wall is not just a one-way street of information. News, views and comments are continually posted by the centre's facebook community.
The UMMC also broadcasts and shares social stories and updates with its followers on twitter. Although it's a relatively new social media channel, the UMMC has grown its twitter profile quickly and successfully and now posts dail
y tweets to over 4,800 followers.
Mayo Clinic
The Mayo Clinic is the first and largest integrated not-for-profit group practice in the world. More than 3,300 physicians, scientists and researchers and 46,000 allied health staff work at the clinic, which has sites in Rochester (Minnesota), Jacksonville (Florida) and Scottsdale- Phoenix (Arizona). Collectively, the three locations treat more than half a million people each year.
As Manager of Syndication and Social Media, Lee Aase acts as the driving force behind online engagement. Lee's team focuses on developing interesting and valuable medical news resources for mainstream media, and using social media applications to create deeper relationships with their communities. The team also provides platforms such as a facebook page and a Sharing Mayo Clinic blog to enable patients and employees to share stories of their experiences.
One of the huge advantages of internet marketing and social media is the ability to send very relevant and targeted messages. The Mayo Clinic uses social media tools to provide in-depth information on diseases and conditions, and particularly on its latest
research, directly to patients and consumers. As such, it is able to produce content such as expert video seminars and educational articles on very niche medical subjects, directly for patients and their families. Such information is far more refined than traditional information outlets which focussed on mass media for large audiences.
But probably the best use of social media by the Mayo Clinic is through sharing stories. The social media team seems to really understand how internet communities work. Its innovative and creative use of public relations as a tool in creating interesting and engaging stories means that its social stories spread through the internet. As Lee Aase says: "For over 100 years, Mayo Clinic has used positive recommendation and PR to spread good news about the brand, its value and success stories throughout the patient community and beyond."
When Philadelphia Phillies star Jayson Werth received specialist treatment from the Mayo Clinic it helped solve a two-year wrist injury that had threatened his career. The Mayo Clinic was able to craft an engaging story, based on the baseball star's own words, telling how treatment by orthopaedic surgeon Richard Bergen got Jayson back in the game. The story was shared and promoted online through a range of social media channels including facebook, twitter, YouTube video, Sharing Mayo Clinic blog and through online news media.
An even bigger online story for the Mayo Clinic was the 'octogenarian idol' story. When its marketing team was told about a video of an elderly couple playing piano in its clinic, it was able to post the clip online. The video soon found a welcome home on YouTube and due to the 'viral' nature of quirky and unique video clips, it wasn't long before people started to share and comment on the story. In fact, it wasn't long before the clip was viewed by over two million people. And the story didn't end online either. Within a few weeks, the stars of the show ended up on Good Morning America, giving Pop Idol stars a run for their money.
www.mayoclinic.com