Issues
Social housing plans set out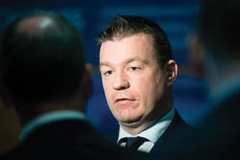 The Government's six-year social housing strategy has pledged an additional 35,000 dwellings. A further 75,000 households will be housed through the housing assistance payment and rental accommodation scheme, provided via the private rented sector and funded by local government. Both strands of strategy will work towards the aim of accommodating the 90,000 persons currently on housing waiting lists by 2020.
Environment Minister Alan Kelly (pictured) remarked that the strategy "makes a fresh start for social housing" and explained that the State will resume a lead role in funding the programme.
Fianna Fáil's alternative housing policy calls for stricter enforcement of the requirement for social housing in 20 per cent of all new developments, a national planning portal and the reintroduction of housing adaptation grants. Sinn Féin has claimed that the government strategy will be insufficient and described the private rented option as "completely unstable".
Around 5,000 people in the State are homeless. In response to the acute problem in Dublin, the Government has pledged to make accommodation available for all rough sleepers up to Christmas and directed local authorities to provide 300 extra housing units for vulnerable groups and an additional 200 emergency beds. Charities, churches and TDs have called for more urgency and action, including the introduction of rent regulation to curb rent increases in the city.