Issues
Social contract for welfare claimants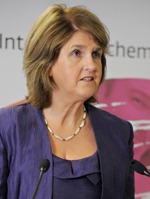 A social contract is needed whereby "as citizens of this State we support people who have become unemployed but equally those unemployed have a responsibility to get themselves job ready," Social Protection Minister Joan Burton told eolas during the summer.
She has since launched Intreo, an employment and support service provided by the Department of Social Protection. Intreo's five main elements are an integrated 'one-stop-shop' reception service. This will replace the three previously separate services from FÁS, the department and the Community Welfare Service.
A single decisions process will reduce the time taken to check a person's employment status and income and no longer requires those who need an emergency payment to submit a separate claim to the Community Welfare Service.
An integrated activation process means that, instead of waiting at least three months before an appointment with an employment services officer, all clients must now attend a group engagement session and will be scheduled for one-to-one meetings with an experienced employment services officer within one-to-two weeks.
A social contract will be in place whereby claimants must develop a personal progression plan or face a reduction in or an end to payments.
The department claims that Intreo will also ensure a greater focus on employer engagement through initiatives such as JobBridge, the PRSI incentive scheme and the Revenue Job Assist scheme.