Issues
A look at Sinn Féin's reshuffle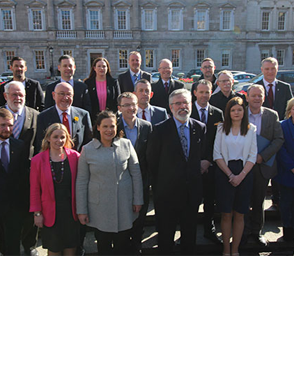 Sinn Féin leader Gerry Adams said his party was prioritising the areas of mental health, disability inclusion, public services and Irish unity as he announced a reshuffle of the party spokespeople for the new Dáil.
Gerry Adams has appointed the party's deputy leader Mary Lou McDonald as the party's all-Ireland spokesperson on mental health and suicide prevention.
He has also shifted the party's long-serving former Dáil leader Caoimhghín Ó Caoláin from the portfolio of health, to disability rights & older people.
"In keeping with the mandate we received in the general election, Sinn Féin is prioritising the areas of mental health, disability inclusion, public services and Irish unity," said Adams.
"We are very proud of the fact that our team is made up of more new TDs, an increased number of women in key portfolios, as well as an increased number of younger public representatives."
Sinn Féin newcomers to the Dáil have been handed a number of significant positions including Dublin Fingal TD and former trade union organiser Louise O'Reilly, who is the party's new spokesperson on health.
Former primary school teacher and Gaelscoil principal Carol Nolan, who was elected in Offaly, will become the party's new spokesperson on education. While, former senator and current Waterford TD David Cullinane will be the party's new voice on public spending.
Aengus Ó Snodaigh will take up the roll as the party's chief whip, while acting as defence spokesperson, Eoin Ó Broin will focus on housing and will be joined by Dessie Ellis, who has been named as junior spokesperson for the portfolio.
Martin Kenny has been appointed the spokesperson on agriculture, food & the marine and will be supported by Martin Ferris as a junior spokesperson, with a special responsibility for fisheries and the marine.
Another junior role has been set aside for Kathleen Funchion, who will work with the party's spokesperson in the area, Donnchadh Ó Laoghaire.
Peadar Tóibín has been given the portfolio of regional development and Jonathan O'Brien will take on justice & equality and drug & alcohol abuse.
Pearse Doherty will continue in his role as spokesperson on finance, Sean Crowe will take charge of foreign affairs and John Brady will be the spokesperson on social protection.
Imelda Munster will head up the party's portfolio on transport, Maurice Quinlivan has been handed the role of jobs, enterprise and innovation and Brian Stanley will be the spokesperson for communications, climate change & natural resources.