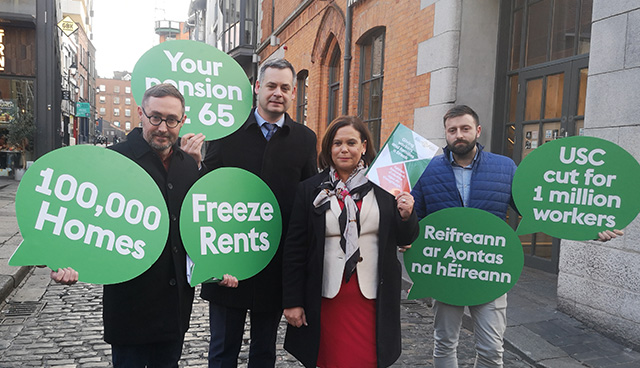 Judging by recent polling and in the absence of any dramatic developments in the late stages of the General Election 2020 campaign, it seems likely that post-election government formation will be anything but a matter of formality. eolas reports.
Sinn Féin's 'surge' in the last four polls is the story of the pre-election campaign. If translated into electoral performance, this could produce a headache for both Fine Gael and Fianna Fáil lengthen the delay in government formation. The two largest parties have been acerbic in their opposition to Sinn Féin which the Taoiseach contends is "not a normal party". Indeed, any hint of a softening in approach is regularly seized upon by one of 'the big two' to cast aspersions that its nearest rival is preparing to align itself with Mary Lou McDonald's party.
Therefore, it appears that in the context of Sinn Féin gains (which may well halt the Green wave and the long-awaited Labour revival) the most likely outcome of General Election 2020 will be confidence and supply in reverse, with Fine Gael propping up a Fianna Fáil minority government or the previously unthinkable (though oft-whispered): a grand coalition.
However, whether such an arrangement could successfully negotiate the centenary of the Civil War remains to be seen. Likewise, through their efforts to colonise both government and opposition, neither Fine Gael nor Fianna Fáil would be willing to cede the chief opposition role to Sinn Féin which could spend the lifetime of the next Dáil focusing its energies solely on highlighting the shortcomings and failures of the unholy matrimony.
Speaking with eolas Magazine in 2018, Sinn Féin Eoin Ó Broin outlined the fundamental options facing his party in its future efforts to enter government. From eolas' perspective, these remain broadly unchanged. Acknowledging a willingness on behalf of his party to meaningfully engage in any subsequent negotiations to enter coalition government, Ó Broin denied any internal split over terms under which SF should enter coalition in Dublin.
Speaking as Sinn Féin's spokesperson for housing, planning and local government, he asserted: "I don't want to sit on the opposition benches and point fingers at [Housing Minister] Eoghan Murphy and his successors for the next 10 years and the people who elect me don't want me to do that. The people who elect me are those who are in some of the most acute housing stress and housing need out there… The people who elect me want me to be in there making the change."
The most significant question for Sinn Féin, however, is when is the right time to go into government, with who and to deliver what? There is consensus, Ó Broin maintained, across his party's leadership that Sinn Féin enters both administrations as quickly as possible, but only on the 'right' terms and with the 'right' partners to deliver the 'right' change.
What is certain, according to the Sinn Féin housing spokesperson is "we don't want to stand on the side-lines and capitulate to the agenda of Fianna Fáil or Fine Gael". Proceeding, he methodically defined the scenarios, from most to least preferable, in which his party will seek to enter government.
Of course, like any ambitious political party, the most desirable option is for Sinn Féin to establish itself as the largest entity. "Option A is we want to be the largest party. We want to be leading a progressive government implementing socio-economic change and advancing Irish unity. When we go into the next election and we ask people for our vote, that's the pitch," he affirmed
However, with only 42 candidates in the field, it is unlikely that Sinn Féin will emerge from General Election 2020 with a plurality and it is a certainty that it will not achieve an outright Dáil majority (81 TDs). Likewise, in recent years, Sinn Féin has been prone to overperformance in polls and has subsequently fallen victim to poor voter turnout among their target demographic. Therefore, there are a number of alternative options on the table, as identified by Ó Broin.
"Option B is that we will have enough of a mandate to go to a party like Fianna Fáil or Fine Gael and say to them, okay, we are not going to be your junior partner, but we are open to a negotiation around co-equal partnership.
"Enda Kenny offered it to Micheál Martin after the last general election and while [he] turned it down, it's now an option on the table. There could be a 10-seat difference between two parties, but we could say, okay, we want to talk about co-equal partnership, that means an equal number of ministries, votes at the cabinet table and an equal share in shaping the programme for government," he said.
If genuine, Fianna Fáil and Fine Gael's emphatic statements that neither party will enter into coalition with Sinn Féin under any circumstance, may confine this option to the realm of political fantasy. Hypothetically though, if such negotiations were successful and the outcome was sufficiently agreeable to the Sinn Féin leadership, the proposed coalition would require the ratification of members at a special Ard Fheis. Such a scenario also applies to Fianna Fáil.
"Option C, there might not be 10 seats between us and the next biggest party, but likeminded deputies who share our socio-economic or all-Ireland agenda might be willing to caucus with us and go collectively into negotiation for the same deal," Ó Broin suggested.
Brendan Howlin's Labour Party may well be invaluable to any such coalition in terms of Dáil arithmetic. Speaking to journalists after the RTÉ leaders' debate, Howlin clarified: "We need to have an alliance of progressive thinkers who could set out a platform of investment to solve this crisis. Once we have that, I'm happy to sit down with Sinn Féin.
"I'm happy to sit down with Sinn Féin but the caveat I've entered – and I entered this on every occasion – is there is a fundamental issue of trust. Now, I have served in government and it collapsed on the basis of trust. Government between different parties only can survive on the basis of trusting one another."
An additional option for Sinn Féin's leadership is to discuss what can be achieved as a junior coalition partner. Though Ó Broin stressed that most of the party's leader are "sceptical enough" about what you can achieve the expenditure of political capital required. Having considered the experiences of Labour and the Green Party, he maintained that his party is "not naïve about that and it's not our preferred option".
A final option on the table for Sinn Féin is a confidence and supply arrangement. While Ó Broin conceded that the party would consider such a move, he outlined that it would be the least likely course of action. Cognisant of the experience of Fianna Fáil, which was repeatedly exposed to criticism while wedded to the previous Government's various failings, simultaneously receiving virtually no credit for its successes (such as the Repeal of the Eighth Amendment), there is little warmth towards such an agreement.
Turning to the likely negotiations facing the parties, Ó Broin emphasised Sinn Féin's receptiveness to negotiation. "We have made very clear that on the other side of the election, we are open to dialogue with everybody, which doesn't just mean Fianna Fáil and Fine Gael. There is also a bloc of progressives.
"We want to talk to those people too and see how we can put together a programme that tackles these things in a way that has never been done before, whether it's on health, housing, investment in infrastructure for balanced regional economic development or childcare. On that basis we'll talk to anybody," he concluded.