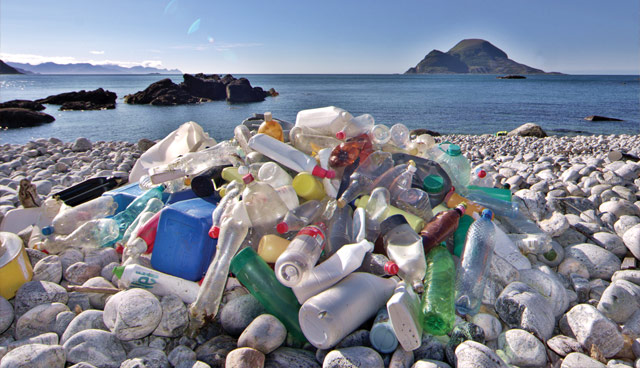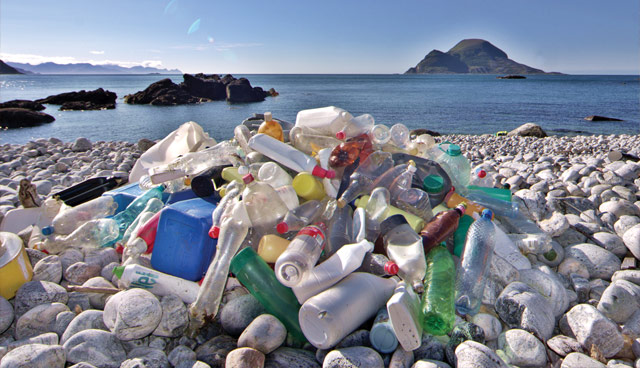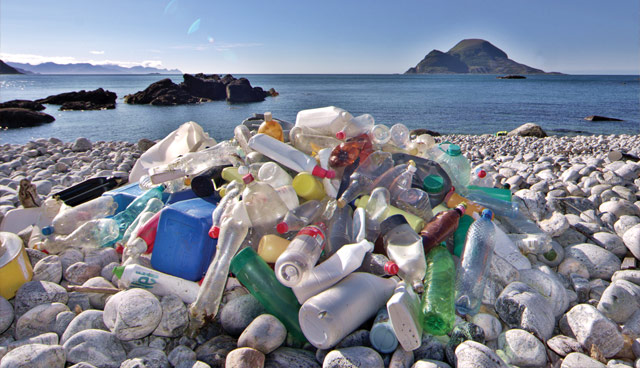 Single use plastic products are symptomatic of a wider economic model based upon consumer-fuelled resource exploitation. The Single Use Plastics Directive is one component in the battle to stymie rampant consumerism and tackle plastic pollution. Sinn Féin MEP Lynn Boylan writes.
When most people think of plastic pollution they think of the Blue Planet II and the masses of plastic waste that ends up in our oceans and on our beaches. The upsetting images of birds and sea mammals with plastic waste in their stomachs.
They don't often think of climate change or the fossil fuel industry, yet 99 per cent of plastic is made from fossil fuels. By 2050, plastic will account for 20 per cent of all oil consumption.
The boom in fracked gas particularly in the US has created a new wave of plastic infrastructure. Factories opening up to feed the ever-growing demand for single use plastic. Yet demand for single use products is driven by the fossil fuel industry and other multinational corporations flooding the market with cheap plastic and convincing us to buy more and more.
Plastic and climate change may be the ugly twins spawned by the fossil fuel industry, but they are nurtured and raised by an economic model that pursues unsustainable growth.
We buy a cup of coffee in a disposable cup, stir it with a plastic spoon and within a half an hour they are both in the bin. They took millions of years to create through the fossil fuel and without even thinking about it we throw them away. They will take up to 1,000 years to decompose, becoming harmful micro-plastics as they do. Even if recycled, it is still a terribly inefficient use of resources.
We hit the high street and buy the cheap clothes on offer because we need a new outfit for the weekend. After a couple of washes, it is fit for the bin but not before the synthetic fabric has released microplastics into the water, not to mention the horrific conditions of those working in the sweat shops that produced the item.
You see, plastic pollution is just the outworking of an economic model that has convinced us of the need to constantly consume, rather than invest in items that are crafted and built to last. Reusable, durable, fixable products are seen as a threat to the system.
This is why biodegradable plastic is a false solution. Bio plastics are a sticking plaster on a broken system. They con us into believing that we can continue with a throwaway culture while in the process they divert land away from producing food to producing plastic. A biodegradable plastic that breaks down in 40 years rather than 1,000 years is of no benefit to the animal that swallows it.
The only way to truly tackle climate change and plastic pollution is to address the consumer-driven society we live in. Fast fashion, fast food and fast gratification.
That said, I welcome any initiative that reduces the amount of plastic waste that is produced. It is for this reason that I welcome the EU Commission's recent proposal to tackle Single Use Plastic. The rationale for the initiative may very well be an EU Commission heading into European elections desperate for a good news story amid Brexit and the refugee crisis.
I am the only Irish MEP to be part of the negotiations on this Directive and I am seeking to make it as ambitious as possible.
The proposal is product based. It sets out to ban certain items for which there are already alternatives available while seeking to significantly reduce others.
"The only way to truly tackle climate change and plastic pollution is to address the consumer-driven society we live in. Fast fashion, fast food and fast gratification."
Among those products banned are plastic straws except those required for medical reasons. Plastic cutlery and plates also face a ban. One of the welcome additions negotiated by the EU Parliament is that biodegradable versions of the banned items will also be included.
The Directive also seeks to improve collection and recycling rates. Ireland is not a leader when it comes to plastic bottle recycling. This Directive would seek to have a 90 per cent collection rate for plastic bottles by 2025.
In order to achieve this target, the Irish Government would really be left with no choice but to roll out a deposit-refund scheme for plastic bottles, something that they and the beverage lobbyists have strongly resisted.
The evidence in support of Deposit-Refund Schemes is overwhelming. You only have to look to Germany and Lithuania to see how they already achieve 90 per cent collection targets while countries without such schemes struggle to reach 40 per cent.
Collection targets for plastic bottles are very positive but for those who drink bottled water, the single biggest step to changing habits is to provide water fountains. Currently in Ireland, you can carry your reusable bottle along with you but will struggle to find somewhere to fill it up. Fingal County Council have recently introduced water fountains which is to be welcomed but we need all local authorities to do the same.
I recently attended the Global Climate Summit in San Francisco. California is a state that suffers from water shortages and yet everywhere we travelled, from the conference centre to the airport, there were water fountains. Compare that to Dublin Airport where display stands promote the purchase of bottled water before you board the plane.
The most important part of the Single Use Plastics Directive however is Extended Producer Responsibility, which puts the environmental costs of plastic pollution back on to the producer. This is a first progressive step in transferring responsibility away from the individual and back on to the structural forces that create the plastic in the first place.
Perhaps that is why, during the negotiations, Fine Gael's political group in the European Parliament, the European People's Party group (EPP Group), earned the moniker 'the European Plastics Party' – because they tried so hard to weaken this element. They failed in the European Parliament negotiations but EPP parties make up a significant number of Governments at the EU Council, so we will need sustained public pressure to ensure that the final negotiated draft of this Directive maintains strong provisions on producer responsibility.
The Single Use Plastic Directive has the potential to set out a progressive framework on restricting single use plastic products. A framework that can be added to in the future so that the only single use plastic products are those that are absolutely essential.
However, it will not address the bigger political issue of breaking the economic model that places consumerism and the market ahead of the protection of the planet. An economic model that wants us to consume at a level that would take at least four planets to sustain.
Those of us who truly want to break that model will have to work together to set out a vision of a future that protects the planet but in doing so also creates a better future for us all.