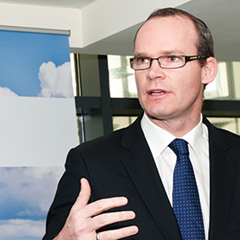 Agriculture Minister Simon Coveney discusses farm diversification, target export markets and climate change with Stephen Dineen.
Ireland's agri-food export growth has been "phenomenal", according to Simon Coveney.
High global food prices increased the combined value of Irish meat, dairy and fish by 15 per cent, from €4.21 million in 2010 to €4.95 million in 2011. However, the Minister warns that it would be "unrealistic" to expect growing food prices every year.
What Ireland can do is target the growing urban middle class which are willing to pay more for 'green' Irish products.
"The developing world: Asia, Africa and South America, are demanding a new type of product and will pay more for a premium product they trust," he observes.
Overall, the global population is growing and should reach 9 billion by 2050, according to the United Nations. Locally, the Department of Agriculture, Food and the Marine is "anticipating" that growth and is "taking action at farm level to deliver that growth."
The State is "strategically targeting premium markets more effectively" and wants to transmit the message that Irish produce "is just a little bit special" because it is "fully traceable, you can tell the carbon footprint, you will know the animals have been produced in a way that is sustainable from an environmental point of view and acceptable from an animal husbandry point of view, and that it's safe."
China is very much on Coveney's radar following his trade mission there in April. He was accompanied by representatives from 51 Irish meat, dairy, seafood, beverages, bloodstock and agri-services businesses. During that mission, Ireland was chosen to help develop China's horse racing and breeding industry, particularly the Tianjin Equine Culture City project. Glanbia Dairy Ingredients Ireland also launched a whey protein brand for the Chinese infant formula market during the trip.
The death of six infants from tainted infant formula in 2008 created strong demand for quality food products in China. "Most families only have one child so they are willing to spend a lot of money on that child. They are very interested in importing from Ireland," Coveney reflects.
The Minister emphasises: "There are target markets that will pay more for consistency and quality so, rather than producing skimmed and semi-skimmed milk and putting it onto commodity markets worldwide, as if it wasn't coming from anywhere special, we need to build that brand around the sustainability and safety product that is there." That must be replicated for beef, lamb and sea food, he adds.
Future of farms
In order to target growing markets, Irish farming has to diversify, Coveney contends. "The most strategic decision the Government has to make," is on the future of Irish farms and farming practices.
The "very simplistic" economist's outlook is: "If Ireland is going to become a more efficient food producer, then we have to create more efficiency in our farms. One of the ways to achieve that is farms need to get bigger." However, that doesn't account for the fact that "family farms are the backbone of rural Ireland."
Coveney wants to make it cheaper to produce food while maintaining a reasonable farm size yet not undermining family farm ownership. "I don't want to move to a Brazilian or an Australian model where you have multi-nationals owning huge swathes of land. They are producing food very efficiently, but are not doing what we need which is to have a maintenance around family farm ownership, just like we have around family-owned trawlers in the fishing industry."
Farmers must work more co-operatively, as happens in dairy, and be encouraged to buy collectively. "If you have 10 or 15 farmers purchasing their fertilisers or sprays collectively, they will get economies of scale," he points out. Farmers could also pool machinery or sell collectively, as demonstrated by the Aberdeen Angus Society which acts as a forum for breeders to come together to develop and improve the breed in Ireland.
"That is starting to happen but we need more strategic thinking from farmers," Coveney states.
The Government's role is to "encourage farmers and to go to the next stage which is to look at farm partnership."
While partnerships "are the norm" in France, Coveney is keenly aware that "in Ireland, there is a reticence to share control or ownership of farms because there is this intensely protected land ownership issue in the mind-set of Irish people."
Budget 2012 introduced an enhanced
50 per cent stock relief for all registered farm partnerships and a 100 per cent stock relief for young trained farmers forming such partnerships, available until December 2015. It also reduced the rate of stamp duty on the transfer of commercial property (including farms) from 6 per cent to 2 per cent. Retirement relief from capital gains tax will allow farmers aged 55 years or over to transfer their farm, irrespective of its value, to a family member free of capital gains tax.
Collectively, these measures will lead to an ideological and generational change in Irish farming, the Minister believes. "If farmers come together to share machinery, grazing pasture, milking parlours or slurry storage facilities, the sum of the parts becomes a much more profitable entity than individual farmers on their own," he states.
More young people are studying agricultural science or food science courses, and Coveney wants "to give the reins to these bright, young, smart people who have ambitions for the agri-food sector."
On the CAP reform proposals to 'green' direct payments, the Minister tells eolas: "I don't think we should see greening as a huge threat. But we need to ensure that anything that is introduced from a greening point of view is tailored to suit the Irish production system." The upside of greening, according to Coveney, is that "it allows us to market both European and Irish food as green and sustainable."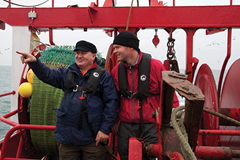 Climate
An increased population will require more food, therefore greenhouse gas emissions will rise unless governments take action to reduce emissions from the agriculture sector. Agriculture accounted for 29 per cent of Ireland's total emissions in 2009. Ireland's current target is to reduce greenhouse gas emissions in the non-traded sector (which includes agriculture, transport and waste) by 20 per cent by 2020, compared to 2005 levels.
Coveney argues that agriculture is already playing a role in reducing emissions. "Emissions in agriculture have been steadily falling for the last 10 years because there's a direct link between efficient farming and reduced emissions in farming," he states. Agriculture's emissions fell from 19,977 kilotonnes of CO2 equivalent in 2002 to
18,212 kilotonnes of CO2 equivalent in 2009.
He promotes practical measures such as:
• improving feed conversion efficiency for beef and dairy i.e. to feed cattle in a way that reduces the amount of methane produced;
• extending the grazing season;
• incentivising farmers to use a trailing shoe rather than a splash plate when spreading slurry (to reduce the amount of ammonia released); and
• using anaerobic digestion to reduce the emissions that arise from slurry.
Coveney wants these measures to be incentivised within CAP Pillar 2 i.e. from money for rural development programmes.
Forestry, Coveney confirmed, will also play a role in reducing emissions, and he wants afforestation across Europe to counter-balance emissions from other sectors of the economy.
The Minister insists: "You can't impose an emissions reduction target on agriculture in the same way that you do for example in transport because it's entirely different."
He argues: "If you reduce the herd size in Ireland in an effort to reduce methane levels, that food production will simply be displaced to larger countries such as Brazil or Argentina and that makes no sense."
He is adamant that he will "not compromise on herd size or growth capacity in the industry for climate change reasons." The Minister continues: "I am a passionate believer in climate change, which is historically somewhat unusual for an Agriculture Minister."
Concluding, Coveney reflects that Ireland is ultimately "making the transition from being a volume commodity producer of beef, milk powder and cheese, to being a country that is trying to build a brand around sustainability, safety and animal husbandry."