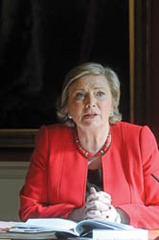 After a time of intense scrutiny, the Department of Justice and Equality is deciding its priorities for 2015-2017.
Officials in the Department of Justice and Equality are preparing a new strategy statement following the appointment of Minister Frances Fitzgerald. The statement must be revised after a new Minister comes into office and is subject to An Taoiseach's approval.
The wide-ranging review of the department, published in July, found that its current strategy statement (covering 2011-2014) did not have clear priorities and only a small number of key performance indicators.
The current strategy runs to 23 pages and was developed after a consultation within the department and with other government departments and agencies. The consultation started on
10 September when secretaries general in other departments were asked to forward their observations by 30 September. Comments were then sought from internal and external stakeholders up to 10 October. That deadline was flexible and a departmental spokeswoman has confirmed that "observations have continued to be accepted." Once drafted, the strategy statement will go to the Programme for Government Office in the Department of the Taoiseach before being discussed by the Government.
At present, the department's mission statement is to "maintain community and national security, promote justice and equity, and safeguard human rights and fundamental freedoms consistent with the common good." The accompanying vision is a "safer, fairer Ireland".
The number of 'action areas' currently stands at 12 and, in keeping with the review, a shorter list is expected going forward. The new list will need to refer to any outstanding commitments from the Programme for Government and the updated Statement of Government Priorities.
For example, the Government has not yet published its proposed amendments to the Official Secrets Act 1963. These would mean that criminal proceedings would only be taken where a "serious threat to the vital interests of the state" is suspected.
Minister Fitzgerald's first day brief explained the strategic context in which the department operates as well as some of the most pressing issues faced by the justice and immigration systems.
Crime was falling in most categories but organised crime, burglary and alcohol-related public order offences were causes for concern. The risk from Northern-Ireland related terrorism was "severe" while that from international terrorism was "low" – although the Garda was prepared to respond to emerging threats.
The new joint British-Irish visa will re-affirm the existence of the Common Travel Area and be followed by biometric checks for visa applicants in 2015. The review of direct provision for asylum seekers would also be taken forward and the department was also considering a review of Garda powers to detain suspects.
It was also preparing to deal with any legal consequences from UK opt-outs on European justice policy. The last point indicates some of the difficulties for Ireland that may arise if Britain disengages from the European Union over the coming years.