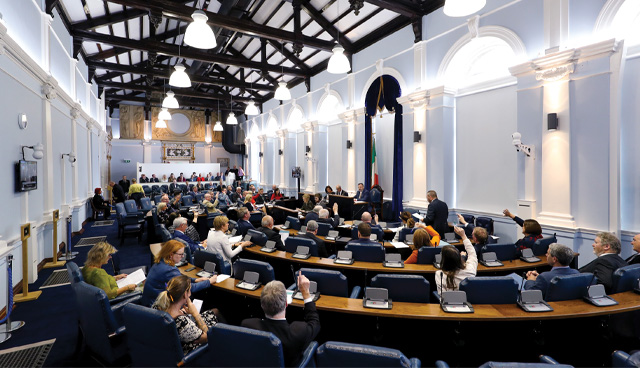 eolas examines the circumstances of the recent Seanad byelection and the mechanisms by which Seanad byelections are decided.
One of the main points of criticism of the Seanad has been its limited electorate, with its 60 seats made up of 43 vocational panel electees, 11 nominations by the Taoiseach, three from the National University of Ireland constituency and another three from the University of Dublin (Trinity College Dublin) constituency. For example, the electorate that elected the 25th Seanad in 2016 numbered just 1,155 people, of which 1,124 voted. As Michael D'Arcy was a member of the Agricultural Panel and Elisha McCallion was a member of the Industrial and Commercial Panel, the byelection triggered by their respective resignations was voted on only by Oireachtas members.
D'Arcy's resignation came in September 2020, when he decided to resign his position in order to become Chief Executive of the Irish Association of Institute Management. This brought to an end D'Arcy's 17-year career as an elected representative. Having been elected to the Wexford County Council in 2003, D'Arcy was elected to the Dáil in 2007, but lost his seat in 2011. That same year, he was elected to Seanad Éireann on the Administrative Panel.
In 2016, he was once again elected to the Dáil and appointed Minister of State for the Department of Finance, but again lost his seat in 2020, at which point he was again elected to the Seanad, this time for the Agricultural Panel. His resignation just five months later also brought to an end the D'Arcy family's time as representatives of Wexford. D'Arcy's father Michael was first elected to the Dáil in 1977. Just like his son, he would lose and regain his seat, serving as a TD from 1977-87, 1989-92 and 1997-2002. Between Dáil stints, D'Arcy senior also served as a Senator from 1993-97.
McCallion, on the other hand, resigned her seat from the Industrial and Commercial Panel in October 2020 after it had emerged that three Sinn Féin offices, including McCallion's former Westminster office, had failed to promptly return Covid-19 small business grants that they had erroneously received from the British Government. The former MP, MLA and Mayor of Derry resigned her seat, accepting that she had been responsible for the bank account and should have acted sooner.
As both of the resigned members had been members of vocational panels, the electorate for the byelection consists of Oireachtas members only, giving the election a total electorate of 218: 160 TDs and 58 Senators. In normal circumstances, the 43 vocational panel Senators are elected by an electorate of TDs, outgoing Senators and members of Ireland's city and county councils. Nomination is normally restricted to Oireachtas members and designated nominating bodies.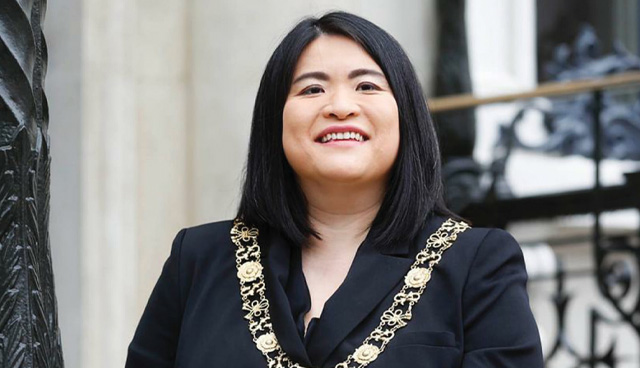 These nominating bodies are civic society organisations and there are 110 in total. Aspiring Senators apply for nominations to a given body for the sector they represent, with the criteria of the amended 1947 Seanad Electoral Panel Members Act allowing the body to then nominate the given candidate. With 110 bodies across five panels, the nominating bodies vary across a wide range, from the Irish Georgian Society, the Royal Irish Academy of Music and the Federation of University Teachers to the Chambers of Commerce Ireland and the Construction Industry Federation to charities such as the Irish Kidney Association, Enable Ireland and the Multiple Sclerosis Society of Ireland.
However, in this byelection, candidates simply require nine signatures from sitting Oireachtas members, be they TDs or Senators. Ballot papers for the election were issued on 7 April, with polls closing at 11am on 21 April.
Three candidates challenged to replace D'Arcy on the Agricultural Panel, with two former Senators in the mix: Maria Byrne of Fine Gael, a Senator form 2016-20; Angela Feeney of Labour, a Kildare County Councillor; and Ian Marshall, the independent former Senator from 2018-20.
Marshall himself was elected to the Seanad in 2018 after winning a byelection to fill the vacancy on the Seanad's Agricultural Panel caused by Denis Landy's resignation. In doing so, he became the first explicitly unionist member of the Oireachtas since the 1930s. Sinn Féin, instead of running its own candidate, is supporting the candidacy of Marshall, as it did in 2018.
The former president of the Ulster Farmers' Union and Markethill, Armagh native campaigned against Brexit and came to the attention of southern politicians through doing so, leading to then-Taoiseach Leo Varadkar to approach him to run in 2019. Marshall lost his seat in 2020 and had expressed disappointment not to be among new Taoiseach Micheál Martin's nominations.
Byrne has also served on the Agricultural Panel in the past as a Senator from 2016-20, when she served with Marshall. Like Marshall, she lost her seat in 2020.
There were are four candidates to replace McCallion on the Industrial and Commercial Panel, again featuring two former Senators: Ciarán Ahern of Labour, an employment lawyer; Hazel Chu, Lord Mayor of Dublin, running as an independent despite her status as Green Party chairperson; Gerry Horkan of Fianna Fáil, a Senator from 2016-20; and Billy Lawless, an independent who was also a Senator from 2016-20.
Perhaps the most interesting aspect of this seat race is the candidacy of Chu, Dublin's Lord Mayor and chairperson of the Green Party. In March 2021, the Green Party executive council and a majority of its Oireachtas members agreed not to run candidates in either of the byelection races, leaving their two larger partners in government to run one candidate each to honour an informal agreement between the parties. However, Chu announced later in the same month that she would run as an independent candidate which prompted party leader Eamon Ryan to say that he would not vote for her and refuse to confirm that Chu would be allowed to continue as party chair. "I will sit down and talk to my colleagues about that," Ryan said.
Nonetheless, Chu secured signatures from six Green Party Oireachtas members and three independents.
Lawless, the businessman, became the first overseas Senator when he was appointed by Taoiseach Leo Varadkar in 2016. Having been based in Chicago, Lawless is now back in his native Galway and his candidacy is being supported by Sinn Féin.
At the time of writing, polling in the byelection had not closed and thus the outcome is unknown. All votes in the election are cast by postal ballot and are counted using the single transferable vote system. Ballots in this case are initially given a value of 1,000 to allow calculation of quotas where all ballots are distributed in the case of a surplus.