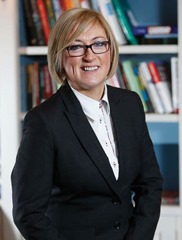 Road Safety Authority Chief Executive Moyagh Murdock explains how it is taking action to reduce injuries and fatalities on our roads. Engineering, education and enforcement are the three key priorities in Ireland's Government Road Safety Strategy.
Last year saw the first increase in the number of fatalities on Irish roads in seven years, increasing from 162 in 2012 to 190 last year. At the date of the publication three more people have died on our roads in 2014 compared to the same period in 2013. Drivers have traditionally been the biggest group of road users who have died on our roads, but this year driver deaths have reduced by almost 25 per cent since 2012. However, there has been a significant increase among our most vulnerable road users: cyclists, motorcyclists, children, pedestrians and older drivers.
To counter the upward trend, the Road Safety Authority's educational programme seeks to improve road safety awareness among cyclists and schoolchildren, including running three educational media campaigns for cyclists in this year alone.
There is no single underlying factor for the increase in road deaths. The biggest danger is that we have become complacent after many years of improved safety statistics. It is also worth noting that the fine weather over the last two summers has brought more people out onto the roads and we see more deaths during periods of very good weather. Cycling has also become increasingly popular and good weather also sees children playing outside in estates and near busy roads.
The RSA will be prioritising the implementation of the Government's Road Safety Strategy 2013-2020 over the coming years. The newly announced increases in penalty points should also help to deter poor driving behaviour. Further increases in penalty points for other road traffic offences will be rolled out later this year and into 2015.
Strategy: the three Es
Ireland's Road Safety Strategy focuses on three Es: education, enforcement and engineering. Engineering is concerned with improved roadworthiness of vehicles and improved maintenance standards for cars going through the NCT test. The RSA has been very active in improving the quality and standard of vehicles on our roads and driving without an up to-date NCT will become a penalty point offence before the end of this year. The window in which a vehicle can be tested has also increased to three months before the expiry date. This will allow everyone to get an appointment at an NCT test centre in good time before the expiry of their NCT certificate.
The commercial vehicle reform programme has greatly improved the standards for trucks, coaches and public transport vehicles. The RSA has also been very active with other state agencies – such as An Garda Síochána and the Department of Social Protection – in establishing very effective and very visible roadside checks on commercial vehicles. These checks have doubled in the year to date compared with the same period in 2013. In terms of education, the RSA has focused on educating drivers and promoting safe driving behaviour, including this year focusing on reducing the risk associated with using a mobile phone when driving. The message we want all drivers to hear is: "When you are in a vehicle, switch off before you drive off." While there has been a move towards hands-free devices, the RSA states there is no research to indicate that hands-free is any safer.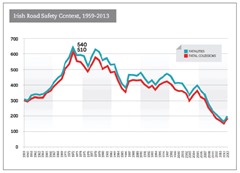 Other educational programmes indicate our work in schools like the Safe Cross Code, and initiatives such as the child car seat checking service, Check it Fits – whereby the RSA, in conjunction with Supervalu, offer consumers a free check on child safety seats held in retail outlets. Worryingly, since October 2013, four out of five seats are found to be incorrectly fitted.
Enforcement and culture
The RSA works closely with An Garda Síochána on enforcement and the RSA educational and awareness campaigns are integrated with the Policing Plan. Enforcements are up and detections are up so our main message is: "Whether it is speeding, using the phone while driving, or any other driving offence, we urge you not to take any risks – the outcome could be three or more penalty points, or worse, a serious collision." There is no excuse for poor driver behaviour and by now we know that everyone has heard this message loud and clear.
With seatbelt wearing rates now at 93 per cent, there is still some way to go. For the remaining 7 per cent, this is not in fact an oversight. Research shows us drivers and passengers are deliberately not wearing seat belts. Changing the culture to one where we all share the roads safely is a central task for the RSA. A few years ago, many people thought that the smoking ban would not work but now smoking in front of other people is seen as an anti-social activity. A similar culture change in driving is the RSA's main aim, particularly with regard to speeding and mobile phone use. The RSA's observational studies show that one in 20 drivers are using a phone whilst driving – and that may be higher with many also texting or checking emails.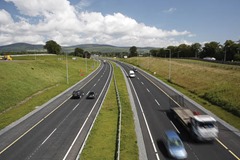 Employers also have a responsibility regarding mobile phone use as employees are often making or receiving work-related rather than personal calls. We're considering rolling out an awareness campaign similar to "Engine On, Phone Off" in the UK and our message for employers is: "Avoid phoning your employees when they are driving." Looking to the future, the implementation of the Road Safety Strategy is the RSA's main focus, especially the pathway to reduce fatalities to 124 by 2020. Ireland has made significant progress and the RSA is confident that the strategy will deliver that target by implementing the strategy's measures and by changing the culture and behaviour of drivers.
Within European road safety networks, Ireland has been held up as a leading light in terms of most improved performance and the continued joint working with other bodies involved in road safety is also important in sustaining those improvements. On a final note, the Road Safety Authority will miss the commitment and passion of its current Chairman Gay Byrne who is stepping down after eight years. He has never been afraid to put his head above the parapet and ensure the message gets across, and we at the RSA hope to continue in this spirit as we work toward making Ireland's roads the safest in the world.

Road Safety Authority
Moy Valley Business Park
Primrose Hill, Ballina, Co Mayo
Lo-Call: 1890 40 60 40
Web: www.rsa.ie